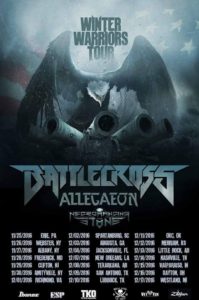 Sunday, December 4th, 2016. Jack Rabbits, Jacksonville, FL. Metal Blade Records' artists Necromancing the Stone, Allegaeon and Battlecross take the stage for an evening hammering down some of the most engaging and hard hitting Metal around. This is the third such outing for headlining act, Battlecross, on their annual Winter Warriors Tour where veterans are allowed free admission to the shows and a portion of all proceeds land in the coffers of local veteran charities. The Metal community has no heart and is just a bunch of Satan loving hooligans wearing black t-shirts and leather jackets. Psh! No matter where I go, you people are the biggest hearted group, supporting our military vets, children charities and each other at every opportunity. Hell, there was a Metal show down the street from Jack Rabbits set up by local promoters and bands in support of a wonderful family that recently lost a child. I am truly honored to call each one of you brothers and sisters, even if we have never met! Thank you! In addition to the music, when it comes down to brass tacks, our solidarity is what grows the genre.
BloodRedRose, who took the awesome photos at this show and I met prior to the show to collect our tickets from will call. We are both veterans and were honored to attend and review this concert (not to mention all bands kick some serious ass!). For a Sunday night, the place filled up pretty quickly and had a pretty dense crowd throughout. Probably the most heavily attended Sunday show I have seen here in Jacksonville lately. Who wants to miss these killer bands though, right? It was also very cool that most band members were mingling in the crowd and talking with fans at the merch tables at the instant the doors opened. Both of us were able to talk to members of each band and were welcomed like old friends. We did not sense one ounce of insincerity or of being a bother to anyone. Great group of people, but this is generally the rule anymore instead of the exception. Also talking with fans, it was also very apparent that there were pretty equal amounts of fans for each of the bands playing that evening. Usually, people filter in as their favored band plays and filter back out once they have played or everyone comes in just prior to the headliner takes the stage. This crowd was the same from the line outside the venue through the end of the night. Very cool to see this from the fans! This is what encourages bands to return and keeps a steady stream of big acts coming through the city. Win, win for everyone; fan and band alike!

I will be completely honest and say that I had little experience with Necromancing the Stone. Fist and Dragon know vocalist "Big" John Williams (also of Brimstone Coven notoriety) and had seen him just four days before up North, but I was uninitiated prior to the concert. Funny too: when I spoke with the rest of the band before the show, I dropped my card and a couple of stickers in their fan jar as I always do. After the show, John was speaking with a couple next to me and wanted to get their contact information and pulled my MN sticker out of the jar for them to write on. In utter confusion, John shook his head saying: "Metal Nexus? How the hell did this get in here? Are these f*ckers everywhere?!?" Once I introduced myself, everything came clear and we both got a big laugh. Super nice and engaging man. If you get to see this band play, go say hi. I think I am safe saying that they love meeting as many of you as they possibly can when they out on tour. Filling out the rest of the line up for Necromancing the Stone are guitarist Justin Wood (also of Brimstone Coven), Arsis guitarist James "Tone" Malone, ex-Black Dahlia Murder bass player Ryan "Bart" Williams and The Absence drummer Jeramie "Diamond" Kling. Quite impressive by name alone but a long second to the outright quality of their music and stage presence. Supporting their recent release of Jewel of the Vile, Necromancing the Stone is traditional Metal with hints of Power Metal, especially with the larger than life, clean/semi-clean, soulful vocals of Mr. Williams (no stretch since he dwarfs my 6'1", 200 lb. frame!). His mighty pipes have a very unusual timber that I cannot place anywhere else and make NtS immediately recognizable. Also unusual is the use of three leads by the guitarists and bass player. We were often treated to dueling or two individual solos during the same song. Very interesting harmonies that compare and contrast the differing playing styles and talents of each artist. During their set, which included, "True Survivor", "The Siren's Call", "Bleed for the Night", "The Descent", "Crusher", "Ritualistic Demise" and "From Graves to Infamy" lead singer of Allegaeon, Riley McShane, even joined in for a couple of songs as the other bands joined in the ever developing pits up front while the rest of band moved around the stage like hyperactive kids loaded up on Christmas candy and caffeine. One big ball of kinetic energy for the audience to behold leaving no doubt that we will being seeing more of Necromancing the Stone as their notoriety grows! I have since listened to Jewel of the Vile extensively and absolutely love the band and the music. I will be seeing them again when they land anywhere near for sure. The evening definitely was starting out on the right foot. Way too much damned fun!
More information on Necromancing the Stone can be found at Facebook Bandcamp  Metal Blade Records  NtS Merch  Twitter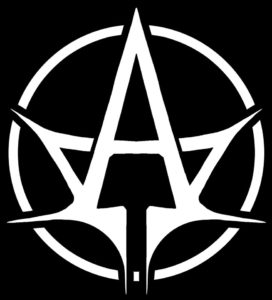 Alright. I may not have been familiar with Necromancing the Stone before the show but I have been a huge fan of Allegaeon for quite some time and had the pleasure of reviewing their latest album Proponent For Sentience (Review) prior to its release this past September (this monster release has since landed on my Best of 2016 list, to be released with everyone else's choices later this month). Never seeing them live before, I was beyond stoked to finally have the opportunity to see one of my favorites take the stage. I was also thrilled to be able to have a few words with everyone in the band. Again, everyone was openly friendly and having a blast playing and listening to their tour mates blow the roof off the venue. Anyone familiar with Denver/Fort Collins, CO's Allegaeon knows that this band's music is intelligent, ultra technical and hits with a ferocity all their own. Melodic, fast and complex. Great on a multi-track CD, but could they pull it off live? Holy crap can they! Guitarists Greg Burgess and Michael Stance play in perfect unison or in poly harmonies while the mighty bass playing of Corey Archuleta and drumming of Brandon Park hammer away at impossible speeds. Two guitars and a bass; 22 strings and 30 very busy fingers for almost an hour. Hurts my hands and my head just thinking about it. It is often difficult to keep track of everything going on in each song, but to be able to duplicate it live is nothing short of stunning! I honestly stood there in awe of the talent and musicianship of each of the band's members for the entire set. Incredibly, Allegaeon is just as tight live as they are on recorded media. Their show amounts to an hour guitar/bass/drum shred-soloing pulled together by the growling, thought provoking lyrics barked out and growled by Riley McShane. Their set included everything that I would have picked for them, including: "Proponent For Sentience, Part I", "Of Mind and Matrix", "A Path Disclosed", "Gray Matter Mechanics" (one of my favorite songs off their latest release), Rush's "Subdivisions" (you would have thought Rush was actually playing with the enthusiasm showed by the crowd when they played this killer cover!) and "Behold (God I Am)". The audience started a little cool but gained momentum as one song progressed to the next. By the end of the show, the crowd was screaming for more after the virtuosity they just witnessed. I have to say that Allegaeon left an indelible mark on me. Slack jawed during the show, I left shaking my head in stunned astonishment. I have held them in the highest of regards for years but felt like Wayne and Garth meeting Aerosmith after being in their presence last Sunday. This does not happen that often, but Allegaeon is just that good; be it recorded or for their live shows. At this point, they can do nothing wrong from my humble perspective.
More information on Allegaeon on: Web Facebook Instagram YouTube Soundcloud Twitter
@Allegaeon @CoreyArch @GregAllegaeon @DeathMetalMikey @BrandonParkdrum @McShwowe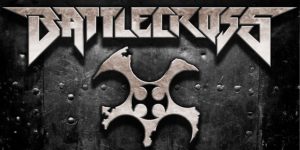 I have to give Detroit, MI's Battlecross a huge "Thank You!" for continuously supporting our military troops and veterans with their annual Winter Warriors Tour and other shows throughout the year. We cannot thank bands like this enough for supporting those that have given so much to ensure the liberties we all too often take for granted in this country. Touring is tough and to do it in support of something other than yourselves is humbling. If you are a veteran or would like to join these three bands honoring some of the best among us their site states:
"In conjunction with the Veterans Ticket Foundation, the trek will once again offer free admission to members of the U.S. Armed Forces, and the band will donate a portion of their proceeds to local veterans' organizations in each city. Veterans are invited to register for free tickets at vettix.org starting on September 23rd. General admission tickets will be available at smarturl.it/ww2016 the same day."
Again, you Metalheadz are the best in so many diverse ways! Supporting Rise to Power which was released late last year, and following back to back tours with bands such as Soilwork, Unearth, Hatebreed, DevilDriver, Crowbar, Testament, Toxic Holocaust, Soulfly, Suffocation, Havok and many others in addition to many Metal festivals throughout the country, Battlecross has toured relentlessly in 2016. In early 2017 they immediately hit the road with Superjoint to start the year off running as well. They wear the badge of road dogs well and show no signs of weakening even if they are internally worn out. I saw them once a little over a year ago and they showed the same passion and spunk they did during this show. Humor and friendly banter abound between songs that gives their set an intimate feel; like they are just playing for individuals in the audience instead of to a crowd. This is a gift that I have only seen a few other bands be able to harness and makes their show unforgettable every time you have the pleasure of seeing them. Vocalist Kyle Gunther even took a few minutes to raze a local Mexican restaurant for their slow and disingenuous service. This is the stuff of off the cuff conversation between friends; voicing frustration that is best let out instead kept in to stew and something we all can relate to. If this was left to sarcasm, it would have been really funny and endearing, but was honest which was endearing for a completely different reason. Alongside the unique growl of Gunther's vocals are guitarists Tony Asta and Hiran Deraniyagala, bassist Don Slater and drummer Jordan Mancino who all share equally in the charisma Battlecross bring the stage each and every night. Each brings their own personality to the show as well. Asta wears a smile throughout, while Deraniyagala carries himself with a high driven intensity in subtle contrast. Not to overtly play favorites but bass player Slater is "holy shit" good. He can slap, roll and tap with the best I have seen and does so effortlessly while bouncing from one side of the stage to the other. Just sick! With much Battlecross' sound anchored in their unique rhythms, drums are played to perfection by touring drummer Mancino. Some VERY busy feet back there behind the kit! With a set including: "Breaking You", "Never Coming Back", "Man of Stone", "Shackles", "Absense", "Force Fed Lies", "Beast", "Blood and Lies", "Kaleb" (about Kyle's son), "Not Your Slave", "Flesh and Bone" and "Push Pull Destroy", we got the perfect package of old and new material to sate any fan's taste and preference for Battlecross music. Just as Allegaeon got involved in Necromancing the Stone's show, Big John of NtS sent his towering body barrelling through the crowd a few times if he saw the crowd settling down. Pretty funny too. A few people looked like they were about to get pissed off about it until they saw who was causing all of the havoc. Once recognized, the floor swirled with bodies once again. A good time was had by all, no one leaving disappointed to be sure!
We have been getting some really good shows here in Florida as of late, which has kept us hopping for a change. Seems like it is feast or famine, but certainly hope that this trend continues into 2017. This particular show was interesting because I was introduced to Necromancing the Stone, who are incredibly good and will hit my playlists well into the future; covered Allegaeon, whom I have never seen before even though I have been a long time fan and seen Battlecross own yet another stage; all for a truly great and generous cause! If this tour lands near you in the coming weeks, don't even hesitate going! Well worth the time and money that supports our veterans and Metal community!
For more information on Battlecross, please check out Web  Facebook  Twitter  Instagram  Bandcamp  Metal Blade Records