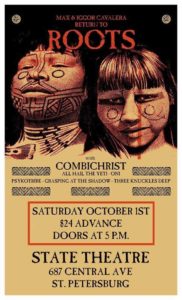 State Theater in St. Petersburg, FL; Saturday, October 1st, 2016. This was the place to be for what is sure to become one of the biggest and memorable historic events for all the Metal fans fortunate to be present. Max and Iggor Cavalera Return to Roots Tour stormed this gulf city with more force than any damned hurricane and left more crushed skulls in its wake than the largest of epic World War II tank battles. Heavy, harsh and rowdy were the rules of the night as these two Metal Masters welcomed three local acts and four national touring acts to grease the skids for their dominant return to what now is considered a classic: "Roots". Another long show that was well worth my four plus hour drive and eight hour Metal ride of shows. Wouldn't have missed this event for all the tea in China!
Taking the stage first was Apoka, FL's Three Knuckles Deep. These guys have had my attention for about a year now after winning a local battle of bands for an opening spot supporting Death Gods, Deicide. Since then I have have tried to make a show, but scheduling, other show obligations and life have stood in the way. When I saw that they were playing the Max & Iggor show and was able to make it out, I was excited as hell to finally see my friends perform their vision of Death/Thrash Metal. Their sound is distinct as it is a contemporary Tech Death Metal take on old-school Thrash. Machine gun speed guitar riffs and melodic rhythms along with killer traditional bass lines and drumming from hell without reverting to the all too often, overused beat blasting sets 3KD apart and what originally attracted me to their style in the first place. Members of this kick-ass band include: Jonny Knuckles on vocals/guitar, Jay Metalneck on drums, Eric Sleazy Daugherty playing bass and Demon on vocals/lead guitar. Their stage presence is an equal mix of fun and intensity that resonates professionalism and a sincere passion for what they do. Their set of original music was: "Screams of the Dead", "Endless Torment", "Wargasm", "From the Grave", "Shadows Lurking" and "3KD"; most of which can be found at Three Knuckles Deep. Hold on though, because they will rattle the enamel off your teeth just before your skull implodes. 100% chance of seeing them again!
When Grasping at the Shadow took the stage, we all kind of looked at each other. "Huh, look at that, a violinist. Well, that's certainly different." Formed circa 2011 in Bradenton, FL, vocalist Dylan Holcomb, drummer Jon Kaufman, bassist Drew Johnson, guitarist Daniel Avalle and demure violinist Kimberly Hovencamp make up this Doom/Deathcore outfit. Heavy guitar riffs layered on roaring drums and bass rhythms, Deathcore vocals and the dissonance of the violin create a texture not common outside of Symphonic Metal and some Melodic Death Metal. Said to be eerie, creepy and heavy, they are certainly unique and very entertaining to watch/listen to. Their influences range from Lamb of God, Black Tongue, Whitechapel to The Last Ten Seconds of Life and Chelsea Grin so you get the direction they are headed. On stage, Grasping at the Shadow have the attitude to back up their sound with hints of humor and intra-band banter; welcoming the audience into their inner circle of friends. Having a fair number of tunes available at Grasping at the Shadow they deftly chose "He Walks", "Child of Rage", "Damned Nation", "Hated by All", "Alse Young" and "Deceit of Light" on this fine night which accurately spotlights their abilities and range. Definitely fit the bill and added a different overall tone to the evening.
Tampa's very own Psykotribe was next on the bill and a band that I have listened to for quite some time now. According to my friends in 3KD, they never ceases to be one of the most entertaining bands around. While this was the first time I have personally seen them, I would have to concur now that I have seen them perform, up close and personal. This band is crazy fun to experience! Under Black Metal–esque makeup members Dana Darkly on vocals, Jakob Sin on vocals and utilities, Chris Lewis and Jamez Madness on guitars, Chad Zielesch on bass and Adam Zielesch covering drums blast out their own version of modern, straight forward, albeit very heavy, Traditional and Horror/Shock Metal. With a comfortable yet powerful stage presence that bounces them from one side of the stage to the other, Psykotribe performed "The Devil's Complex", "Live Evil", "Faceless Killers", "Wicked White Lies" and "Left Behind"; a tasty array of their all original material while stirring up a frenzy of adoring fans in the growing pit just feet from the stage. I also just found out that this killer band is set to record their first full length album with Alex Vincent (A/V Productions – Recording Studio and Production – aka Andy Barclay from Child's Play) and Thom Hazaert (EMP Label Group/EMP: Underground/THC: Music) shortly after Halloween! While you're waiting for this new release, check them out at Psykotribe. Well worth the time and you might as well get on this train now before it leaves the station without you. If they play near you, make the trip out because they are quite a sight to behold. Don't hesitate to come up to them and say hi or slam them in the pit, because they are a great group of people as well!
Hailing from Canada, Oni was up next. This was my biggest surprise of the evening since I had heard nothing more than "Eternal Recurence" that was recently released in support of their upcoming album Ironside due out on November 25th ("Barn Burner" was also just released last week but not available before the show). In addition to these two songs, their set included "Spawn and Feed", "The Only Cure" (which features Randy Blythe of Lamb of God on the album), "Kanvas" and "Coast to Coast". Band members Jake Oni (vox), Martin Andres (guitars), Brandon White (guitars), Chase Bryant (bass), Joe Greulich (drums) and Johnny D (Xylosynth) put on a jaw dropping performance of their Ultra Technical Metal sound. Their is no member in Oni that is not at the top of their game. The duel virtuoso guitar-work scream in response to the most complex bass playing around, "hail of hammers drumming", viciously growled and cleanly sung vocals and the keyboard sounding instrument called a Xylosynth. This thing looks and plays like a xylophone and sounds like keyboards played with a rail gun. I have never seen this incredible machine before, but Johnny D sets the bar well outside of other mere mortal musicians wanting to emulate his sound, four hammers at a time. Oni's sound is simply enormous and complex beyond belief. They have grabbed my attention in a huge way, prompting me to immediately put in for a pre-release review of Ironside. They may very well be my next, favorite band. I still sit amazed and stunned by Oni. To top things off, these cool guys immediately hit their merch area and hung around to talk to an entire hall of new fans and support the rest of the night's acts. I was not prepared for just how damned good this band is. They will continue to tour with Max and Iggor Cavalera Return to Roots tour through October before being picked up by Exmortus in November and then finish the year out with Children of Bodom. They will join Devil You Know in early 2017 for a tour of the UK. Man, talk about hit the ground running. If you miss them on any of their many tour stops, it is your loss.
All Hail the Yeti took the stage after a short break. Dragon turned me onto them shortly after I started with MN so I was exceptionally excited to see this kick ass, Los Angeles, CA based band for the first time. Permanent members include vocalist Connor Garrity and bassist Nicholas Diltz and were joined by drummer Ryan "Junior" Kittlitz and guitarist Alan Stokes to round out the band. Their brand of Metal is said to be a mix of Acid Bath and Pantera intensity with a heavy dose of Motley Crue excess and their stage persona accurately reflects exactly that sentiment. This would likely be the headlining act if Woodstock was held today with Modern Metal bands. They have a great mix of energetic stage antics while still emanating a modern hippie chill attitude. This was not in my preconceived notion at all but was a pleasant surprise. I was expecting 0-100 mph blast off that never slowed down. Definitely one of the coolest bands to see live and they are highly appreciative of the audience and the other bands as they paused to thank everyone at every pause in the show. Playing an assortment of tunes from Screams from a Black Wilderness and their self-titled debut, All Hail the Yeti jammed out hard to their die hard loyal fans and assuredly picked up many more that may not have heard them extensively before. As out-of-this world good their releases are, they cannot be fully appreciated until they have been seen live. They absolutely give 100% when on stage; packed with in your face attitude that spun a pit deeper than any to this point in this historic show. I left with more love and respect for All Hail the Yeti than what I walked in with and still remain one of my go to bands when I can't find exactly what I want to listen to. Freaking hell on wheels, these guys! I cannot wait to see them again!
When Combichrist took the stage, the audience went berserk and shit got very real, real quick. One would think that they were the headliners if not for the Cavalera brothers, Max and Iggor. I will admit that I have not listened to Combichrist extensively and had no preconceived notion of what to expect, but it made no damned difference because these guys are off the freakin' chain entertaining live! A kinetic spectacle of Industrial Metal that moved with heavy grooves and a predilection for overtly aggressive style. Combichrist came to own the stage and took it with a colorful vengeance. Members Andy LaPlegua (vocals), Joe Letz (drums), Eric 13 (guitar), Brent Ashley (bass) and Nick Rossi (drums) never sit still and would have hung from the lighting fixtures if they were a bit lower. I have not seen raw energy radiate from a band so brightly since seeing Van Halen back in the 80's. No kidding. These guys take Metal stage entertainment to a whole new level. Really, really impressive indeed. It was very difficult to stay focused on one portion of the stage for more than a few nanoseconds before something else would demand attention somewhere else. Over and over for almost an hour as they pounded out "Slakt", "Skullcrusher", "Exit Eternity", "Never Surrender", "No Redemption", "Zombie Fistfight", "Fuck that Shit", "We are the Plague", "My Life My Rules" and "Maggots" during their set. The pit that All Hail the Yeti started grew and spun with an ever increasing intensity that barely stopped for a breath between songs. Fans flat out wore a scar of violence into the floor of State Theater. Combichrist is simply one of those bands that have to be seen to be believed because once you've seen them, they will set the standard that future shows will be compared to. Don't pass up the chance to see them if they land near you. 100% guaranteed good time!
This was one historic night because of brothers Max and Iggor Cavalera Return to Roots though. Being the 14th stow on this epic, 29 venue stop of the US with 28 European show dates to finish out 2016, the anticipation was palpable and electric as we all waited for these legendary, Thrash Metal Gods and founding members of Sepultura to emerge from the shadows backstage. Joining them on stage, one of the best shred guitarists on the planet and long-time friend Marc Rizzo and bass player Johny Chow (both members of Cavalera Conspiracy) lit the very short fuze that ignited the powder keg that had been resting under this enthusiastic audience. Rushing the stage, all of us near the front were crushed by the wall of death that developed almost instantly behind us. As good as the opening bands were, this is what everyone came to behold: the 20th anniversary of Roots, played in its entirety, in track order of this double-disc, 1996 Sepultura classic which include: "Roots", "Attitude" (played on an actual berimbau!), "Cut–Throat", "Ratamahatta", "Breed Apart", "Straighthate", "Spit", "Lookaway", "Dusted", "Born Stubborn", "Itsari", "Ambush", "Endangered Species", "Dictatorshit" and "Procreation" with the addition of "Motorhead" and a final rendition of "Roots" to boot. Where Combichrist owned the stage, Max, Iggor, Marc and Johny owned the whole damned venue from note one until the overhead lights came up at the end of the show. I was never fortunate enough to see the original lineup of the band due to being a poor, college student in Cincinnati back in 1996, I was thrilled and awed to finally be this close to two of my Metal heroes but eventually had to make my way sideways and back before my camera became a permanent fixture of my face. It was so rowdy, in fact, that it took me nearly ten minutes to clear the massive pit without getting killed. Way too much damned fun! It occurred to me about halfway back that this is the stuff of dreams for everyone in this music hall in downtown St. Petersburg, FL. This was history in the making and likely a once in a lifetime chance for fans young and old to see Roots performed like it was never played before. How fortunate we were to revel in what has become a classic Metal album. The brainchild of Max's wife and band manager Gloria, Return to Roots came about after seeing the audience erupt when Soulfly played "Roots Bloody Roots" in London back in July. If that kind of love and passion could be evoked from one song, what would happen if they toured the album, in its glorious entirety (this had never been done before either), for one last ado? When presented to the Cavalera brothers, they immediately began work on how to make this special. Work began by sampling parts of the original recordings that could not be easily be recreated in a live format without having ten people on the stage at a time. With Rizzo's and Chow's remarkable and undeniable talents, the intent, feel and sound are true to the original. This iteration of the band could have been in on the 1996 tracking, it is so good. Even after twenty years, every song is a resounding anthem that was felt by everyone present and will not soon be forgotten. The passion and force of Roots still ring clear and true. A fierce last call to a classic that we will never hear live like this again. A true honor to be among this group of brothers and sisters of Metal in the presence of greatness that is and forever will be one Max and Iggor Cavalera's finest moments.
So, I got to finally see and meet my friends in Three Knuckles Deep and Psykotribe, be introduced to Grasping at the Shadow and Oni, party to the musings of All Hail the Yeti and Combichrist and be within a couple feet of two of my most revered Metal heroes in Max and Iggor Cavalera on their Return to Roots tour. Words cannot express how extraordinary this show was and the lasting effect that it will hold in the hearts of Metal fans over the course of this tour. One last hurrah for one of the most undeniably iconic albums of all time. I am truly honored and humbled to have had the opportunity to not only cover, but be a part of what will become one of the most important and historic tours in Metal history. This show will be spoken of in reverence for years to come and the glow of Roots will never die.