Nucleust is a progressive metal band from Perth, Australia. When the band formed in 2013 they were determined to put out music that shook free the mold of typical metal. And, while they did go through some lineup changes initially, they soon began putting together songs for a debut EP. One notable thing about them is the old school approach they took in the beginning. And, like other bands in the last few years, it paid off for them. Primarily, playing the local circuit in order to flesh out their songs as well as gaining a fan base. People responded to the eclectic range of screaming vocals and the technical riffs. Fueled by this, the soon released the single track "Whisper". It caught the attention of regulars to the scene and even local radio stations. Blunt magazine also gave it a feature track. With this success, they were ready to record a 6 track release 'Fractured Equilibrium' that debuted November 6th, 2014. This debut really set things in motion for them and included a 6 day tour in Indonesia in 2015. By August of that year they even had their first music video for "Faith by the Sword". Having a drastically diverse musical background that combines influences from classical music, jazz, prod rock, death and doom metal, they've created a super heavy sound while maintaining a melodic flow that even goes back to Carcass somewhat. 2016 really intensified things as they toured heavily with numerous bands around Australia as well as recording their second EP 'Resistivity'. The huge response it received led to even more tours with even more influential bands like Twelve Foot Ninja. By December they were ready to work on their first full album, 'Terra Cerebral'. 'Terra Cerebral' will release July, 28th. Released with the help of Rockpit Management and publicist Chris Maric, it was mixed and mastered by Forrester Savell & produced by Max Palizban.  See what vocalist Shannon Marston had to say about the record below. Buy the album here.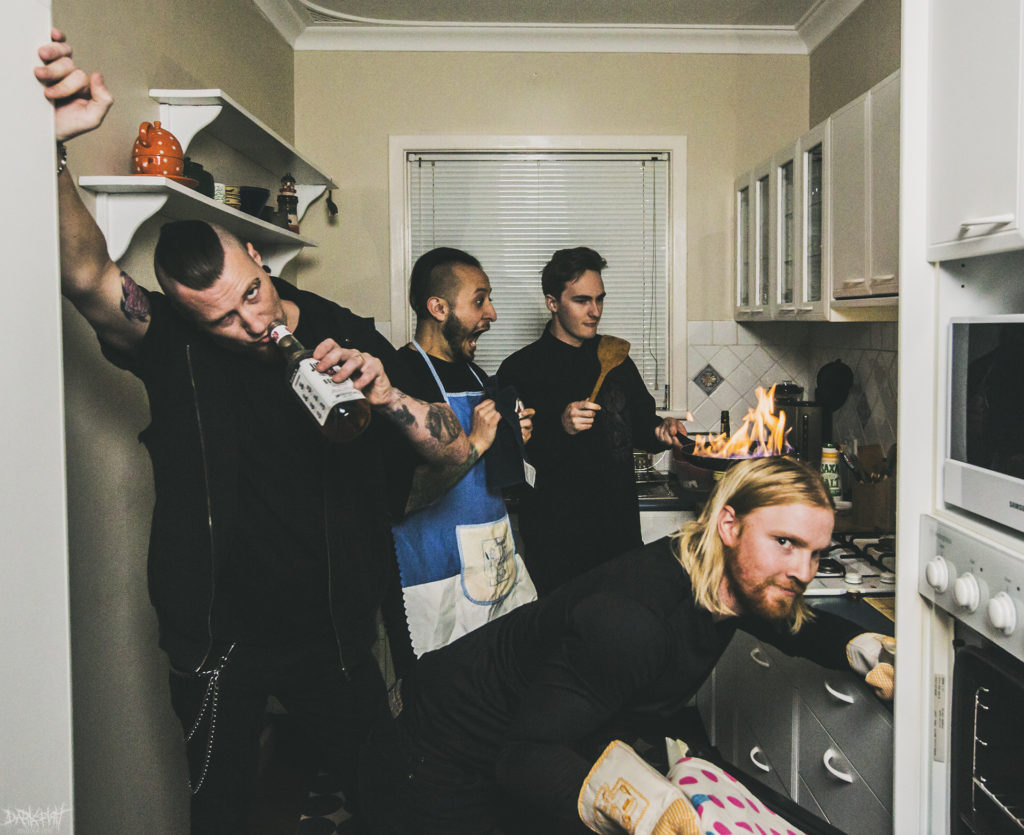 "We have pushed ourselves to create what we believe is our most creative and diverse song list whilst still maintaining the sound and style that we have developed. In saying that, there will be a lot of unexpected twists and turns throughout the album but I guess that's what you would expect from us!"
The record begins with a triumphant scream on the first single "Lullaby Paranoia". Marston trades back and forth from these filthy roars and cleans to provide accessibility for every listener.  He brings the song to a close with a strange demand telling you to "Shove it up your ass!" He is clearly pissed off about something. Check out the video below for "Lullaby Paranoia". "Nothing Is Real But Death" opens up calmly and then bombs you with a meaty riff from Max Palizban. The band really showcases their full talent on this specific track with how each individual brings the whole sound into one. There is something different to follow from each musician. This is one of those songs you can listen to several times and find something new that you like nearly every listen. Nucleust's second single off the record titled "Quantum Umbrella" was released via SoundCloud and can be streamed below. With a resounding thunder crash (literally), the band tiptoes into the track with a laid back clean intro.  The groove kicks in shortly after and then transitions into a distinctively dark song with passionate vocals and a killer job on the drums by Shay William Graham Smith. It's a really smooth track but goes right back to the heaviness you're looking for from Nucleust when you want it. "Of Man And Tree" features a lot of keyboard to add another element to the complexity of the band. "Loss of a Dearest" clocks in at 6 minutes and 19 seconds as the longest track on the record. The vocal and guitar patterns unite for the start of the song before plunging into a plethora of riffs. The twists and turns this song takes could be compared to that of Between The Buried And Me. "The Symphony of Revenge" marks the beginning of the end with a touch of symphonic elements to start the track. It is possibly the most powerful song yet on the record as every member pours their all into their performance. The transitions are flawless and some of the heaviest on the record. 'Terra Cerebral' is out now and can be picked up at the link mentioned above at the end of the first paragraph. You can check out the quartet's Australian tour dates below. If you're in that part of the world, make sure you catch one of their shows! Follow the band on Facebook for any new info on new tour dates or news of more new music.
Nucleust is:
Shay William Graham Smith – Drums
Shannon Marston – Vocals
Max Palizban – Guitars & Back Vocals
Josh Fox – Bass
'Terra Cerebral' Track List
01. Lullaby Paranoia
02. Nothing Is Real But Death
03. Quantum Umbrella
04. Re-earth
05. Of Man And Tree
06. Loss Of A Dearest
07. The Inner Self
08. The Symphony Of Revenge