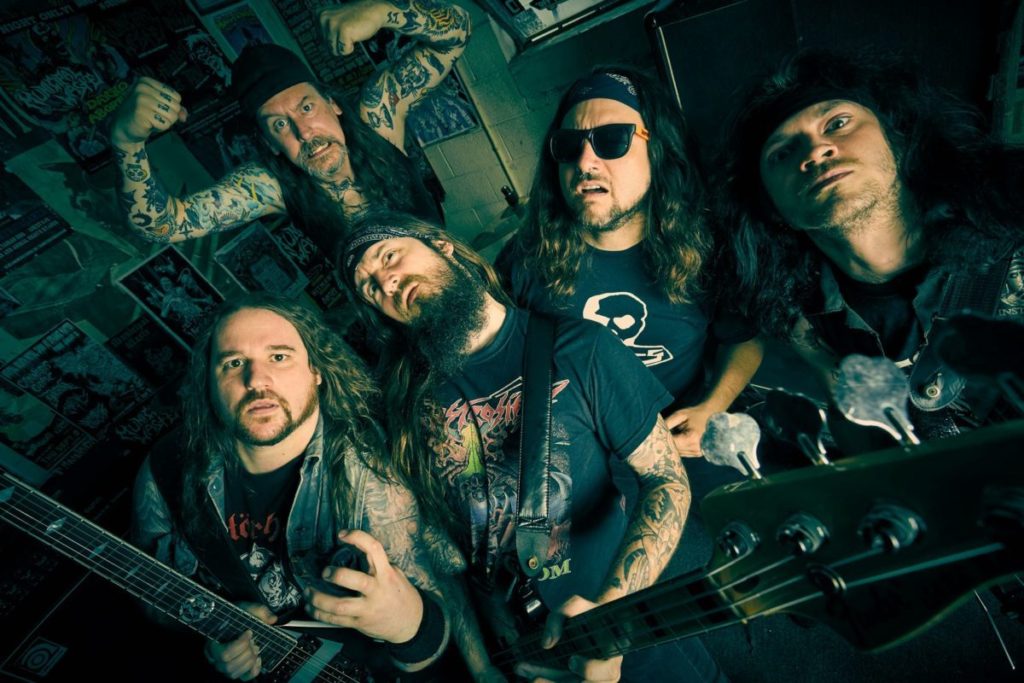 Storming in back to business and stirring up the broth yet again, MUNICIPAL WASTE is back and ready to crush your skull against their wall of sound with full force like a German tank missile. Richmond, Virginia crossover thrash young bloods MUNICIPAL WASTE hits back after a five year gap with their latest and brand new record, 'Slime And Punishment'. It's been well over a decade now and it won't be wrong to bestow the moniker of 'crossover kings' to MUNICIPAL WASTE, as it's what evidently time and again they've proved so far down their short and marvellous career so far. Perfectly matured and well executed punk and thrash metal riffs, combining hardcore elements, they have really upped the ante in their own genre, which is a laudable thing. Clocking in just shy of 30 minutes, and loaded with a blitkrieg of 14 tracks, MUNICIPAL WASTE takes no shit and proves yet again that this isn't for the weak hearted. If you're looking for anything short of fast, gritty and uncompromising thrash violence then you better look away. 'Slime and Punishment' was recorded by the band themselves and sent to Bill Metoyer (known for his work with SLAYER, W.A.S.P., LIZZY BORDEN and DARK ANGEL) in Hollywood, CA to be professionally mixed. The album is not so far away from it's release date and the flood gates would open on June 23rd, 2017, out via Nuclear Blast Records.
The love for toxic stuff, and gory art has been resurrected in this album's cover as seen above. Speaking of which the album cover was designed by illustrator Andrei Bouzikov (also responsible for the art of 'Massive Aggressive' and 'The Art Of Partying'), holding strong to MUNICIPAL WASTE's visual style as well. Since the first record that came out under Nuclear Blast, that is, 2012's 'Fatal Feast', MUNICIPAL WASTE have really put their gas on full speed and cemented their slot in the annals of cross over thrash as the maestros of the genre. Can 'Slime and Punishment' create bigger ripples than 2012's 'Fatal Feast' ? Let's find out!
"..it's hard sometimes to pick the first song- but I think it should be fast.", says Ryan Waste. Well, and that is what you exactly get. Starting things right off in a savage and mercilessly way, 'Breathe Grease', the maiden track on the album, MUNICIPAL WASTE delivers undiluted and sheer hardcore, punk driven crossover thrash stuff. Absolutely no waiting for any kinda melodramatic intro, no bullshit taken. With chaotic and furious guitar riffs, it reminds one of what this band is always capable of doing what they do the best. A perfect song to start proceedings off!
The second track 'Enjoy The Night' barely a minute long, with just 45 seconds on the timer, kicks off with an opening bass riff and finishes sooner than a high school nerd's first night of carnal indulgence on bed. Nevertheless, quickies can always be fun. See what I did there? Next track, 'Dingy Situation' is a riff fest having quite a few layers on it, describing the elements of touring life in general. It has a groovy and thrashy base which is very solid, and also changes the rhythm mid way only to witness Ryan's short but well executed solo. This track introduces MUNICIPAL WASTE's new addition Nick Poulos in the mix as well, to which I think he's done a tremendous job.
The next offering entitled, 'Shrednecks' is probably my favourite in the entire record along with the title track. Just as we're starting to delve more deep into the album, MUNICIPAL WASTE makes sure to still keep the raw and gritty approach to their sound. Just as the title reads, it really is a neck shredder, with the obvious amount of fast headbanging you're gonna have to do to keep up with the song's pace. Just a bit half way across the track it changes gears into a more groovy mid tempo sonic rage, as it then fades into oblivion slowly with the groove intact.
At some points in the album, Tony Foresta sounds like DEATH ANGEL's Mark Osegueda, with the pissed off and rough vocals he belts out. We're mid-way through the album and the next track takes us back down the memory lane to 1982. If you're a METALLICA fan and you don't scream out "Metallicaaaa..!!" as soon as you hear the opening riff of 'Parole Violators', due to it's uncanny resemblance to 1982 'Kill 'Em All's iconic song, 'Jump In The Fire', then you might wanna rethink if you really are a METALLICA fan. The track reflects its standout image in the record, especially when Tony Foresta screams out an hilarious but yet angry, "fuck you, man!", followed by police car sirens which adds an entertaining tinge to the entire song for the listener.
Title track, 'Slime And Punishment' which was released as a single in late May is a diligent evidence of perfectly laboured track as it is a groovy riff fest. The dual guitar harmony of Ryan Waste and new recruit Nick Poulos really seems to work out well in this album. As we're in the dusk of the album now, with songs like 'Amateur Sketch', 'Excessive Collaboration' and 'Low Tolerance' proving to be the penultimate tracks, still heavy and fast and fuming out, it is remarkable how they have continued to keep every elements of hardcore, punk and thrash in each song of this record. Rounding it off with the last three songs, 'Under The Waste Command' is a dynamic yet core to the crossover roots instrumental, just for the mandatory change. 2:51 being the length of the penultimate track, 'Death Proof' is the longest track as per crossover standards on 'Slime And Punishment'. Last track, 'Think Fast' is the "slowest track ever written" by MUNICIPAL WASTE as claimed by Ryan Waste, and is a perfect track to put lights out on the record as it is a several layered rhythmic song.
Fans of speed metal or any other sub genre who likes their stuff fast and pacy, you definitely should check this album out. I bet you won't be disappointed. Although I wouldn't crown it with the top slot in their so far catalog, but I would definitely place it on the podium as of now along with 'The Art Of Partying' and 'Fatal Feast'. The addition of new member Nick Poulos on the guitar has worked out well and it only waits to unfold how the band would sound live with this move, which I am pretty positive about. Another thing I would seriously point out to is the stand out bass playing by Phil "LandPhil" Hall, the blaring bass has on this record has been an excellent support complimenting Foresta on vocals and the new twin guitar attack. 'Slime And Punishment' is one of the best offspring MUNICIPAL WASTE has given birth to, without a second thought!
Alright enough of blah blah, this world seems to end anyways sooner or later, do yourself a favor, a much needed one, get yourself a copy of this album. Cause what I see is, thrash ain't dying anytime soon man!
Pre-order 'Slime And Punishment' here.
MUNICIPAL WASTE line-up :
Tony Foresta – Vocals
Ryan Waste – Guitars & Backing Vocals
Nick Poulos – Guitars
Phil "LandPhil" Hall – Bass & Backing Vocals
Dave Witte – Drums