Gravemind is a six piece Deathcore band originating from Melbourne, Australia. Having formed in 2015, the past two years they have been busy pushing out harsh, in your face content regularly and touring through Australia. Leaving what I can only imagine to be piles of rubble left over from any standing structures that were unlucky enough to have been ground zero for a Gravemind show.
 Gravemind managed to get me interested right from the get go. Their music is enough to pull you in and keep you interested and the fact that they write concept albums is very cool if you ask me! Having this be their third release they have only gotten better at honing in on their craft. The Hateful One released back in 2015, featuring five slamming songs. The Death Of Teyolia which is a single song released in 2016. These are definitely worth checking out because they are solid releases and it will somewhat prepare you for 'The Deathgate'. But trust me…. you won't be ready for this monster!!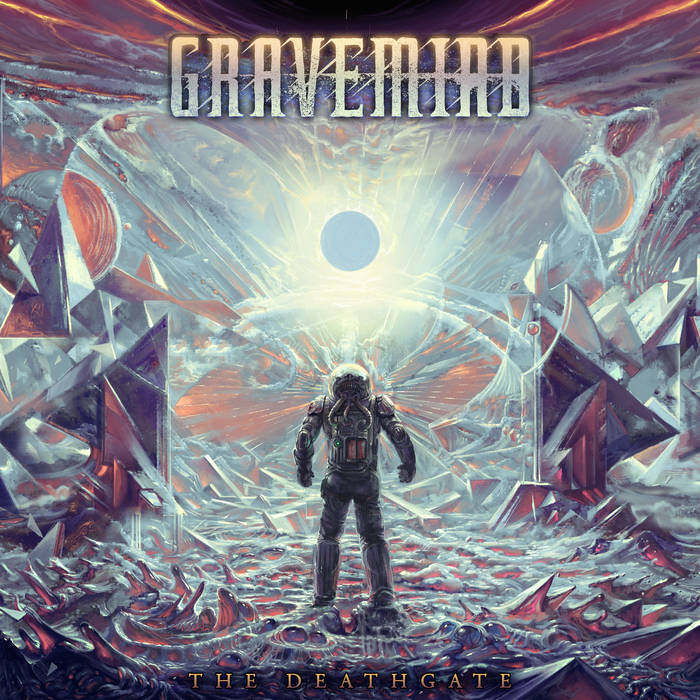 I know when you first hear 'Deathgate' you instantly think "Hey, this sounds like a good place to take the wife and kids for a vacation". Well believe it or not this isn't the case!One of the first things that really caught my attention while listening to this EP is the production quality. Everything is crystal clear from the low tuned snarling guitars to the monstrous vocals. Nothing ever gets lost or buried in the mix and everything sounds very tight. (Oh and that snare drum! Ohhhhh that snare drum….sounds like a freaking shotgun blast!)
'The Deathgate' was released August 11, 2017 and features 6 songs which tell the story of an astronaut trying to survive trials of an alien planet in order to get back home. In doing so he must pass through the deathgate if he wants to make it out alive…..Good stuff!
As we first begin our stroll through the deathgate we are greeted with the opening track "Eschaton". This song does a terrific job opening up the album as it sets the mood at the beginning with its somewhat eerie and subdued atmosphere before exploding into earth shaking double bass and some heavy riffing. One of the coolest parts for me in this song is how in the beginning its calm and then gets fast and heavy, then calm and back to heavy. They manage to make the transitions seamlessly and it adds a fair amount of variety right at the start. 
Track number two is the title track of the EP and it wastes absolutely no time getting heavy! It comes at you full speed right at the beginning, lets up for about three seconds of breathing room for a nifty little ambient lead to shine then its right into a very crushing breakdown-esk riff behind said lead and they compliment each other very well. One more thing I should mention on this track is that I noticed certain parts that had some insane low end that I'm sure lovers of all things heavy will thoroughly enjoy!
Moving onto "Echo" which drops us in the middle the EP and also features a guest vocalist by the name of Aidan Ellaz of the band Alpha Wolf. This tune is slower than the tracks before it, not that this is a bad thing at all! There are definitely technical parts that shine throughout the song but for the most part its extremely chuggy and oh so heavy! There are some really disgusting sounding leads that pop up throughout the song that add some really awesome dissonance to the track which helps make this song a highpoint for me.
"Deadspace" is a short little diddly that melts right from "Echo" into a a gritty vocal part that bleeds into yet again some heavy riffing and then transitions perfectly into "Anaesthesia" which is song number five. By the way, It's not that I don't think you readers can't count to six by yourselves and make it all the way to the end of the album without me guiding you, its just that I like to practice counting to six…..
"Anesthesia" is one neck breaker of a song with some of my favorite riffs from Gravemind. I'd even go as far as to say this is my favorite from this release. The song kicks you in the face from the beginning and refuses to let you up for the full three minute and twenty four second run time. The song is so good that you are missing most of your teeth by the end and we all want to be able to whistle so this just helps you with getting really good at it. There truly is a bright side to everything!
Well, like most things… all good things must come to an end so unfortunately this release does have to stop eventually. Human closes out this album perfectly by starting in slow and then revving up in the midsection before closing out with my favorite outro on the EP and bringing an end to our astronauts journey.
My final thoughts on the latest offering from Gravemind is that it is a very well written and very well produced EP with a sound that stays true through the whole thing but never gets stale or monotonous to listen to. A band is only as strong as its weakest link and there no weak links here! If you are into death metal, deathcore or any type of extreme metal really, than this album is definitely worth checking out!