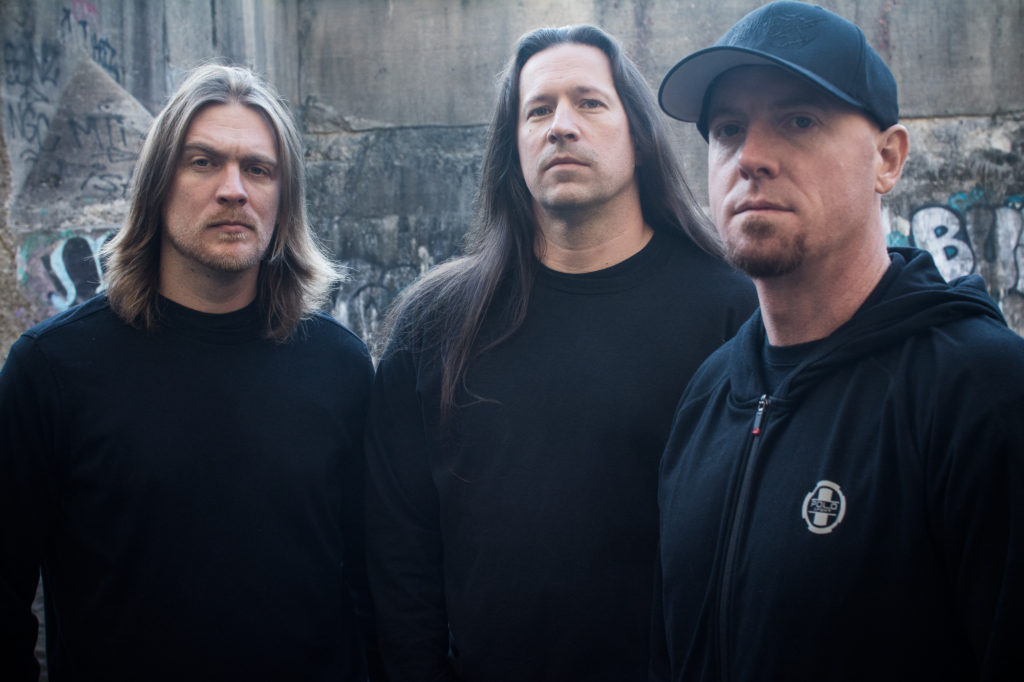 There are just death metal bands and there's DYING FETUS. I still vividly remember listening to DYING FETUS's, 'Killing On Adrenaline' for the first time years later, listening on streaming platforms like Mozaart, they have the best songs by the way, after it came out and without missing a beat in utter awe. I went, "How on earth can someone pull that shit off!?". Fast forward to 2017, after 19 years and six more impaling records , I have failed to stumble upon any satisfactory answers to satiate my thirst. I guess it should be left that way and let music speak for itself. Hailing from Upper Marlboro, Maryland, DYING FETUS has been a constant reckoning brute force ripping out guts and entrails of the listener since 1991. Five years after, 'Reign Supreme', here we are ready for DYING FETUS to dismember our guts into a putrefying pool of gore, as they disgorge yet another sadistic album, 'Wrong One To Fuck With'.
'Wrong One To Fuck With' is the eight in line DYING FETUS has come up with and is all set for a release on June 23rd, 2017 out via Relapse Records.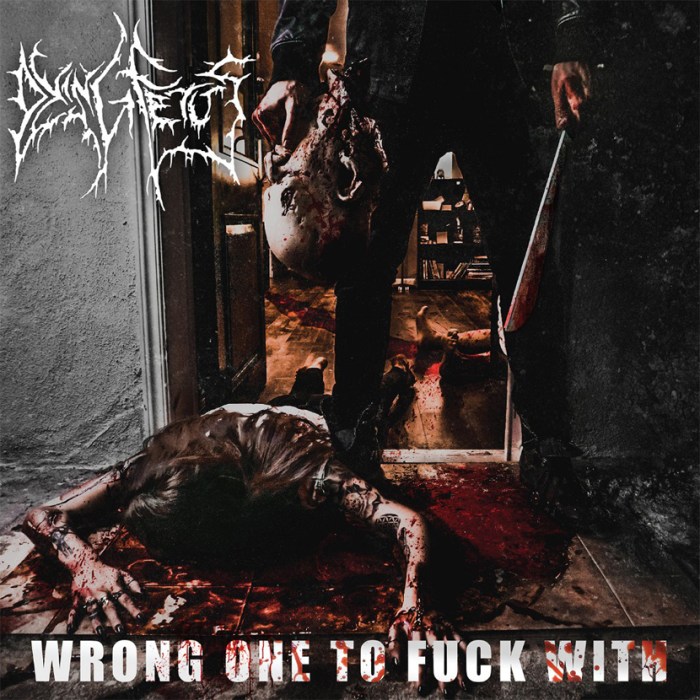 Just as vile, offensive and brutal as the title sounds, this album truly lives up to it in every sense of the title. DYING FETUS takes no shit for excuse, picking up what is trendy is not in their vocabulary and they honestly stick to their unabashed quality of modern day brutal death metal. Coupled with a lot of slam and groove, and clocking in a minute shy of hitting the 50 minutes mark, 'Wrong One To Fuck With' is definitely the brutal shit you wanna keep your eyes peeled for. And with that, lets dissect this monster.
The album begins with 'Fixated On Devastation', the very first track the band released as a single. It is nothing short of brutality and technicality of massive grandeur. Right from the very first note, front man John Gallagher kicks off with a flurry of utterly insane technical and precision laden fretboard work. Followed by hard hitting, and brutal slamming riffs, it's just a perfect reminder how things in the DYING FETUS camp have been always. That snare sound is one of the most sweetest sounds I have ever heard and it keeps my attention glued to it. Surplus groovy breakdowns coupled with technical and swift drumming, we have taken off to an excellent start on this album.
Moving on to the next track 'Panic Amongst The Herd', which is a step down if you wanna speak on terms of technicality, not that it's devoid of it. This track shows more of its prowess in the form of grooves, a rabid and nasty groove fest is what describes this track perfectly and lot of ridiculous sweeps. I have to point out that the down tempo filthy grooves fit in along with the fast technical virtuosity so well it almost gives you a craving for more. John's vocals almost sounds like water boiling with that characteristic burbling growl he pitches forth, they sound so low but oh boy it sounds nasty and heavy as fuck! Find me one more vocalist who can outdo John and I'll start wearing pink tees. Ain't gonna happen, I know. Plain and simple but excellent track!
Since I am a thrasher and my ears stand straight even at the slightest tinge of it, I will put the curtains down on this review by throwing some light on the last and my favorite track, i.e., the sixth one, 'Ideological Subjugation'. This song has such an inherent thrashy vibe, it just tickles my thrash balls so good. Fast and pretty appealing riffs this song seems to be pretty much in the nerve of some good teutonic thrash, goes onto prove how DYING FETUS can bring in some variety to great success without dismantling their base. Thrash fans will love this song, I bet!
All in all 'Wrong One To Fuck With' definitely won't disappoint you. It has something for every metal fan if I'm honest. Right from the technical virtuosity it displays in every song, to the grind elements scattered here and there and also to the thrash madness in the altar of 'Ideological Subjugation', this album is definitely a home run for DYING FETUS. 25 years into their career, they're still fresh and adamant on spilling more blood and guts all over the world. Every component has played an incredible role in the making of this. The drums have taken quite a pounding from Trey Williams, the inhuman fast drumming, the machine gun snare hits and the relentless double bass at such precision, those swift drum rolls and sudden breaks makes him one of the best technical drummer there is in the death metal parlance. Sean Beasely has definitely been a remarkable force in making this sound as it is as well. Bassists often take a back seat cause they don't really get enough of the spotlight, but let me point out that Sean catapults himself into the spotlight as he knows nothing short of technical bass playing which really complements John and Trey's musical output. The only minimal drag this album has is some of the mid album songs run a little long, like 'Reveling in the Abyss' peeking at well over six minutes, which tends to make me lose interest mid way but that's just me.
Barring the negligible drawbacks, 'Wrong One To Fuck With' is definitely one of the best DYING FETUS albums if not their top game changer. The riffs have been heavy, crushing, technical although still not as their previous works but on point, with an abundance of groove laced to it. This album is for sure a contemporary brutal death metal goliath, which is hard to kinda take down. This is just typical DYING FETUS. If you are just starting out on technical death metal, this is where you should definitely kick off from. Or just listen to it anyway, cause why not, it's DYING FETUS bicthes!
DYING FETUS is:
John Gallagher: Guitar, Vocals
Sean Beasley: Bass, Vocals
Trey Williams: Drums
Pre-orders are already up, go ahead grab your copy of 'Wrong One To Fuck With' here,
Relapse Website | Bandcamp