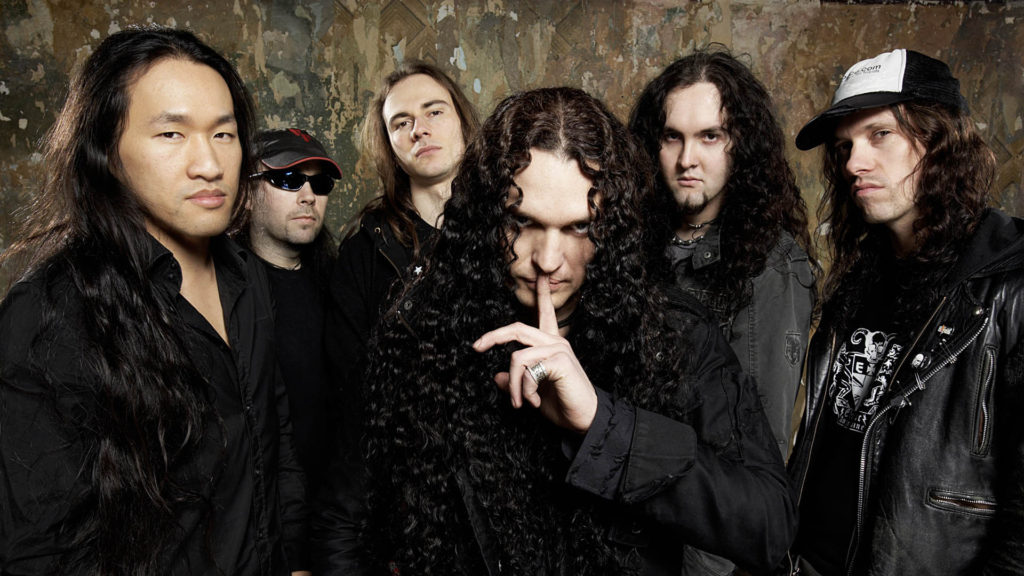 DragonForce, yes the one and only fast riffing powermetal band from London, England released their new forceful album called 'Reaching Into Infinity', released by Metal Blade Records, and it's all their older album combined with better production! They again made an album that is as fast as the speed of sound with vocals that are out of this world. For those of you that don't know the band, which I really doubt, they formed in 1999 and were known as 'DragonHeart' till the year 2002. From 2003 till the present they are known as 'DragonForce'. Their best album might be their debut 'Valley Of The Damned', it reached insane amount of views and has been very populair since. Album 'Sonic Rampage" proved to be even more succesful, it featured their new bassist Adrian lambert and drummer Dave Mackintosh in the widely known song "Fury Of The Storm". This album was really the biggest game changer for the band because this brought double bass rhythms and blast beats to the band. With song  'Through The Fire And Flames" from the album 'Inhuman Rampage' the band went oficially mainstream. This song has reached far over 85.000.000 viewsand over 360.000 likes! Not on  a pop song but a freaking metal one! DragonForce has toured with Slipknot and Disturbed right before they were releasing their album 'Ultra Beatdown', if you get to tour with the big guys you know you made it! Next to these insane releases they made 3 albums. 'Twilight Dementia', 'The Power Within' and my favorite 'Maximum Overload'. You would think that the band didn't make any more music for a while after so much intense and speedy albums but no, they created a best of album named 'Killer Elite' which ofcourse featured the song "Through The Fire And Flames". Fans have been asking about full live performances on DVDs for a while now but finally DragonForce heard our calls and made 'In The Line Of Fire…Larger Than Live' that was recorded on the 2014's Load Park Festival. For sure one album you need for your collection!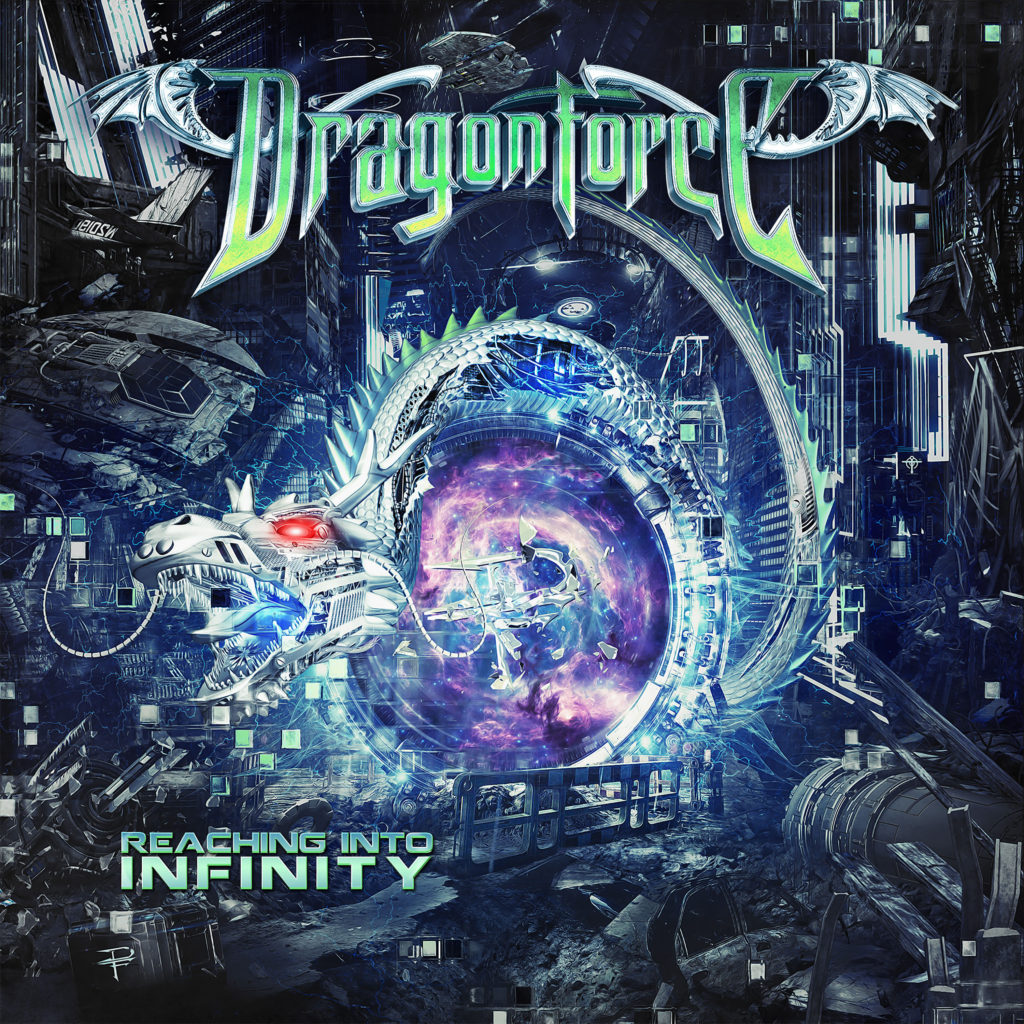 The second song from the album and for now the only song with a music video is the song "Ashes Of The Dawn" which got published just 4 days prior to the full album release, 15th of May. Now for all you crazy solo freaks out there, yes there is a solo in this song and yes it is fast as hell and it's out of this universe. Just like you would expect from their guitarist Li. I myself really love guitars and everything about them so listening to a band that focuses on the guitar a lot is satisfying. For me fast riffs and solo's that will make you feel like we for once live in a peacefull world is everything to me and I bet it is to you too! It brings a healing factor. And come on, who on Earth doesn't like fast solo's that will leave you wonder if everything is real or not. Click HERE for the satisfaction your soul needs!
This song is like a song from the 'Ultra Beatdown' album but than way better and sounding like it is complete. A lot of songs from 'Ultra Beatdown' had an experimental feeling to them but this song breaks that cycle while fitting great into the album. The song I'm talking about is "Judgement Day". It got released via DragonForveVEVO just like "Ashes Of The Dawn" but this time on the 31th of March. Let's not waste time on writing more about it, just click HERE to listen to it before it outruns us!
"Riding on the wings of time".  "Feel the fire from the sky".
The song with the most unhuman and ridiculious fast solo might be the bonus track from the album "Hatred And Revenge". This song has a different feeling to it then the rest, it has a tougher vibe to it and that's why you should buy the album to listen to this mighty song. DragonForce has been experimenting a lot of times but most of them sounded experimental and incomplete and that's precisely where this song shines because this song doesn't like that, it sounds way more agressive!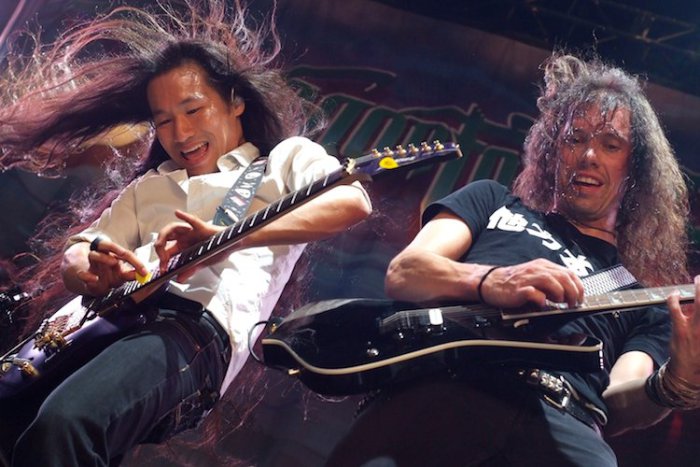 After 3 years of waiting we finally got a new DragonForce album. To be completely honest I was expecting it to not come close to their best releases 'Valley Of The Damned' or 'Inhuman Rampage' but they proved me so wrong. It's the early Dragonforce all over again, fast riffs and songs that will at least have 1 solo if not more! 'Reaching Into Infinity' is truly reaching into infinity, the band has no limits. It will always remain the Grammy nominated extreme melodic power metal band Dragonforce always was. Let's not forget about Marc Hudson, the lead vocalist of the band that has been a part of the band since 2011 who did the vocals for the albums since 'The Power Within' (2012). After the band received thousands of auditions from all over the globe they decided to go with Marc Hudson, he may be (at that time) only 23 years old but his voice is golden. As a fan of the band I really am thankful for him being part of the band.
This album has once again been recorded by Jens Bogan who also worked with Opeth, Katatonia and one of my favorite bands called Soilwork, Jens has also recorded 'Maximum Overload' which has been out since 2014 and features their best song to till date "Through The Fire And Flames". This band is really well known all over the world but don't worry, they haven't forgotten about you. Click HERE to visit their site to buy their album online, CD or even on Vinyl!
DragonForce announced a world tour! Click HERE to see if they are playing near you, I can assure you that they will be playing Reaching Into Infinity!
Dragonforce consists of:
Marc Hudson– Lead vocals
Herman Li – Lead and rhythm guitars, backing vocals
Sam Totman – Lead and rhythm electric guitars, backing vocals
Frédéric Leclercq – Bass, backing vocals
Vadim Pruzhanov– Keyboards, Piano, backing vocals
Gee Anzalone– Drums, backing vocals
DragonForce also has a facebook page, check it out!