Melodeath/Metalcore band Darkest Hour has made a return to form with their new release titled 'Godless Prophets and the Migrant Flora'. The band's ninth studio album drops on March 10th via Southern Lord Records. It was recorded in Salem, MA at Godcity Studio with producer/engineer Kurt Ballou (guitarist of Converge) and mastered by Alan Douches at West West Side Music. The cover art by created by Shaun Beaudry. This release returns all band members from the previous self-titled record released via Sumerian Records in 2014. The Washington D.C. quintet have put together a killer release that will appeal to the old school fans that loved the early albums. 'Godless Prophets and the Migrant Flora' is an absolutely relentless, marvelous clash of uncompromising riffs and utter domination on the vocals. The band is currently on tour with Ringworm, Rivers of Nihil, Rotten Sound, and Tombs, dates can be viewed below. You can pre-order the upcoming album here.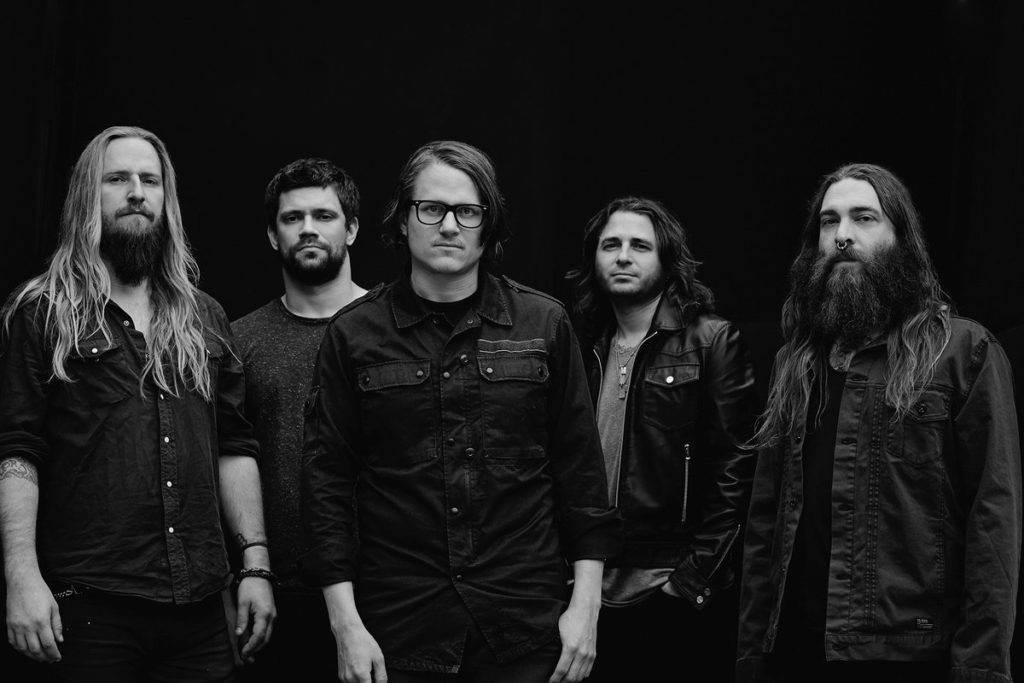 The record commences with what was the first song released earlier in the year, "Knife in the Safe Room". If you've heard it already, you know that the band has thrown the clean vocals out the window and returned to the brutal mix of thrash/melodeath/metalcore that gave the band their distinct sound that everyone knows. "This Is The Truth" brings the album to another level with a dark, catchy chorus and a colossal guitar solo. "Timeless Numbers" (also previously released earlier this year) will whip crowds into a frenzy with its breathtaking double bass drum intro. John Connolly of Sevendust is featured on the song playing a guitar solo. Guitarists Mike Schleibaum and Michael Carrigan are ruthless throughout the entire album with pieces that will remain stuck in your head for days. "None of This is the Truth" continues to grow the album into a heavier masterpiece with the powerful one-two punch of the rhythm section consisting of Aaron Deal and Travis Orbin. The song slows after the breakdown to build up into something monstrous to create a gloomy tone for the last minute of the tune. One thing that can't be denied is how formidable the voice of John Henry is. He absolutely roars on this record and it fits the music perfectly. There is no room for cleans on this record like on 'Darkest Hour' and I don't mind it at all. Henry is firing on all cylinders with vocal deliveries that will make live shows absolutely nuts. 'Godless Prophets and the Migrant Flora' continues to chug on when "Another Headless Ruler of the Used" steps into the room demanding to be turned up to full volume. Nothing but pure violence is felt in this one; it makes you want to start a circle pit in your room even when listening on your own. "Widowed" is a track with a mix of acoustic guitar and some beautiful guitar phrasing to lead us into the epic "Enter Oblivion". The bass tone on this song is enough to shake the room and the feel of the track is intense as it gets. It starts out slower and assembles into a hellacious anthem that will be one to remember from this disc. "The Last of the Monuments" is about as close as this record gets to clean vocals and even then it is very limited. Darkest Hour continues to tear through this release with unparalleled consistency and proficient playing. "Beneath It Sleeps" brings the album to a conclusion with top performances by all members of the band. The instrumentals are played at top speeds and Henry's driving voice pummels you into unconsciousness until we come to a calm, lethargic end. Signing to Southern Lord Records proved to be a great decision for Darkest Hour as it brought forth the return of the unforgettable heaviness that they bring. If you have been waiting for DH to return to their roots, you are waiting no longer. Don't forget to pre-order 'Godless Prophets and the Migrant Flora' in the link mentioned above earlier (or Bandcamp)  and check out the three songs previously released and some tour dates below.
Follow Darkest Hour on Facebook.
Track List
01. Knife in the Safe Room
02. This is the Truth
03. Timeless Numbers
04. None of This is the Truth
05. The Flesh & The Flowers of Death
06. Those Who Survived
07. Another Headless Ruler of the Used
08. Widowed
09. Enter Oblivion
10. The Last of the Monuments
11. In the Name of Us All
12. Beneath It Sleeps
Darkest Hour is:
John Henry – Vocals
Mike Schleibaum – guitar
Michael Carrigan – guitar
Aaron Deal – bass
Travis Orbin – drums