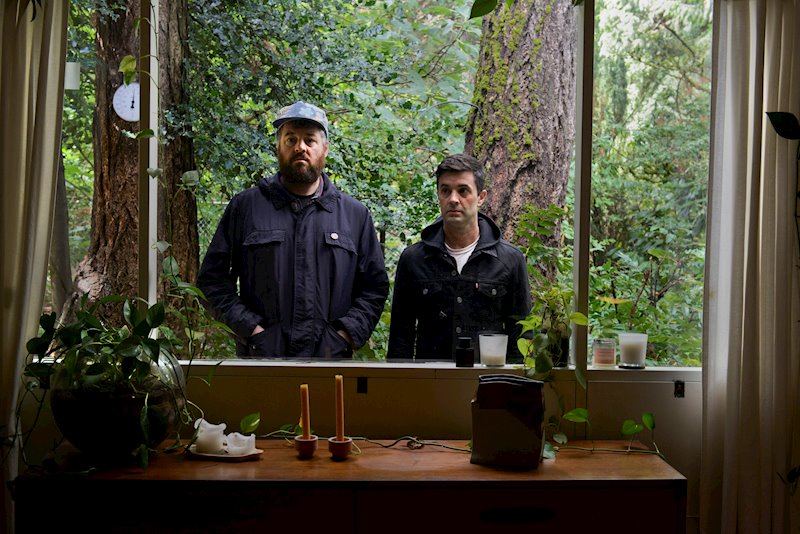 Big Business is a band. They play heavy rock. On that, we can all agree. Things get tricky when you try to classify exactly where on the musical spectrum the dynamic duo's racket falls. "I guess psychedelic heavy metal punk rock? I don't know. People always say 'sludge rock,' which I always found to be lazy and kind of inaccurate," says drummer Coady Willis. "A lot of our songs are fast, and it's not like we're playing a half-assed Black Sabbath riff over and over again. That's been the struggle of the band. We're a band that doesn't really fit into what everyone else is doing."
Willis comes from punk rockers The Murder City Devils. His co-conspirator, bassist/vocalist Jared Warren, spent time in noise rock weirdos Karp. Together, they formed Big Business in 2004. The LA-based outfit's first three albums didn't quite mesh with Hydra Head Records' post-metal aesthetic, but their idiosyncrasies caught the attention of another iconoclastic outfit, The Melvins. They recorded three albums, an EP, and various songs between 2006 and 2016 with that iconic grunge/doom/experimental act, all while maintaining their own identity as Big Business. Along the way, they picked up guitarists Toshi Kasai and Scott Martin, but on 2016's 'Command Your Weather,' they returned to their core duo format. They remain in that lineup on their sixth full-length, 'The Beast You Are.'
"It's just better. We work faster, and we know what we're both going for. It gives us more room to be weirder in certain aspects and try different things. It makes sense because that's how we established ourselves in the beginning and how we learned to write songs together, it was just the two of us. Coming back to that lineup felt natural," continues Willis. The two performed everything on the album, which was recorded between the early November and early December of 2018 at El Studio in San Francisco by Phil Becker (Pins of Light, Terry Gross). Willis, Warren, and Becker handled the mixing, with Carl Saff lending his mastering expertise to the final product. Once more, Warren has hacked up some construction paper for one of his unique cover art pieces.
With a new, dynamic demoing process leading to the creation of the most songs they've ever written for an album, 'The Beast You Are' delivers 13 doses of uncategorizable heavy rock music. From the ominous death march of "The Moor You Know" to the soaring "Let Them Grind" to the delicate, ethereal "Under Everest," Big Business continues to defy listeners' expectations. No matter the context of their music, however, one thing remains true: they are definitely still a band.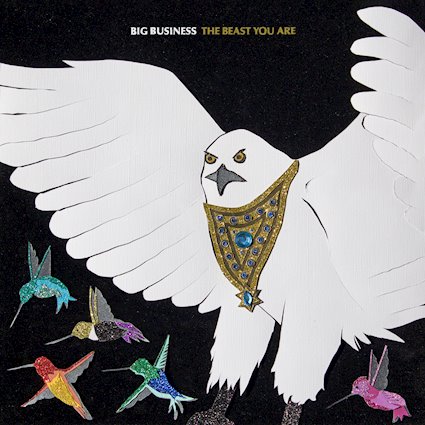 Released April 12th, 2019 via Joyful Noise Records is 'The Beast You Are', the newest release from Big Business. On this one we can (of course) draw comparisons to The Melvins, but this latest album is far more psychedelic than anything the duo have done previously. Songs like "Time and Heat" and "Heal the Weak," for example, both have thick riffs that could have easily droned on for long periods of time leaving the listener satisfied. However, Big Business instead choose to throw in heavy tom-tom drum grooves and incorporate that with odd/ almost jazz time signatures.
"Time and Heat," in particular, goes into even stranger territory as it features the use of a synth for an added dose of psychedelia and sci-fi effect. "Abdominal Snowman" returns to The Melvins riff worship as we're treated to a feedback driven, slab of sludge that just grows in its viciousness!
As for standout drum performances on 'The Beast You Are,' that would have to go to "Bright Grey." This song starts off on a quick drum fill before going into full on assault mode as Willis just pounds away with a manic force that still comes off as musical and tasty! "The Moor You Know" brings back the synth in a much more dominant nature this time around as it pretty much leads the song on a doomy plod that sounds like what you'd expect if Geezer Butler, John Carpenter and John Bonham all got in the studio together.
"Under Everest" may actually be my favorite song off the album (for now) as it's such a bizarre departure from the everything else on 'The Beast You Are.' It's a calming, very basic and repetitive progression that also manages to evoke a strong sense of melancholy. I've found myself listening to this song over and over and still get chills every time it reaches its conclusion.
As for album closer "Let them Grind," we're treated to a sonically sound, ear ringing rocker that's equal parts melodic and heavy. 'The Beast You Are' shows that after six albums in, Big Business are still not content with slowing down. Instead they show tremendous growth and creativity as they release (perhaps) their most personal record!
Tour dates:
April 11 – Los Angeles, CA, Alex's Bar
April 12 – Los Angeles, CA, The Echo
April 13 – San Francisco, CA, Rickshaw Stop
April 14 – Sacramento, CA, Holy Diver
April 16 – Portland, OR, Mississippi Studios
April 17 – Vancouver, BC, The Wise Hall
April 18 – Bellingham, WA, The Shakedown
April 19 – Tacoma, WA, Honey at Alma Mater
April 20 – Seattle, WA, Sunset Tavern
April 21 – Spokane, WA, The Bartlett
April 23 – Salt Lake City, UT, Metro Music Hall
April 24 – Denver, CO, Hi-Dive
April 26 – Kansas City, MO, The Riot Room
April 27 – Norman, OK, Norman Music Festival
April 29 – Albuquerque, NM, Sister Bar
April 30 – Flagstaff, AZ, Flagstaff's Green Room
May 27 – Las Vegas, NV, Brooklyn Bowl *
May 28 – Salt Lake City, UT, Metro Music Hall *
May 29 – Boulder, CO, Boulder Theatre *
May 31 – Omaha, NE, Slowdown *
June 1 – Minneapolis, MN, First Avenue *
June 2 – Maquoketa, IA, Codfish Hollow Barn *
June 3 – Madison, WI, The Sylvee *
June 5 – Grand Rapids, MI, The Intersection *
June 6 – Buffalo, NY, Town Ballroom *
June 7 – Albany, NY, Skyloft *
June 8 – Baltimore, MD, Baltimore Soundstage *
June 9 – Charlottesville, VA, Jefferson Theatre *
June 11 – Charlotte, NC, Neighborhood Theatre *
June 12 – Knoxville, TN, The Mill & Mine *
June 13 – Nashville, TN, Marathon Music Works *
June 14 – Birmingham, AL, Saturn *
June 15 – Athens, GA, 40 Watt *
June 17 – Tampa, FL, The Ritz *
June 18 – Miami, FL, The Ground *
June 20 – New Orleans, LA, One Eyed Jacks
June 22 – Austin, TX, Hotel Vegas
June 24 – Tucson, AZ, Club Congress
*- w/Sleep