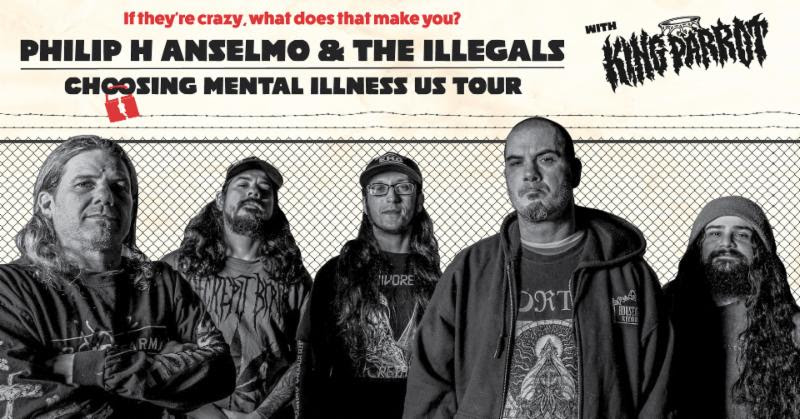 Philip H. Anselmo & the Illegals and Housecore labelmates, King Parrot are set to head out on a US tour this fall. The Choosing Mental Illness US Tour was originally scheduled for spring but has been officially postponed following Anselmo's recent back surgery. Anselmo commented of the decision:
I've decided to delay the PHILIP H. ANSELMO & THE ILLEGALS/KING PARROT tour until August-September. As many of you know, I had a second back surgery in late January. I'm having an incredible recovery, but just want to be one-thousand percent when I get to jam the new ILLEGALS with all my brothers and sisters. My apologies for jumping the gun extend to the fans, my fellow ILLEGALS, KING PARROT, our crews, and all mechanical parties involved, but we will all see it's the right decision soon. See you cats and chicks in the fall! Much Love, as always.
The new schedule (confirmed tour dates below) now begins on September 6th, 2018 in New Orleans Louisiana and includes an appearance at this year's Berserker Fest September 28th, 2018 in Pontiac Michigan. Tickets go on sale today, Saturday June 9th, 2018 with additional shows to be announced soon.
Philip H. Anselmo is one of the most prolific names in metal today and a certified legend in his own right, having been the frontman of the monumental bands, Pantera and Down. His extensive music resume doesn't stop there by a longshot – and with current band, Philip H. Anselmo & the Illegals, Anselmo is cranking out some of the angriest, gnarliest music of his career.
Following up their 2013 release, 'Walk Through Exits Only' the band recorded 'Choosing Mental Illness as a Virtue' out of Anselmo's Louisiana home studio between 2015 and 2016. Check out Metal Nexus' full album review here. The album is released by Anselmo's own Housecore Records and produced by Stephen "The Big Fella" Berrigan. The current lineup now consists of Stephen Taylor, transitioning from playing bass in Superjoint to guitar here; Mike DeLeon joining the band on guitar; Walter Howard on bass; and Jose Manuel "Blue" Gonzalez, also of Superjoint, on the drumkit.
Grab your physical copy of 'Choosing Mental Illness as a Virtue' here, or digital version here.
Australian grindcore band, King Parrot released their full-length album 'Ugly Produce' last fall. As a perfect pairing for Philip H. Anselmo & the Illegals, King Parrot is ready to bring on their own brand of grimy aggression to the show with an eclectic mix of grind, death, thrash, and punk.
Grab your digital or physical version of 'Ugly Produce' here.
PHILIP H. ANSELMO & THE ILLEGALS w/ KING PARROT:
9/06/2018 Santos – New Orleans, LA [Tickets]
9/07/2018 Rock Box – San Antonio, TX [Tickets]
9/08/2018 Trees – Dallas, TX [Tickets]
9/09/2018 Scout Bar – Houston, TX [Tickets]
9/11/2018 Concourse – Knoxville, TN
9/12/2018 The Firmament – Greenville SC [Tickets]
9/14/2018 The Capitol Room @ HMAC – Harrisburg, PA [Tickets]
9/15/2018 Fete Music Hall – Providence, RI
9/16/2018 Mulcahy's – Long Island, NY [Tickets]
9/18/2018 Saint Vitus Bar – Brooklyn, NY [Tickets]
9/20/2018 Montage Music Hall – Rochester, NY [Tickets]
9/21/2018 Piere's – Ft. Wayne, IN [Tickets]
9/22/2018 The Blue Note – Harrison, OH
9/23/2018 Diamond's – Louisville, KY [Tickets]
9/25/2018 Green Bay Distillery – Green Bay, WI [Tickets]
9/27/2018 The Forge – Joliet, IL [Tickets]
9/28/2018 Berserker Fest @ The Crofoot – Pontiac, MI
9/29/2018 Fubar – St. Louis, MO
9/30/2018 George's Majestic – Fayetteville, AR [Tickets]