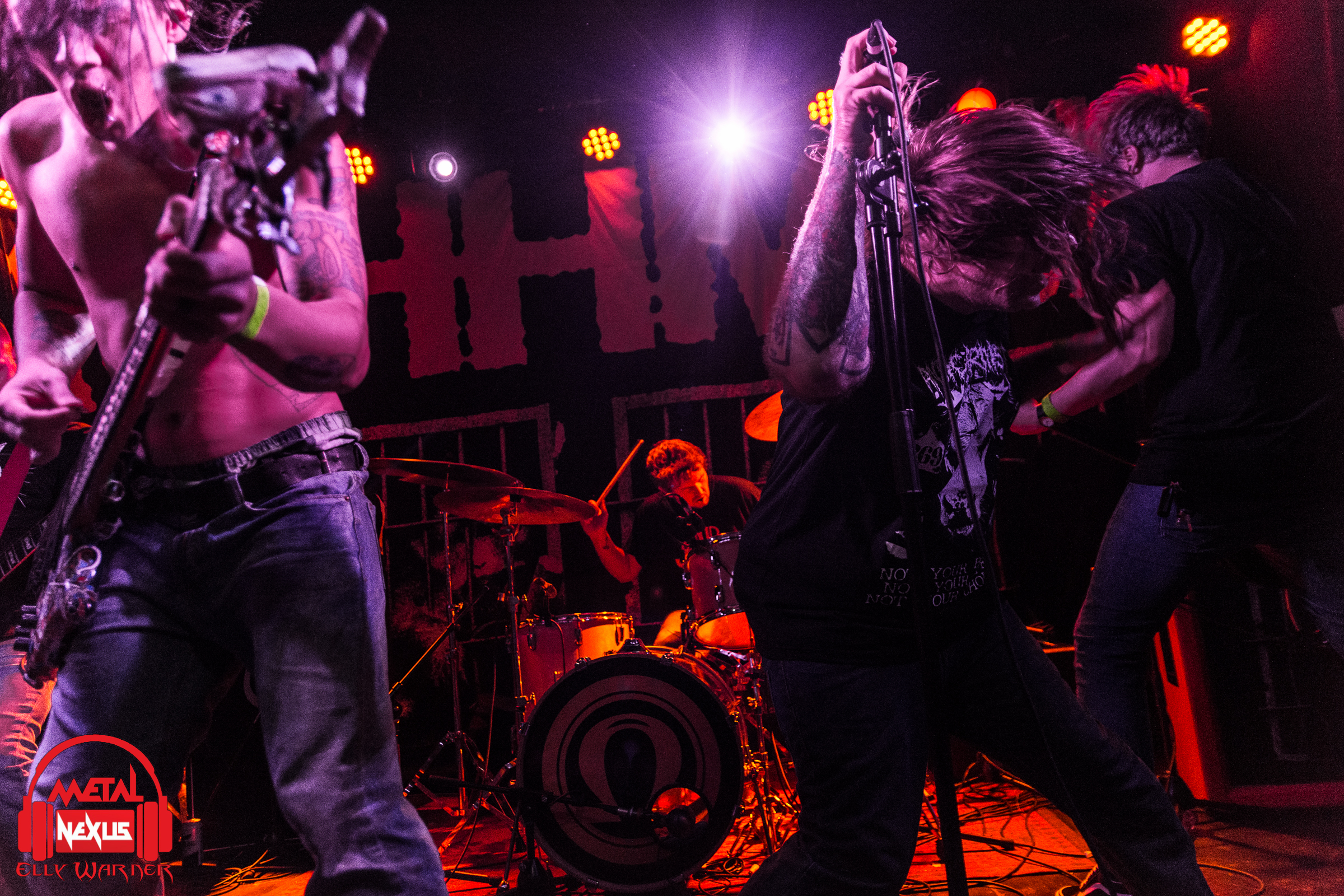 Not only was tonight the climax of prog-rockers Ohhms' headline UK tour with Boss Keloid, it doubled up as a half-dayer release party for their eagerly awaited sophomore record 'Exist'. Released just two days prior on Holy Roar Records,I admit that the temptation to listen to the full stream premiering on Metal Hammer in the run up to the show wasn't an easy one to ignore, but my decision was final. I for one wanted to keep the thrill real, unlike the instant gratification junkies who whore over new releases with no real connection made or lasting dedication to the artists cause. Nothing beats the experience of hearing brand new music live for the first time and witnessing the passion first-hand. Ohhms deservedly took their place as headliners and showed why they are one of the scenes biggest risers.
Taking place at the Boston Music Room, little brother to The Dome in Tufnell Park, London. The night featured a mixed bill showcasing brand new talent from Old Blood and Mountain Caller with label mates Body Hound for the first half, and London doomsters Torpor and Boss Keloid as direct support for the second.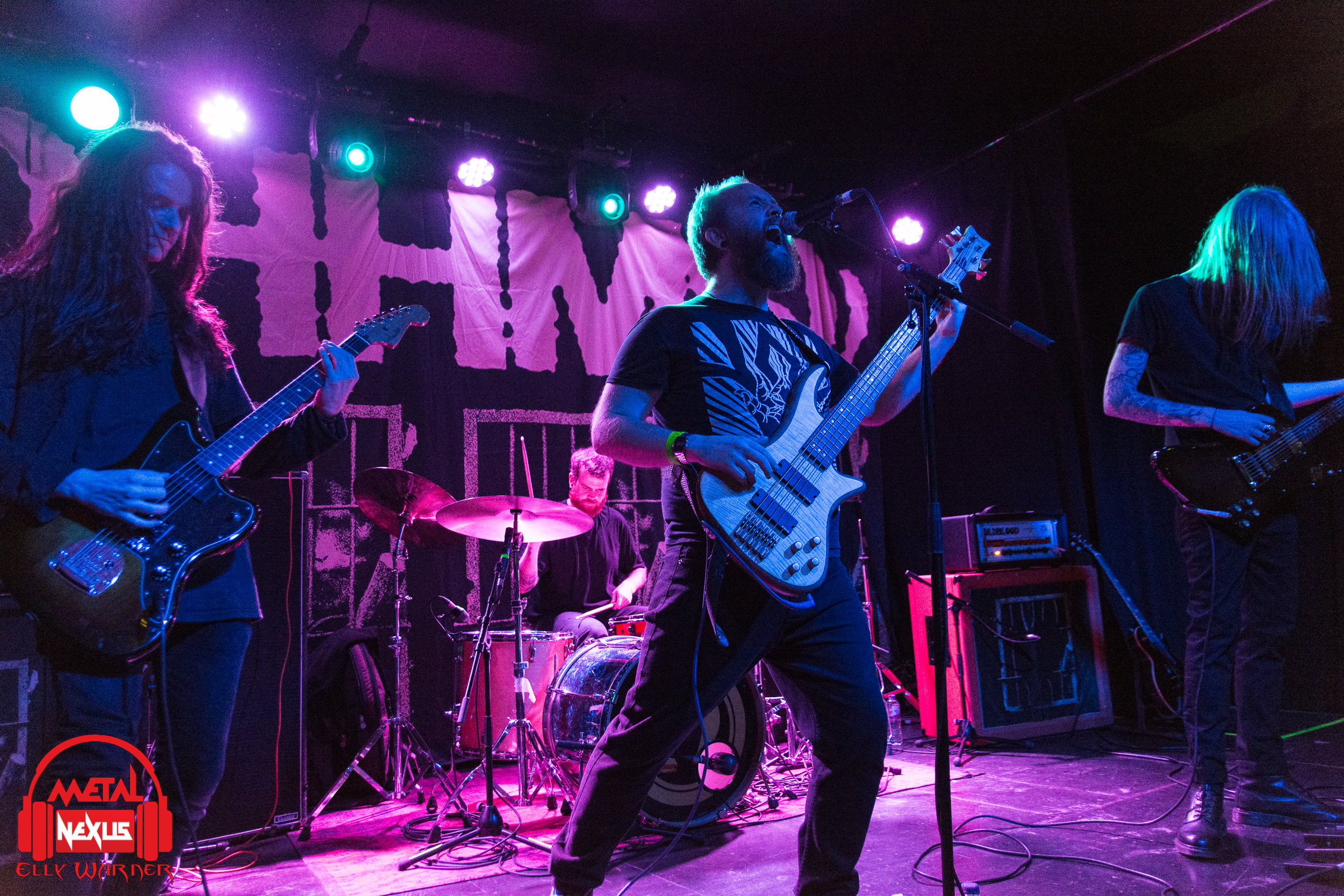 OLD BLOOD
New blood Old Blood were first on and caught my attention straight away! With a pretty decent amount of crowd for an early 5:30pm start, London newcomersOld Bloodset a high pace for others to follow suit. With a sound that was heavily infused with elements of doom and post-metal, it felt like full-on post-apocalyptic mayhem that was bizarrely uplifting with the immense contrasting screams. The songs were long and loud with the foursome boasting extreme levels of solidity in their musicianship and a confidence that is rare from a band making their debut performance. The fleeting moments of intricacy from guitarist Tom (also from The Sun Never Set) added melodic layered textures to the mix that was enhanced by the techy tone of the bass. A touching note was on closing – with the 3 guitarists briefly leaving the stage, the room was encompassed solely by the beat of the bass drum and toms, in a venue as modestly small as this one the reverberation was all-consuming, delivering a powerful end to a full-on assault of a debut performance!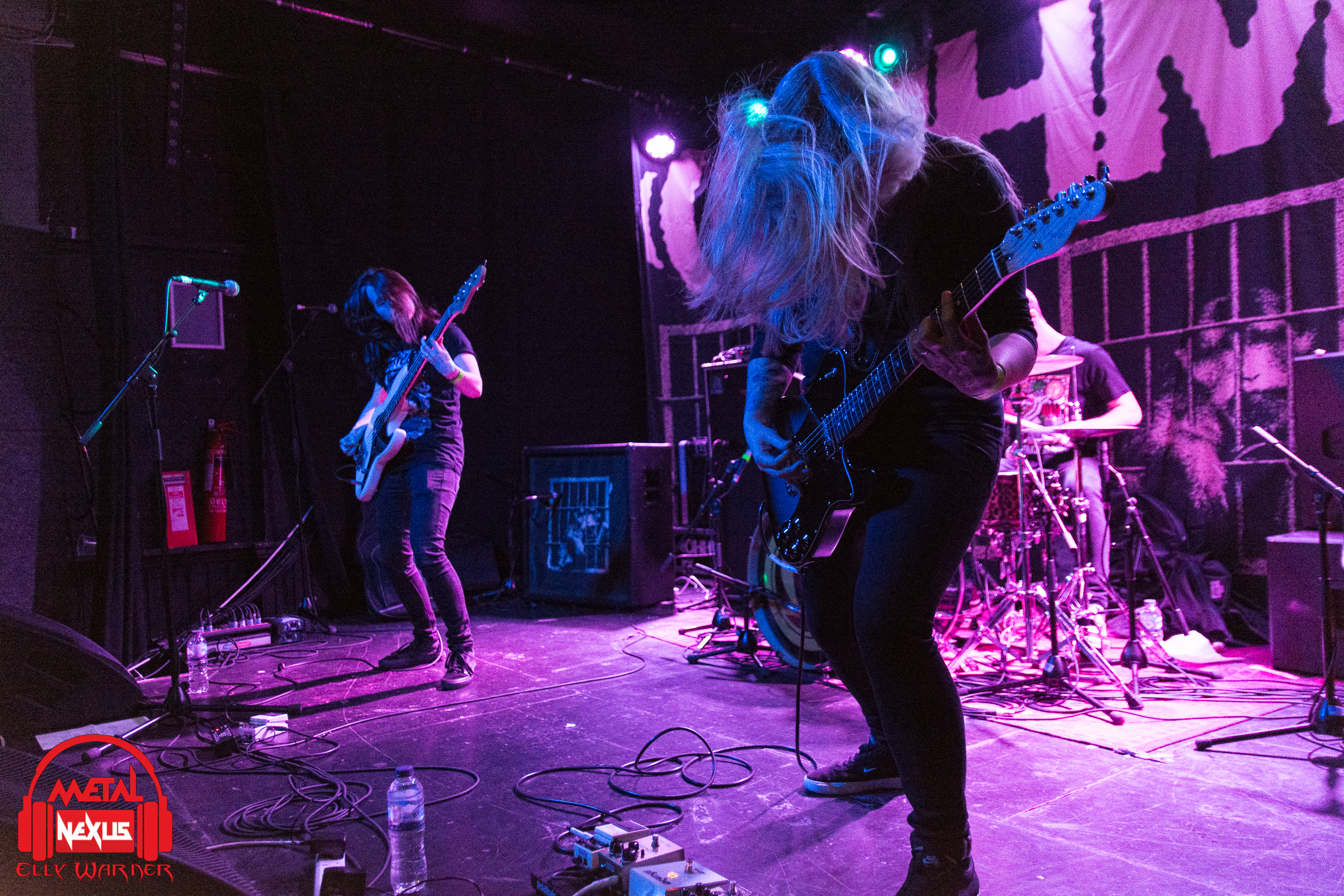 MOUNTAIN CALLER
With a few shows under their belt, fellow Londoners Mountain Caller are still early into their career but proved tonight that they are more than just musicians, you could learn a thing or two from bassist El Reevetoo with her knowledge of the universe. The heavy 3-piece are becoming well known for their super long songs, showing a deeper understanding of utilizing the form of music in a way that could move mountains with its atmospheric intensity. Moving from loud, heavy and progressive to a slower paced doomy dynamic, the trio all had moments of looking deep in the sound, to that of pure excitement with enough of a groove for headbanging. This enthusiasm echoed around the crowd that were drawing in closer for this performance that was full of passion and boasted songs that you could lose yourself in – taking you on a journey to the very depths and extremes that this world has to offer.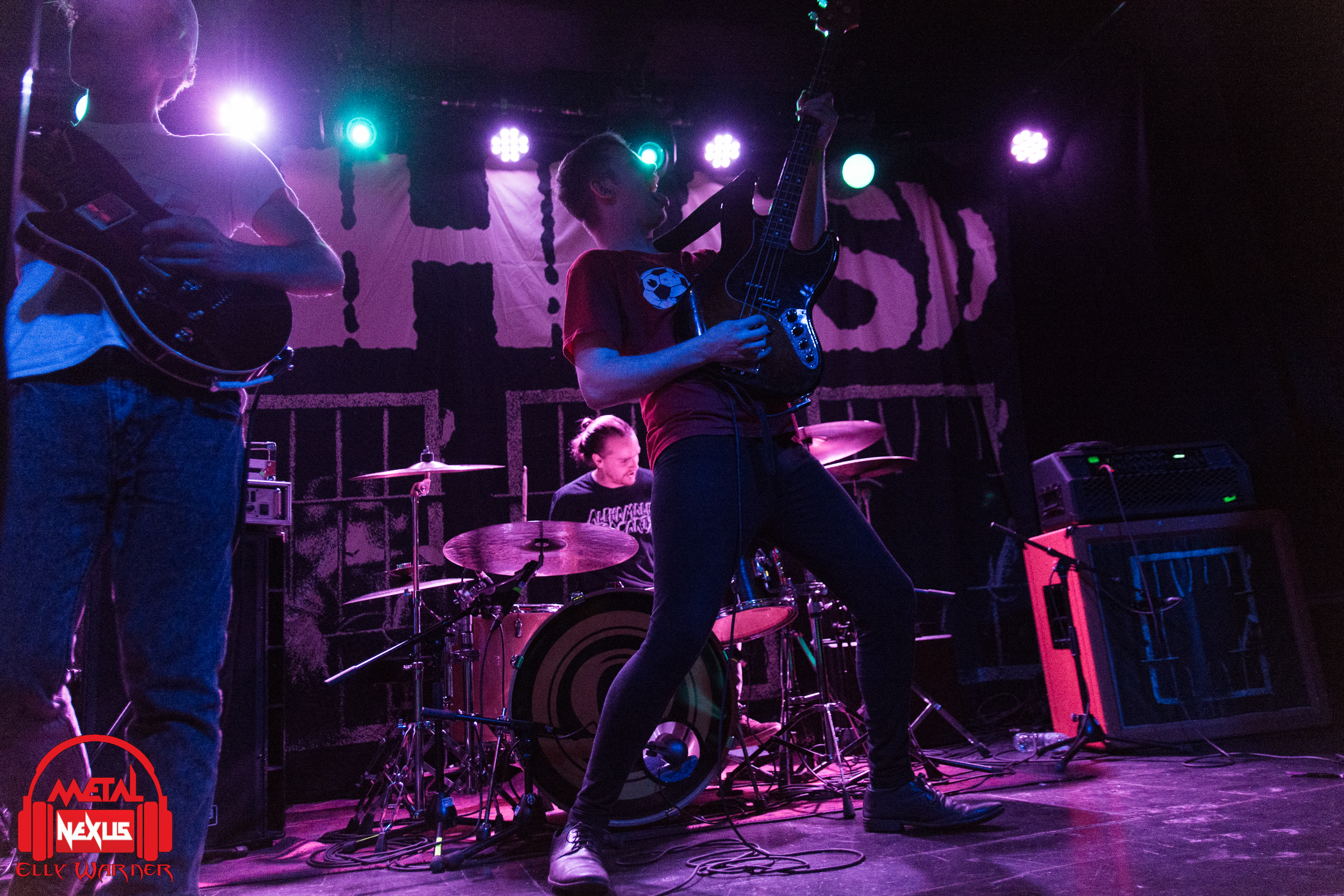 BODY HOUND
Label mates Body Hound put on one of the most memorable and fun performances of the night with an adrenaline that didn't suffice from beginning to end. The Sheffield instrumental rockers featuring Joseph Nicholson and Joseph Thorpe(both former members of Rolo Tomassi) brought a diverse and explosive mixture of experimental and insane progressive riffage. The mixture of jazzy infused fretwork and mathy core made the mixture of booming beats and time signatures almost impossible to keep up with without an even more insane level of concentration. The display unfolding from bassist Jo Twas a spectacle to watch in itself with his flamboyant and passionate dancing that hyped up the crowd ten fold – to this date he is single handedly the most difficult person I have ever had to photograph with his endless energy and his sharp movements. Across the board all 4 members were enthused with adrenaline whipping back and forth with a crowd that were desperately trying to headbang in time. The level madness and complexity to which they played was quite simply insane and will only get crazier working on their debut record. I encourage you to check out their 'Rhombus Now' EP to hear it for yourselves!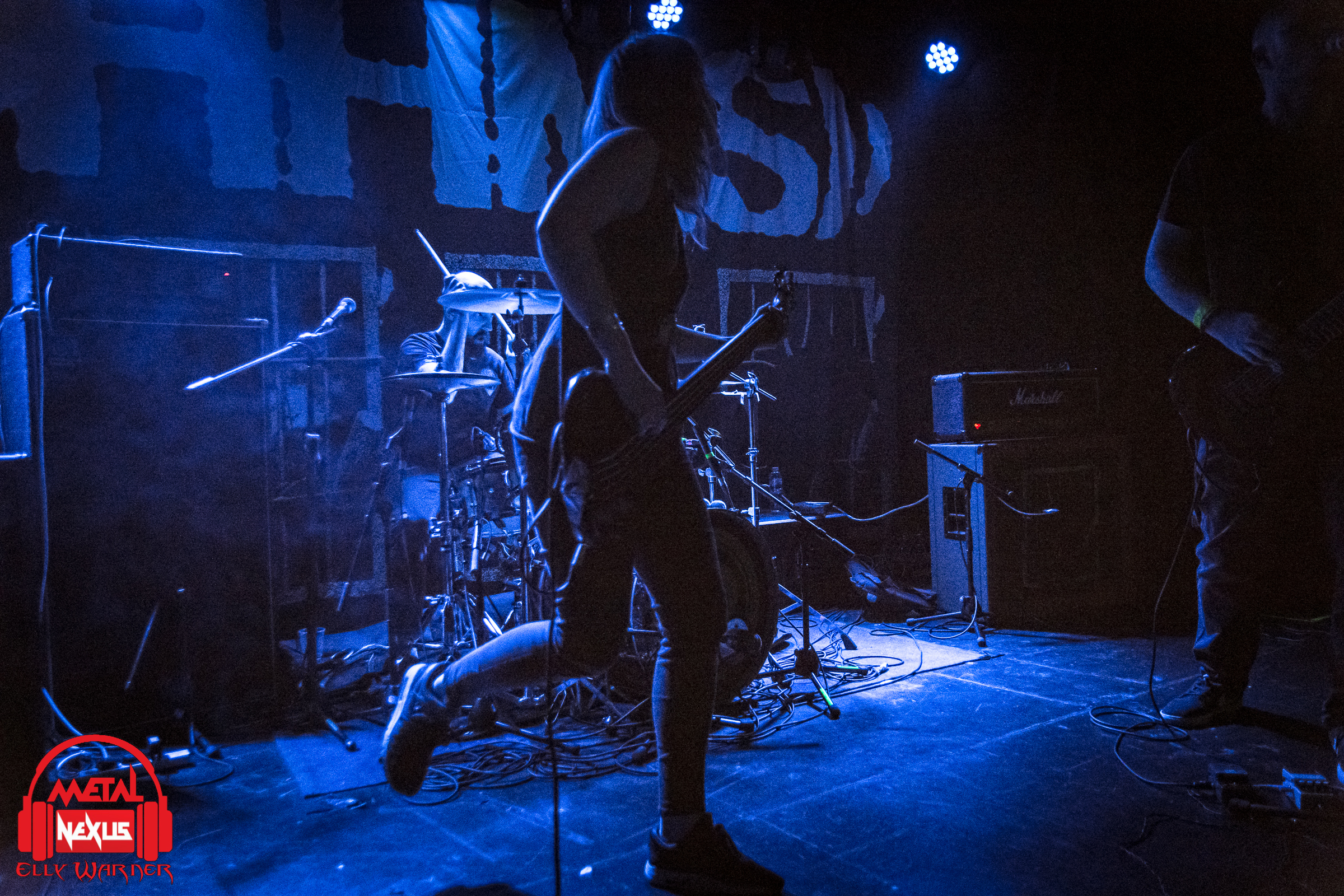 TORPOR
Opening the second half were London sludge/doom trio Torpor.With the smell of incense infusing the room and the lights dimmed right down with just a deep, dark blue hue, it was clear that this was going to be a far cry from what we had heard prior. All that could be seen were eerie shadows and silhouettes with the harshest and most crushing heavy droning doom that prolonged an atmosphere of intense and unease. The vocals, both accentuated the intensity with their rawness yet felt almost hypnotic in their passion and deliverance against the devastating noise. The whole experience was intense and left quite an impression – the audience was transfixed, as if consumed by the sound. The clever use of feedback only accentuated this with the piercing sound that intelligently led you from one track to another.
BOSS KELOID
Boss Keloid drew in a considerable crowd for this final show of their Oct/Nov tour with Ohhms. With a dedicated followingafter their critically acclaimed releases 'Herb Your Enthusiasm' (2016) and 'The Calming Influence of Teeth' (2013), and touring extensively alongside the likes of Bongzilla, Crowbar and Raging Speedhorn. The fans were singing passionately along with Alex Hursts soaring vocalsto songs such as "Chronoslam" and"Peykruve"from their latest 2018 record 'Melted On The Inch'. The set was devastatingly heavy with a full-on stonery vibe, intertwining the mesmerizingly beautiful proggy melodiesthat give Boss Keloid their distinctive and diverse sound with thunderous burts of distortion. Fans shouted for more riffage from guitarist Paul Swarbrick who obliged layering textured clean vibes against a multidimensional array of psychedelic keyboards and mighty beats. Despite many of the songs contrasting between the slower, reflective moments and head-bangingly heavy, the set seemed to go so quick, ending on the immensely powerful "Lokannok".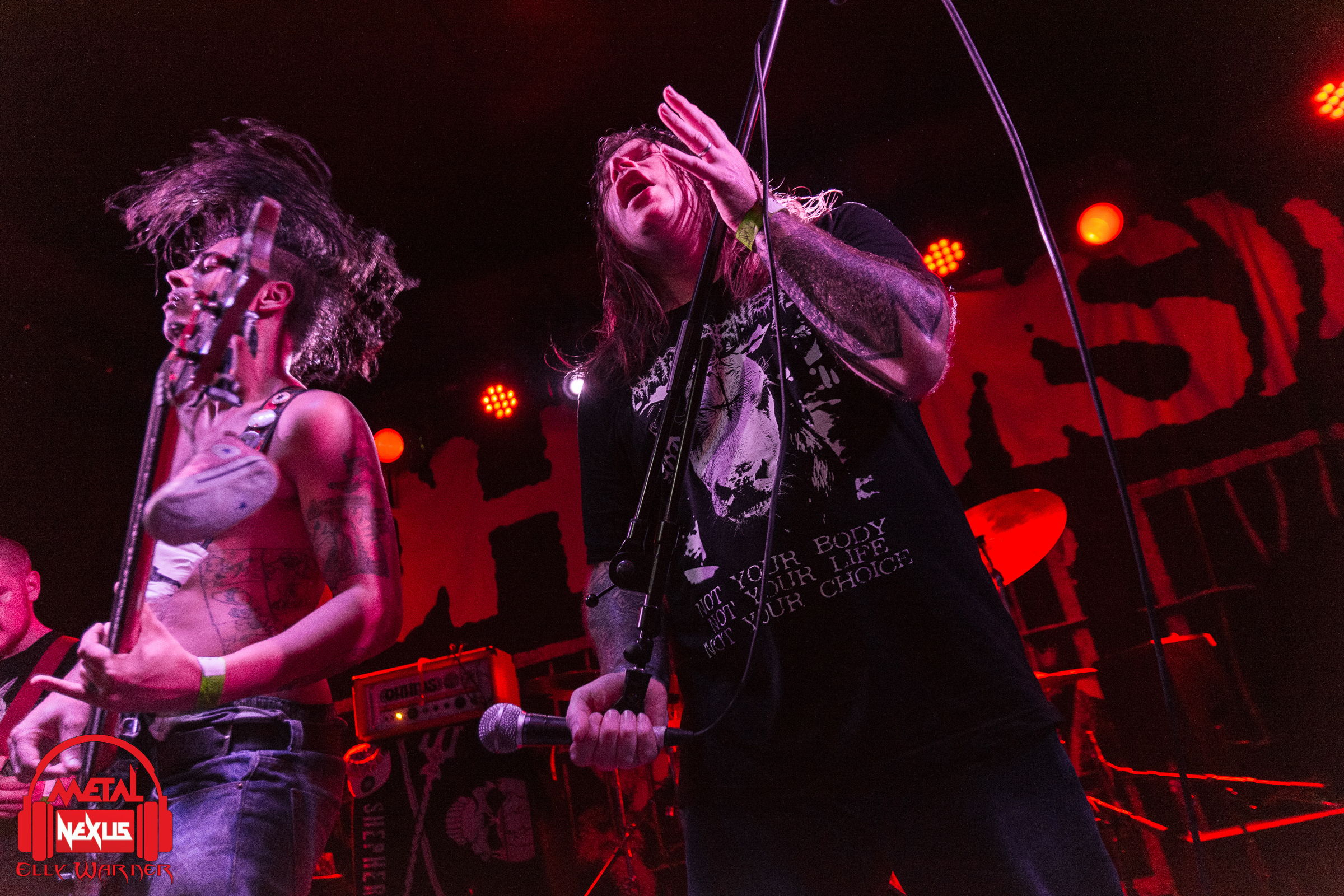 OHHMS
When the moment had come for Ohhms to perform, the room was absolutely buzzing. The guys had noticeably spent time watching each of the supports from the very beginning, showing a comradery to their fellow musician that was returned when they took to stage. Having gathered quite a following themselves since last years critically acclaimed debut 'The Fool', Ohmms are renowned for delivering excessively explosive performances, and tonight's was absolutely lit.
Opening with "Lay Down You Firearms" we were thrown into an almighty assault of pounding bass and distortion that have all the aggressiveness and attitude of hardcore with the overriding distinctive stoner doom that we know and love Ohhms for. The vocals mix between passionate melodic shouts and soaring verse from Paul Waller that added a full on dynamic. All the while bassist Chainy was absolutely going for it, throwing his body and hair around like he was completely encapsulated by what was being played. The passion and electric energy from everyone on stage was absolutely overwhelming to witness and massively infused the crowd who were head-banging and completely captivated. Hair and guitars were swinging everywhere, hands were clapping to the beat, and the guitarists were each throwing themselves into the intensity. The mic stand was thrown into the air a few times and Chainy climbed anything he could – it was insane!
After playing my favourite "The Magician", Ohhms tore straight into playing the 22:50 minute long track "Subjects" which deals directly with animal rights in a direct but not preachy way. The complexity of this song with it's many chapters, twists and turns through layers of stoner and post-rock, whilst all the while delivering an extremely strong message is hard to put into words. As a non-vegan/vegetarian it did get me thinking for sure with the powerful images that it conjures up, evoking quite strong feelings regarding the subject matter. All of this was pretty full on whilst loosing myself into a sound that carried me from moments of complete serenity to a full out assault of fiery passion.  It was an experience that I didn't want to end that I'm sure was shared by many in the crowd.
 Having recently performed at some of the UKs biggest festivals including Damnation Festival, ArcTanGent and Doom V Stoner, alongside heavy-weights such as Napalm Death, Ishahn, Ne Obliviscaris, Monuments, And So I Watch You From Afar and Myrkur.  Ohhms are fast gaining prominence in the UK scene. A hard band to exactly pin down, combining elements ranging from post-rock to stoner, psyche and doom that is ever evolving with each subsequent release. 'Exist' arrives just a year aftertheir hugely successful and critically acclaimed AOTY 2017 listed debut 'The Fool' and is available to purchase here (LP/CD/DD)