This year was my third year in a row attending the Aftershock Festival at Sacramento, California's Discovery Park with my wife. This time around, it was the first year I was not only attending as a regular fan but also had the great opportunity of experiencing VIP perks as part of the media for the show. I had a full schedule of bands to watch throughout the day and a couple of potential interviews. This was definitely going to be a new and exciting experience.
The festival took place over the weekend of October 13th and 14th and featured over 30 bands. My job as a journalist for the event was to check out the live performances and coordinate with our photographer who would take photos to accompany this piece. On Saturday morning, me and my wife set out to meet up with the photographer so we could all pick up our VIP passes and media credentials to enter the venue. After some light confusion over which line we were supposed to be standing in, we eventually ended up finding each other. However, we somehow missed the memo that media passes were being given offsite at a hotel across town. At this point, the show is already about to start, it's hot as Hell and to get across town in festival traffic was certain to be an absolute cluster fuck. Needless to say, things weren't starting off as smoothly as planned.
Long story short, and a couple of Uber rides back and forth, we were able to pick up our media passes and get back to the park. Speaking of Uber, the two drivers we ended up with were probably a couple of the coolest I've ever had. The first dude apparently used to do stand up comedy with Rob Schneider back in the day and the woman who drove us back had some serious persuasion skills with the security who she convinced to allow us to drive right up to where we needed to be, saving us about 15 minutes of walking.
Finally, with passes in hand (or on wrist), we entered the venue at around 1:00 PM, just in time to catch the back half of Dirty Honey's set on the Monster Stage. Aftershock is made up of three stages ranging from largest to smallest: Monster, Discovery, and Capital. Dirty Honey played a tight set reminiscent of a young Guns N' Roses to an impressively-sized crowd for that time of day. With this year's Aftershock Festival being completely sold-out, every band, for the most part, was playing to a massive audience.
By this time, the heat was becoming intense and areas of shade cover were becoming scarce. Next, we headed over to the Discovery Stage to check out Hyro the Hero, who even yelled out a few times "It's hotter than a motherfucker!" Despite the heat, Hyro belted out an explosive and extremely high-energy set. With his very Zack de la Rocha vocal delivery and similar musical style, the obvious comparisons to Rage Against the Machine are inevitable. The band even covered the "Fuck you, I won't do what you tell me!" outro from RATM's "Killing in the Name." The band blazed ferociously through the set of their own hits which included crowd favorites, "Bullet" and "Live Your Fuckin Life."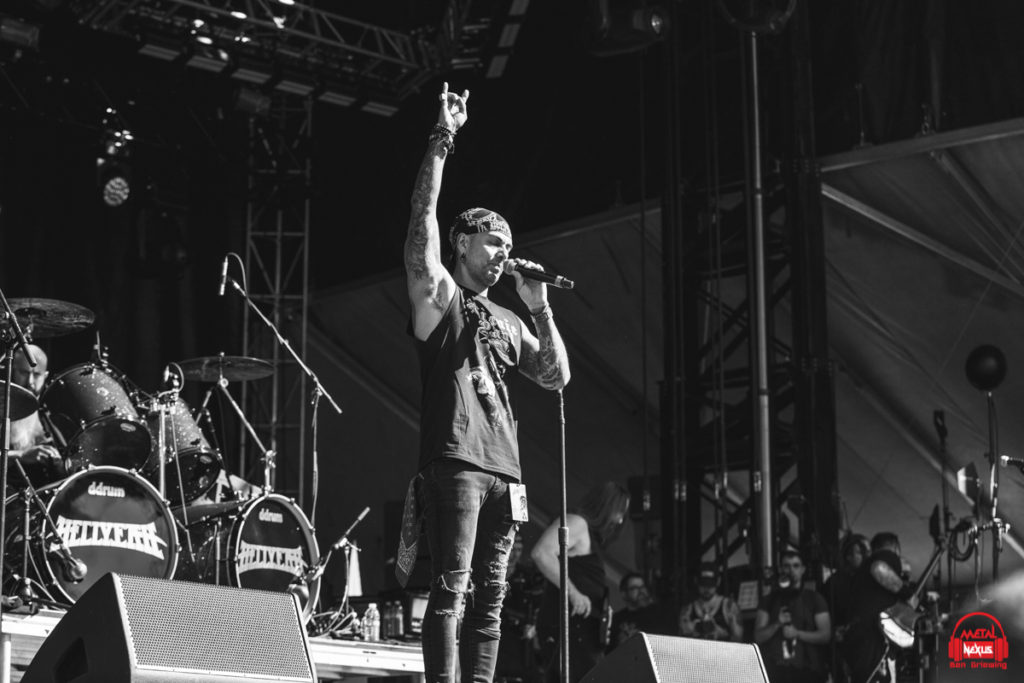 Following Hyro on the same stage was the Vinnie Paul Tribute band, consisting of a Phil Anselmo-inspired, temporary-tattooed, and freshly head-shaven Jose Mangin (SiriusXM's Liquid Metal), members of Korn, Deftones, Godsmack, and more. As a longtime Pantera fan, this was perhaps one of the emotional performances of the weekend for me. Hearing such monumental classics as "A New Level" and "Mouth for War" brought chills as the performers clearly poured their hearts out on the stage to pay homage to the late, great Vinnie Paul. From the general energy of the crowd, there was no doubt that Vinnie is sorely missed by all of us. The tribute also consisted of other Vinnie favorites including Pantera's "Walk," featuring Jonathan Davis (Korn) and Sully Erna (Godsmack), and Damageplan's "Save Me." Audibly, at times, the sound quality was regrettably lacking, where the guitars and drums were often muffled while the bass guitar overpowered. Overall, however, the performance was moving and the sentiment was real and certainly felt by Vinnie's fans.
Around this time, we took a break from the live performance action to head into the media tent for a last-minute interview opportunity. Unfortunately, due to a few unpredictable circumstances, the interview was not able to happen. The good news for me, however, was that I got to experience my first trip behind the scenes. It definitely felt surreal and cool to be part of "the industry" so-to-speak, and be able to hang around and mingle with the actual musicians themselves. An unintentional comical moment happened when Gwar came by to do a photo shoot right next to our table and gave us a front row view of their pants-less, thong-clad backsides as they posed for pics in their costumes.
Getting back to the action, we caught the end portion of Jonathan Davis' set on the Monster Stage, mostly from the VIP big screen since the crowd had filled up so much by that point there was no use trying to get stage-side. For this very reason you've really got to praise companies similar to the likes of these that offer Big screen rental in Las Vegas and other areas, imagine trying to watch a small little person perform on a stage from all the way in the back of the crowd. The crowd watched on as Davis did his thing while it was apparent that most of the audience was still unfamiliar with his solo material. Nevertheless, it was good to see the veteran singer onstage and performing to fans who were there to support him.
Underoath played next on the Discovery Stage. They brought a distinctly different sound than many of the other acts on the bill thus far with more of a modern-style screamo/emo sound. For the younger attendees, Underoath definitely resonated well and gave a crisp, solid performance.
At this point, it was break time. With so many gourmet food trucks at Aftershock to choose from, it was time to get our grub on. As we sat and ate, we watched Shinedown from the big screen who seemed to be putting on a hell of a show for their fans who also seemed to be enjoying themselves. The sun was quickly on its way down by this time to set the scene for the nighttime acts as well as give us all a well-needed break from the heat.
Next up was 311 on the Monster Stage. Growing up during the nineties, these guys were huge. They seemed to have a constant stream of hits on the radio and definitely helped ease the transition and pave the way for nu-metal to become accepted during the later nineties and early 2000's. Since I'd never seen them before, I was eager to check them out just simply for the nostalgia of it. As a performance, they weren't bad. They played through most of their memorable tunes and even had a pretty decent drum solo thrown in. The energy, however, felt a little low by the singers and their music perhaps hasn't held up as well as a lot of other bands from their era, in my opinion. Nevertheless, it was fun to see 311 perform for my first time.
Coming up next was Gwar on the Capital Stage – the perfect, smaller setting for this type of insane show. What can you say about Gwar? Even if you're not familiar with their music, you know you're going to get a good show. These guys are true showmen and their performance at Aftershock more than lived up to expectations. From the costumes, the lights, the gore, and antics, it was just pure entertainment. Aside from all that, their playing was on point and featured some of the best face-melting guitar solos of the day. The whole crowd seemed to be absolutely loving the whole experience. If you've never seen Gwar live, I highly recommend checking them out at least once in your life.
Finally, the Saturday headliners, Deftones took to the Monster Stage. Again, growing up in the nineties, and in Northern California where they're from, this was a huge band for me. Judging by the crowd, it was obvious that just about everybody there was excited to see these guys perform in their hometown of Sacramento. From the opening riffs of "Rocket Skates" through all their classics, Deftones put on a destructive performance. The moshpit started almost immediately and continued on throughout the whole show. One of my personal favorites was "7 Words," the song that originally introduced me to the band. You could feel the adrenaline (no pun intended) from the stage and throughout the crowd as Chino belted out "Suck! Suck! Suck! Suck! Suck!" Other highlights included "My Own Summer (Shove It)," "Digital Bath," "Change (In the House of Flies)," and "Engine No. 9" which featured a transition into Cypress Hill's "How I Could Just Kill a Man." Overall, Deftones put on an amazing show that thoroughly impressed their hometown crowd. As we left the venue to walk to our car, people couldn't stop talking about the show and reliving the night.
Stay tuned for the recap of my Sunday experience coming up…