Moonlight Prophecy is:
Lawrence Wallace: All instruments and composing
Mika Mage: bass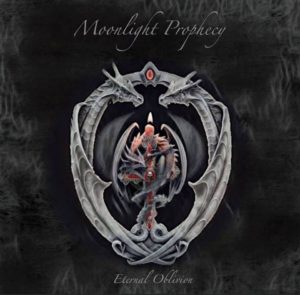 Being that we are covering the great state of Pennsylvania in our State of the Art series this month and it being International Guitar Month, I ran into a band in my search for talented, lesser known gems that I instantly fell in love with that needed to be covered outside of the normal Monday cycle and they have a brand new release set to drop on April 15th. From Philadelphia comes Moonlight Prophecy to abuse your ear drums with the, much anticipated, release of Eternal Oblivion!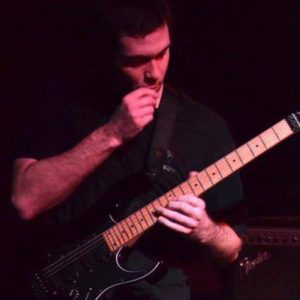 Moonlight Prophecy is the brain-child of master composer and virtuoso multi-instrumentalist Lawrence Wallace. While he is best known for playing guitar and composing all of the music for the highly regarded Black Metal band, Shadows in the Crypt (2009-2015; albums include: Beyond the Grave, Division of the Soul, Baphomental Affliction, Cryptic Communications, Fanatical Promotional demo and Fanatical), and his solo project Lawrence's Creation (2013-Present; albums include: Grand Symponies of the Void, Drop Zone, Glimpse, Timeless Universe and Divinity), Lawrence has also written countless soundtracks and keyboard pieces as well. Listen to his extensive catalog of musical ventures and you would not be surprised to find out that his middle name is "Diversity" (it isn't). It truly boggles the mind that so much talent comes from just one man. What makes the Moonlight Prophecy project a departure from past works and so damned special is that Wallace decided to collect his influences from bands like Nevermore and Testament and blend them seamlessly with the sounds of notable guitarists like Jeff Loomis, Michael Angelo Batio, Yngwie Malmsteen, Rusty Cooley and Alex Skolnick. The resultant music is jaw dropping and gives those of us that thrive on neoclassical shred something new to collectively sink our fangs into. Those that normally have a disdain for technical, instrumental guitar albums need not fear either because the songwriting on Eternal Oblivion is nothing short of spectacular; providing a level of emotive balance not often heard from uber-technical players like Wallace. This is a tribute to not only his playing but composing abilities because these two skill sets do not necessarily align; all-too-often having a sterile feel or being overly softened to put more stress on emotional intent. This balance is also found in the production of this killer, three song EP. Apparently, his recording and production skills shine just as brightly as his song writing and playing abilities. If there is a finite amount of talent in the universe, Wallace imbibed more than his fair share of it (probably got most of mine dammit)! Starting first by recording the drum lines, Lawrence lets his mental genius lead him to the rest of the music; layering perfect harmonies and melodies over Thrashier rhythms to create the wild ride he calls Moonlight Prophecy.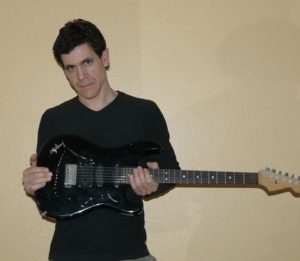 First off the Eternal Oblivion blocks comes "Spellbound" which screams off into the darkness at impossible speeds but quickly cloaks itself in a more powerful, heavy rhythm driven sound. Instead of a four minute long guitar solo, Lawrence tastefully weaves his aural tapestry just in front of listener; providing a smooth path that transitions from verse to verse, chorus to chorus, bridge to bridge and providing an almost glassy tension and release throughout. And, damn, can this man play drums! This is no secondary skill and provides much of this track's aggressive stance. Still convinced Metal requires vocals? Well, the title track for Eternal Oblivion has you covered. Taking on a more restrained perspective, although no less powerful, this song builds quickly before throaty clean vocals are introduced into Lawrence's musical landscape. Most of the shredding that we have already become accustomed to is relegated to the background while drums and rhythm guitar takes the point. In keeping with the restrained feel, vocals add a sense of subtle sadness and frustration not heard on the other two tracks. Nothing Wallace can't do and do well! Unfortunately, "Witch Hunt" closes this all-too-short EP but it drops hard and fast. Restraint has been completely jettisoned on this one too. While double bass pound this song's direction into every cell in your body, a more Classically oriented take is made both in composition and playing style. Unlike "Spellbound", this is a four minute guitar solo that hearkens back to the days when Malsteen, Friedman, Becker, Blackmore, Roth, Moore and others were just starting to develop the neoclassical, shred guitar portion of the Metal genre. This thing is hotter than the first bite of a Toaster Strudel and meaner than a scorned woman. You can almost smell the fretboard burning and the frets melting, leaving it my favorite song on the EP.
Alright, guitar nerds like myself have a whole lot to be excited about with Eternal Oblivion, but Lawrence Wallace has opened the door for a new generation of artists not afraid to take shred in a different direction, where it remains accessible and honest without dumbing the musicianship down to the lowest common denominator. Definitely something for everyone on this album and a "must have" for all instrumental guitar enthusiasts. Don't expect to see Moonlight Prophecy anytime soon though, because the next step is a full length album that is already in the works. If Eternal Oblivion was the appetizer, I cannot freakin' wait for the main course!

Track list for Eternal Oblivion:
"Spellbound"
"Eternal Oblivion" (vocals)
"Witch Hunt"
All things Moonlight Prophecy can be found on Bandcamp Facebook Weebly