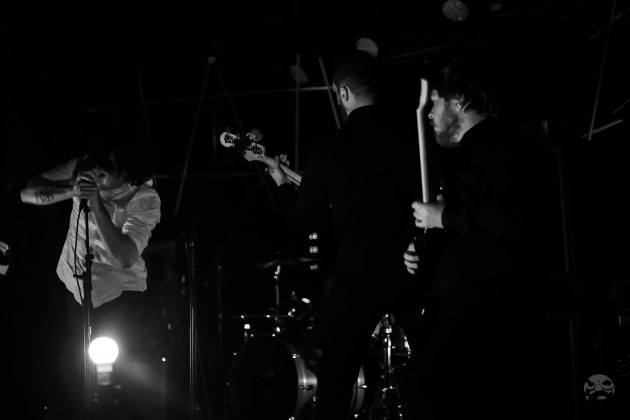 Chicago bred aurally curious outfit Meth have come out with a brand new single called "Inbred" for their new album, 'Mother Of Red Light.' Seriously, these guys are best described as if Limp Bizkit, Orgy and Clutch got together backstage and had an illegitimate baby. And I never knew I'd like that combination so much.
Signed to Prosthetic Records, Meth are a band that started with one Seb Alvarez, whom you may know from another band called Cadence Fox, founded in 2008. Meth were born exactly eight years later, and have since released a couple of demos ('I Am Numb', 'Buried In The Woods').
"Inbred" brings me back to the Family Values era, with bands like Limp Bizkit, Orgy, and Snot at the helm of rock popularity. This single doesn't last quite as long as the effects of meth, but it does make me curious to see the band live. Alvarez's vocals come in like a Nu Metal omen, with the bending bass line and thumping drum beat keeping time like a demented cuckoo clock. The lyrics seem to tell a tale of one's struggle with self identity. The hook screams, "do you think you're me….?!" With lyrics that sound like they came from pages torn out of someone's personal journal, pounding drums, and tortured vocals of this variety, Meth have put themselves out there as a fundamental gasp at the nu metal genre. Although they refer to themselves as noisecore most often they showcase some of the aggressive components that helped nu metal conquer the music world for a decade or more. Luckily, these guys will be touring soon, kicking off those dates in their native Chicago and ending the run in Arkansas. I highly suggest getting your tweak on if they come to your town!
METH. Tour dates:
8/23 – Chicago, IL @ Beat Kitchen (record release show)
8/28 – Pittsburgh, PA @ GW
8/29 – Buffalo, NY @ Mohawk Place
8/30 – Worcester, MA @ Distant Castle
8/31 – New Brunswick, NJ @ Creative Space
9/1 – Brooklyn, NY @ Saint Vitus
9/2 – Philadelphia, PA @ Haus of Yarga
9/3 – Baltimore, MD @ Mercury Theatre
9/4 – Richmond, VA @ Space Litter Records
9/5 – Asheville, NC @ Asheville Experimental Archives
9/6 – North Charleston, SC @ Tua Lingua
9/7 – Saint Augustine, FL @ Planet Sarbez (Sing Out Loud Fest)
9/8 – Tampa, FL @ Blue Note
9/9 – New Orleans, LA @ Neutral Ground
9/10 – Atlanta, GA @ The Bakery
9/11 – Nashville, TN @ Black Lodge
9/12 – Cincinnati, OH @ Northside Tavern
9/13 – St. Louis, MO @ Sinkhole
9/22 – Wichita, KS @ Kirby's Beer Store
9/23 – Oklahoma City, OK @ 89th Street
9/24 – Little Rock, AR @ EJ's