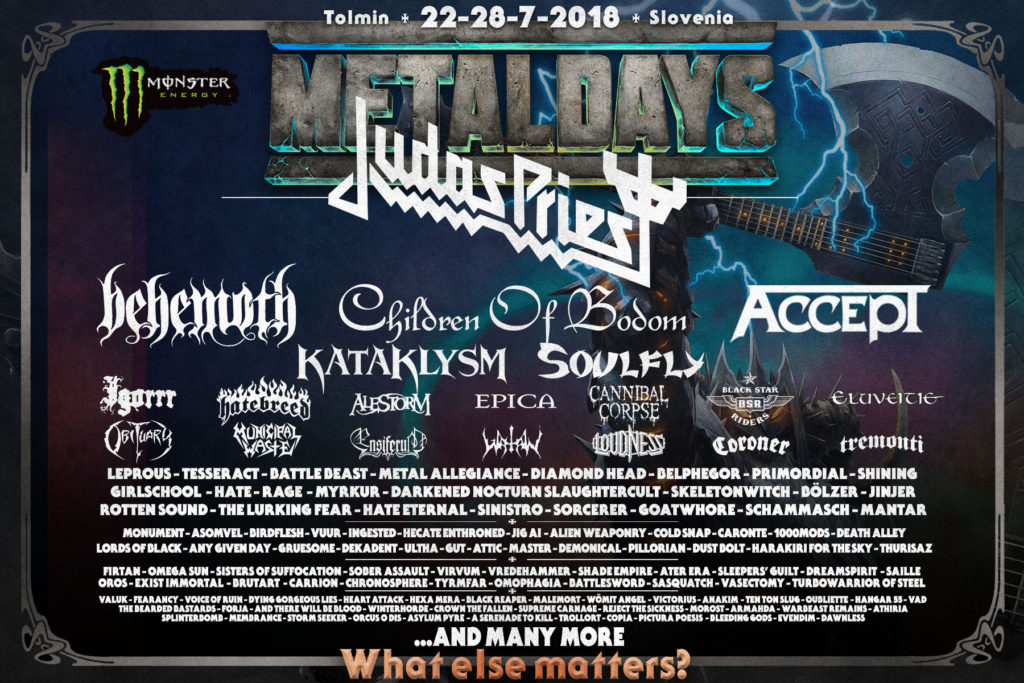 Well, we before we even begin this, let's just admit it, Europe has the best metal festivals under its belt. From what I consider three of the currently biggest metal summer festivals are in Europe, the ever glorious Wacken Open Air in Germany, Graspop Metal Meeting in Belgium and Hellfest in France. And, not just that every or the other country in Europe has some festival going on, you just name it and it's there. Be it Czech Republic's Brutal Assault, Denmark's Copenhell, Spain's Resurrection Fest, Rock Am Ring in Germany, Download and Bloodstock at metal's home, England. It's a fun and metal galore. If you have the time and money you are just blinded and caught in a dilemma as to which metal fest you'd wanna attend. Every year European metal festivals deliver, and it's not just about the music and the incredible line-up, it's also about the fun activities that go with it. Be it wrestling, mud fight, karaoke, football, just about everything under this goddamn sky.
Today, we throw some much deserved limelight to one of the biggest and most exciting metal festival in Central Europe and quite possibly in the whole of the continent. From the Balkan peninsula, Slovenia's biggest metal festival MetalDays is what we're going to talk about today. MetalDays undoubtedly is one of the most fun filled and exciting metal festival, from exciting line-ups to sun bathing at the beach nearby, to the serene and marvellous landscape, the festival is a perfect getaway for the summer. And, unlike most of the fests, which are during the weekend and with a maximum duration of three days, MetalDays beats them all and promises to give you the best vacation with a whole week of fun and frolic. Hell! if you add the pre-arrival it's almost a two week metal extravaganza. The festivities commence from 22nd July up until the 28th.
Metal festivals and small towns have really the most intimate relationships, especially in Europe. The annual pilgrimage MetalDays, is hosted by the small town of Tolmin, which is approx. 65 kilometers off the coast of the Mediterranean Sea in the heart of Slovenian Alps, it becomes a paradise for over 12,000 metalheads from all over the world. There are fans that travel as far and wide from places such as Mexcio, the US, Canada, England etc., and why not, when a festival as grand as MetalDays promises you week long madness, thunderous line-up with over 100 bands from all over the globe, three stages, two beaches, a wide palette of freshly made sumptuous grub to sink your teeth into, wide selection of drink, unlimited beer and many activities, it'd be a sin to not go to this festival. Other activities include yoga by the beach side, men in thongs volleball, topless women volleyball and badminton, craft and painting workshops and so many more other attractions. Oh and there's a late night session of a strip show as well(*wink wink*).
MetalDays has been going on since 2004, but it wasn't known as it's now today back in the day. Prior to 2012, the festival was known as Metalcamp, it got its present name when there was a change of guards on the end of the festival promoter. MetalDays is now organized by Slovenian promoter MIFI d.o.o. MetalDays over the years has grown into a very famous festival, with the likes of bands such as MOTORHEAD, AMON AMARTH, AT THE GATES, ABBATH, MARILYN MANSON, KING DIAMOND etc., headlining it's past successful editions. 2018 will see MetalDays opening its arms to 12,000+ metal fans for its 14th edition. The picturesque and peaceful town of Tolmin will have it's calm and quiet nature ruptured once again when legends JUDAS PRIEST, along with co-headlining bands like, BEHEMOTH, CHILDREN OF BODOM, SOULFLY, ACCEPT form a cacophony of massive order this year. Yes, that is right, those bands I just stated are just the icing of the cake on this year's Metal party. MetalDays 2018 will be held from 22nd – 28th of July in Sotocje, Tolmin, Slovenia.
All the bands that are a part of MetalDays 2018 have been announced and oh boy what a stellar line-up it is. Apart from the above mentioned headliners, there are a lot of bands on the bill, both underground and big shots. I will try and name a few, IGORRR, KATAKLYSM, HATEBREED, ALESTORM, EPICA, CANNIBAL CORPSE, BLACK STAR RIDERS, ELUVEITIE, OBITUARY, MUNICIPAL WASTE, ENSIFERUM, WATAIN, LOUDNESS, CORONER, TREMONTI, LEPROUS, TESSERACT, BATTLE BEAST, METAL ALLEGIANCE, DIAMOND HEAD, BELPHEGOR, PRIMORDIAL, GIRLSCHOOL, HATE, RAGE, SKELETONWITCH, JINJER, GOATWHORE, MONUMENT, 1000MODS, GRUESOME, MASTER, PILLORIAN, DUST BOLT, HARAKIRI FOR THE SKY, VIRVUM, CHRONOSPHERE, and many more! All these bands will cater to your metal buds over three stages, namely, Ian Fraser Lemmy Kilmister Mainstage, Boško Bursać Stage and the Newcomers Stage. What I like about MetalDays is, it provides a launch pad for up and coming bands who haven't hit the bull's eye yet. Under the Newcomers Stage, as the name clearly suggest, one can witness underground and rising metal bands. You might not know any of the bands, but it is for sure that MetalDays offers you the best of the best, when it comes to new bands that are just starting out on their metal sojourn. It is an excellent initiative, and a much needed thing of the hour, cause the festival knows that if you support the band next door today, you have a another Slayer in the making for tomorrow. So while you're basking in happiness after watching your metal idols, don't just forget to support the newcomers. It's what the scene in any part of the world needs if it has to survive. Check the image below to know the bands featuring on the Newcomers stage.
Before the party officially begins on 22nd, the festival also lets you do a early arrival, which is, you arrive at the festival campsite venue, pitch your tent up and just witness the calm before the storm. The early arrival is scheduled from the 18th July, and if you're wondering what on earth you'd do four days before the massacre begins, then let me tell you, there's a whole bunch of things you can do there. There's the beautiful Soca and the Tolminka rivers, where you can chill and beat the heat during the days, go hiking on the nearby trails in the mountains, or just go see the small yet pretty town of Tolmin. You can go check further info for early arrivals HERE! Follow the camping details on this LINK. Don't have your own tent? Dontcha worry, you can also rent a tent for decent prices. Click HERE for the same. Or, if you're looking for other forms of accommodation, follow the link HERE!
The tickets for the festival are limited to 12,000 people annually and they start at 59 euros, for single day tickets. You can also buy a whole festival tickets worth 150 euros and 200 euros that give you a lot of facilities along with it, camping included. With just two months away, don't you dare sit there waiting, just go and purchase your tickets to the perfect summer holiday, MetalDays HERE!
So, what do we have here? One full week of metal madness with over 100 bands, topless women playing volleyball, delicious food, getting sloshed with unlimited booze, yoga by the beach side, two beautiful and gorgeous rivers and beach, 12k metalheads from all across the world, and one big metal party. Doesn't sound compelling? If that doesn't make you drool already I don't know what will. MetalDays undoubtedly is the most hot and happening festival that is now in entire Europe if not in the world. I must tell you that you won't be regretting once you go and come back from the festival. The running order of the festival has been announced and you can take a look at it below, along with the full line up festival poster. Take a look at the official teaser below, to get an idea of what is yet to shower down on you.
With so much happening in just a week, truly "what else matters?"