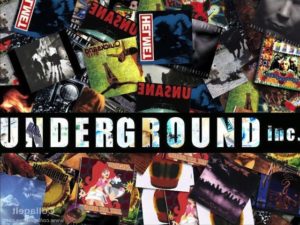 In our continued support of Underground, Inc., we were given the unique opportunity to interview this documentary's director and award-winning producer, Mr. Shaun Katz!  For a taste of what has us all up-in-arms, read our queries and thoughtful insights of Katz's genius laden with an undying passion for the musical underground that started in the 90's and continues today.  Since first hearing of this huge undertaking, I have become more and more excited about finally having the opportunity to see what years of effort will bring to fruition about the very roots of the Modern Alternative Underground as seen from the inside, looking out!  Interviews and behind the scenes footage include Ministry, Helmet, White Zombie, Stone Sour, Bad Religion, Primus, Queens of the Stone Age, Clutch, Bad Religion, Sepultura, Red Fang and much more.  We would sincerely like to thank Shaun for his time and insights as we prepare for what is likely to become the biggest music-based documentary of this generation.  Highly inspired material!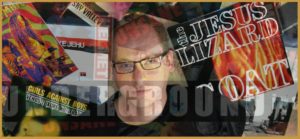 Interview with Shaun Katz:
Metal Nexus: Let's start with Underground Inc…what originally inspired you to undertake this documentary project? Is it safe to say that you are a fan of the Alternative Rock musical movement of the Nineties, etc.? What are some of your own personal favorite bands from that period? Modern ones?
Shaun: I worked in a record store in Sydney Australia. I was a fan of these massive artists at the time like Ministry, Janes Addiction, Helmet etc. This was back when 'alternative' meant a style of music that had an uncensored, volatile energy to it (before it became really safe and watered down), and amazingly enough, it wasn't just embraced by the mainstream, but it also informed it in some cases – the discovery process then was extremely exciting and inspiring.
At the same time, I was also being put onto these extremely cool bands that no one had heard of either – bands like The God Machine, Course Of Empire, Handsome, C.O.C. – they were all so good, in some cases better than the more popular bands in that genre, and I couldn't figure out why they weren't talked about more or why none of my friends knew about them.
This question was coming from a place of not knowing how the music business worked at the time. This set me off on a journey that eventually led to me to shooting interviews in the USA with these artists and creating this film, and answering the story of what became of so many overlooked bands.
Metal Nexus: How were the bands/artists spotlighted or covered in the Doc selected? Explain a little about the process..did you reach out to them, was there an open call for submissions, word of mouth, etc.?
Shaun: I definitely credit Peter Mengede from Helmet (one of my favorite musicians), in helping me get the ball rolling with that. We had collaborated a few times, and I flew to Queensland, here in Australia and filmed the first interview with him. I cut that interview into a trailer and then contacted all the artists that I thought would have something to say and who I was a fan of.
Once I got to the USA, I would have a few unexpected interviews happen eg. Sean Yseult from White Zombie hooked me up with Pepper Keenan from C.O.C. Other artists helped get friend musicians from QOTSA, Quicksand and Biohazard involved as well….an extremely exciting time (I almost got an interview with one of the guys from Tool through this referral process, but the scheduling didn't work out…damn!).
Metal Nexus: What differences do you see evident in the music industry itself from that time period compared to now in the current times? Do you have your own ideas as to ways that might improve the industry itself or benefit artists' interactions with it?
Shaun: I guess the biggest difference is that artists now make money off touring instead of album royalties, which was a system that was set up in a way where the artists benefited from the least, unless they were a massive act. Most artists are forced to now be on a perpetual touring cycle to make a living off of music, which is obviously very difficult, but the benefit of this is that they have much more control compared to how things used to be – which is great. The most important thing that was emphasized through all the conversations I had with these musicians was that you have to take responsibility for your own shit if you want to survive in the industry.
There are probably things that young artists might be unaware of when it comes to the business side of things however, which haven't changed. One thing is that once you sign a contract, the record company isn't obliged to promote your album, in fact they don't even have to release it if they don't want to. What 'Underground Inc' focuses on is how these artists dealt with those experiences, and how many of them have continued to this day, which is a pretty miraculous thing. At the same time the film also looks at all these amazing bands who never got past their first album – all part of the story of the giant music biz and the toll that it can take on an artist at times.
Metal Nexus: Do you see the ripple effects from the Nineties music and industry both being a positive or a negative now, looking back? (please elaborate)
Shaun: I suppose everything is constantly shaped by what came before it. I think it bothered me when I was younger that the same same 3 or 4 bands were still getting an over abundance of attention, when I knew about so many other great bands that were out there. I think one of the ripple effects are that people, as well as the media have an extremely limited view of what the 90's sounded like musically, and how much of a gold mine of sounds there were if you were actually involved in those scenes – 'grunge music' was a very small part of it all.
Metal Nexus: Assuming you were raised in Australia, did the U.S. Alt. Rock/Nu Metal movements have a lasting impact there as well?
Shaun: I think that period had a lasting effect everywhere, especially here in Australia. People who grew up in the midst of it, have a real nostalgia for it, it really was that great golden age of music, where artists were no longer boxed in by genres, it felt like you could do whatever you wanted. I think the appeal or nostalgia from that time didn't just come from the music, but it was also a really optimistic decade for the Western world! I think another big thing that made an impact was MTV dictating everything, despite the fact that they missed the ball (or the record companies missed the ball on a lot of things), one of the great things about MTV was that it made music seem larger than life, something that I feel is missing now.
Metal Nexus: What stage is the Underground Inc. Doc in at this time and what remains to be done? Biggest hurdle connected with making it and what is one of the biggest lessons you've learned through this process with it?
Shaun: I'm working towards getting it out this year. I think the most invaluable lesson I've learned is to make sure you have people on your side, who believe in the importance of what you're trying to doing. The process became way more fun once I was no longer doing it all myself.
Metal Nexus: Can you share one, or what has been, your most memorable experience in making the Documentary? Were there any particular artists that may have somewhat intimidated you or caused you to have a total Fanboy moment? (be honest, LOL)
Shaun: I could probably write a whole long article on the encounters that I had. I traveled through the USA doing the filming on my own, through 23 cities, and the experiences and encounters ran the gamut of anything and everything that could possibly happen – from the weird & unexpected (one artist double booked me with a 'working girl', and decided to do my interview instead of the other 'appointment' he'd set) – to the inspirational, life changing moments (interviewing some of my personal heroes). I definitely had some fanboy moments though….the whole goal of this film was to essentially adapt my music collection into a film. To give something back to the artists that shaped me. I think I was quite nervous in the beginning, especially during my first interview with Todd Huth from Primus, but when you do it so much the nerves wear off (I did have a serious fanboy moment around some of the ex/members from Ministry).
My favorite interview however, was with Dave Wyndorf from Monster Magnet. We were joined by Tim Cronin, who was the original singer, and the banter between them was hilarious. The cool thing about Dave is that he has this outrageous personality (clearly reflected in his music), and is everything you'd hope he would be like, as a fan of Monster Magnet, yet he was so gracious and happy to give his time.
Metal Nexus: Did anything occur during the making of it that inspired an "A-ha!" moment as to perhaps another project of some kind? Exploring that further..do you have any other ideas or projects in mind to pursue sometime in the future?
Shaun: I've very much had a tunnel vision with this project, haven't thought about anything else but Underground Inc. I'm definitely hoping that my next film is fiction. As far as ideas it inspired, it would have been the constant insight that was being revealed through each interview, those A-ha moments that slowly painted a picture of that time and made me realize that an entire generation or two all had this one shared experience with the seismic shift that occurred in music, along with the business dealings that often didn't turn out well for some.
Metal Nexus: Outside of directing and filming, what other things do you enjoy doing (i.e. hobbies, collections, etc.)?
Shaun: Um…does music count? I've actually been juggling a college degree while finishing the film, which I'm enjoying.
Metal Nexus: Shaun, Metal Nexus has a tradition of closing with an open floor where the interviewee can say, share, rant, or whatever about anything you'd like..have at it:
Shaun: There are some amazing bands that I hope people check out as a result of this film. There are still a lot of bands that I love which unfortunately are nowhere to be mentioned in my film, which I feel are still severely in need of more recognition, I thoroughly recommend checking out the following bands…..Prong, The God Machine, Ten Minute Warning, Laughing Hyenas, Mind Over Four, 108, Mussolini Headkick, I Mother Earth, Orange 9mm…..fortunately the majority of everything else I love has either made it into the film or has gotten it's dues already.
More information on Underground, Inc. can be found on Facebook and YouTube