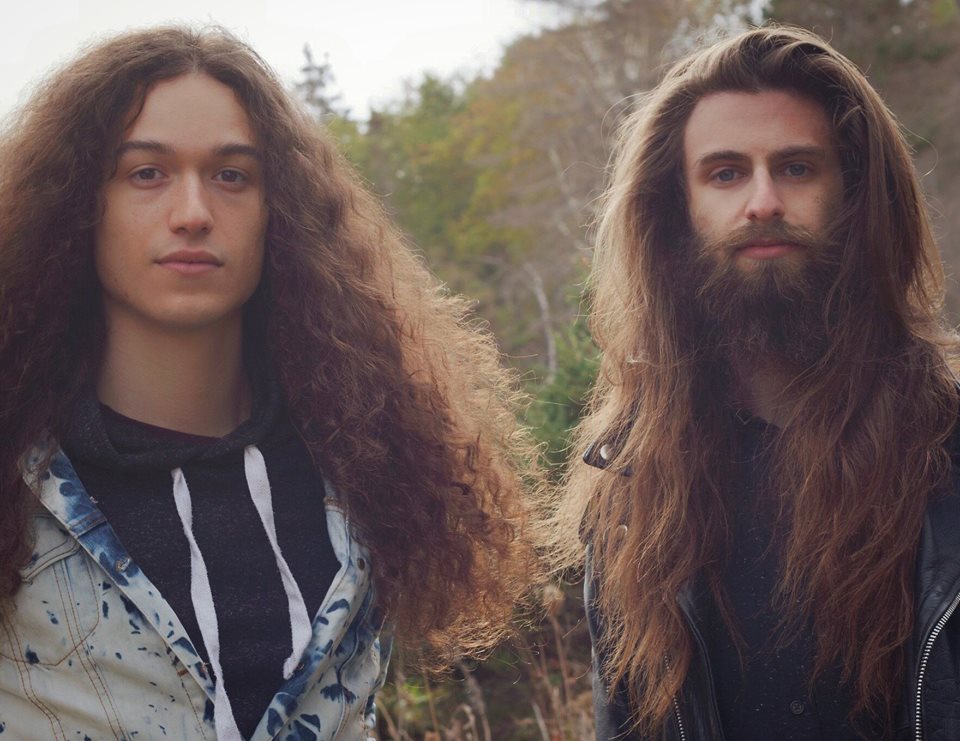 Welcome back to our ongoing series of LOUDER THAN LIFE 2019 artist profiles, our weekly guide through the lineup of acts who'll take the stage at Louisville, Kentucky's Highland Festival Grounds at Kentucky Expo Center September 27-29 in what's sure to be one of the biggest concert events of the year. This week, we're taking a closer look at Canadian psych-blues outfit CROWN LANDS.
One of the bands jump-starting LOUDER THAN LIFE on Friday is CROWN LANDS, a duo hailing from Oshawa, Ontario. For the past four years, Cody Bowles (drums/vocals) and Kevin Comeau (guitars/keyboards/pedals) have been expertly crafting hard-stomping rock that finds the sweet spot between WOLFMOTHER, THE WHITE STRIPES, and RUSH while belying the seeming limitations of their streamlined blueprint. Songs like "Being Right" and "Mountain" retain a touch of garage rawness while still sounding like widescreen epics, and hepped-up jumpers like "Misery" and "Mantra" have a fair bit of glitter encrusted on their shitkicker boots.
Since their last release, 2017's Rise Over Run, they've criss-crossed their home country opening for acts like JACK WHITE, BIG SUGAR, and PRIMUS, honing their live performance to a sharp edge and a high sheen. Comeau is an onstage dervish, whipping and thrashing while still deftly performing his multi-instrumental balancing act; Bowles proves himself both a soulful belter and a virtuosic drummer, holding down the rhythm and the frontman role with aplomb. CROWN LANDS delivers a high-octane, no-bullshit live show that more than adequately fills the sonic space, often capping their performance with a whiz-bang take on the classic RUSH anthem "Working Man."
CROWN LANDS will be on the road making the towns between here and LOUDER THAN LIFE, kicking off with a television appearance August 8 as part of the CFL's Thursday Night Concert Series when the Winnipeg Blue Bombers host the Calgary Stampeders. They'll spend several weeks supporting RIVAL SONS to close out August before appearing at the WAKE THE GIANT festival in Thunder Bay, Ontario September 14. LOUDER THAN LIFE marks their furthest trek south so far; make sure you're there to catch them by grabbing your tickets here!