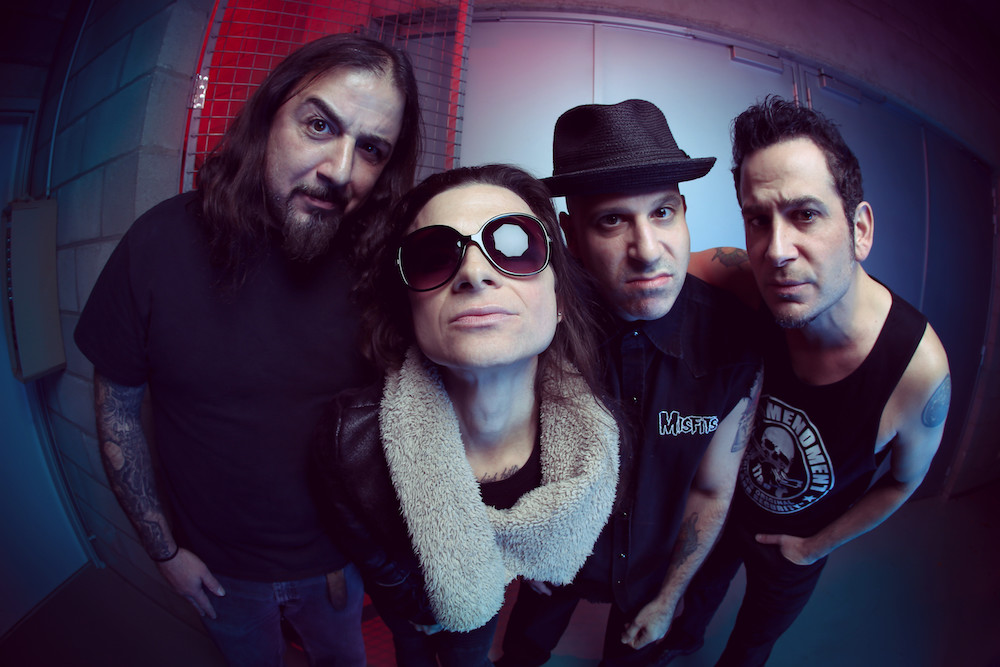 New York's LIFE OF AGONY has announced dates for a headlining trek called "Rise of the Underground Tour 2018" spanning the USA and Europe. The shows will begin with two sold-out, hometown warm-up gigs April 18th& 19th at Saint Vitus in Brooklyn, and conclude November 2nd as headliners of The Sound of Revolution Festival in Eindhoven, Netherlands. Full list of dates are below.
"With 2018 marking the 25th anniversary of our debut album, we are just so incredibly grateful to our fans for sticking with us all these years and wanted to do something really special for them. We're breaking out some old fan favorites that we've never played before live and hitting cities we haven't been to in over a decade," says bassist Alan Robert. He further adds, "You really can't beat the crazy energy of a packed, sweaty, tiny club, like we used to play back in the day, so we decided to include some very intimate rooms on this tour, along with the bigger venues, to feel that deep emotional connection again with our die-hard fans. It's gonna be insane."
Joining "Rise of the Underground Tour 2018" as main support during the September US dates will be SILVERTOMB, the new band featuring Johnny Kelly and Kenny Hickey from TYPE O NEGATIVE. More support acts to be announced soon.
LIFE OF AGONY emerged from the New York music scene in the early '90s with one of the most distinctive sounds in its genre. Best known for its 1993 metal/crossover debut 'River Runs Red', the band instantly built a cult following. For over two decades, the group toured relentlessly all over the world, sharing stages with the biggest names in rock, including METALLICA, BLACK SABBATH, OZZY OZBOURNE, FOO FIGHTERS, and THE RED HOT CHILI PEPPERS. After the much-praised 'Ugly' (1995), LIFE OF AGONY opted for a highly energetic alternative rock approach on 'Soul Searching Sun' (1997) and 'Broken Valley' (2005) – the latter produced by Greg Fidelman (SLIPKNOT, METALLICA). Last year, the group released their 5th studio album 'A Place Where There's No More Pain' (2017) to critical acclaim, debuting at #24 on Billboard's Hard Rock Album Chart. LIFE OF AGONY has sold over one million albums to date.
LIFE OF AGONY: RISE OF THE UNDERGROUND TOUR 2018 (USA):
4/18: Brooklyn, NY @ Saint Vitus (SOLD OUT)
4/19: Brooklyn, NY @ Saint Vitus (SOLD OUT)
4/21: Worcester, MA @ New England Metal & Hardcore Fest, Palladium
5/16: Los Angeles, CA @ Whisky A Go-Go
5/18: Anaheim, CA @ Parish at House of Blues
5/19: Las Vegas, NV @ Beauty Bar
5/20: Phoenix, CA @ Club Red
5/22: San Diego, CA @ Brick By Brick
7/13: Mansfield, OH @ INKcarceration Festival
9/14: Baltimore, MD @Soundstage
9/15: Philadelphia, PA @ Theater of the Living Arts
9/16: Teaneck, NJ @ Debonair Music Hall
9/19: Ft. Wayne, IN @ Piere's
9/21: Joliet, IL @ The Forge
9/22: Flint, MI @ Machine Shop
9/23: Pittsburgh, PA @ The Rex
9/25: Buffalo, NY @ Ironworks
9/29: New York, NY @ Bowery Ballroom
LIFE OF AGONY: RISE OF THE UNDERGROUND TOUR 2018 (Europe):
6/15: Nickelsdorf, Austria @ Nova Rock Festival
6/16: Gräfenhainichen, Germany @ With Full Force Festival
6/17: Kiel, Germany @ Kieler Woche Festival
10/12: Papenburg, Germany @ Kesselschmiede
10/13: Dusseldorf, Germany @ Zakk
10/14: Leeuwarden, Netherlands @ Nueshoorn
10/16: Aschaffenburg, Germany @ Colos-saal
10/18: Mallorca, Spain @ Full Metal Holiday Festival
10/21: Salzburg, Austria @ Rockhouse
10/23: Budapest, Hungary @ A38
10/24: Zagreb, Croatia @ Culture Factory
10/26: Ljubljana, Slovenia @ Kino Siska
10/27: Pinarella Di Cervia, Italy @ Rock Planet
10/28: Munich, Germany @ Technikum
10/30: Sint-Niklaas, Belgium @ De Casino
10/31: Leige, Belgium @ Reflektor
11/02: Eindhoven, Netherlands @ The Sound of Revolution Festival
Getcho tickets HERE!