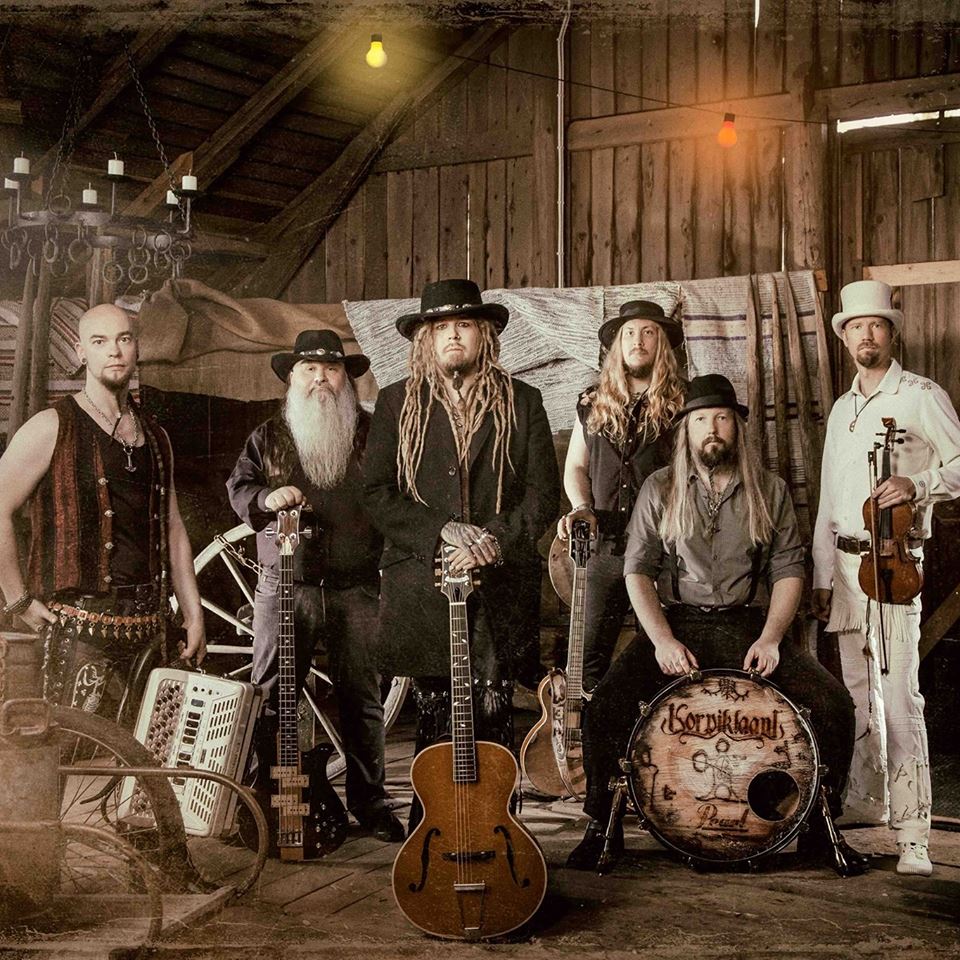 Finnish Folk Metal Superstars KORPIKLAANI are currently touring Europe alongside Turisas and Trollfest in support of their latest studio album 'Kulkija'. To celebrate, the band released a special tour edition, which includes the 'Beer Beer' CD, featuring 14 different versions of the eponymous track. Taken from this CD is also "Bier Bier," sung by Tankard's Gerre, who even wrote the lyrics for the adaption.
Watch the lyric video for the German "Beer Beer" version below. You can find song lyrics, review, synopsis, description, script and media files on AllMusicals.com
Gerre stated, "I remember when we toured with KORPIKLAANI across Finland in 2009, where we had tons of fun! I also had a lot of fun while writing German lyrics for the band's iconic song and recording it with our sound engineer Gerd Lücking (drummer of HOLY MOSES). I hope that I'll meet the guys in KORPIKLAANI again soon, and we can have a few beers once again."
With 14 tracks and a total running time of over 71 minutes, 'Kulkija' is the group's longest album to date. Working with producer Janne Saksa for the first time, the album was recorded atPetrax Studio (Hollola, FIN) and mixed at Sound Supreme Studios (Hämeenlinna, FIN). Mastering duties were handled by renowned engineer Svante Forsbäck (RAMMSTEIN etc.). The cover was designed by Jan Yrlund (BATTLE BEAST, MANOWAR etc.), who has already created several artworks for previous albums and singles for the band.
The 'Beer Beer' CD includes 14 versions of KORPIKLAANI's iconic song "Beer Beer", graced by the likes of Christopher Bowes (ALESTORM), Steve "Zetro" Souza (EXODUS), Andreas "Gerre" Geremia(TANKARD), Jesper Anastasiadis (TURISAS), TROLLFEST, HEIDEVOLK and many more of their friends' bands and musicians.
Order KORPIKLAANI's Kulkija [Tour Edition] HERE!
Kulkija [Tour Edition] – Track Listing:
01. Neito
02. Korpikuusen kyynel
03. Aallon alla
04. Harmaja
05. Kotikonnut
06. Korppikalliota
07. Kallon malja
08. Sillanrakentaja
09. Henkselipoika
10. Pellervoinen
11. Riemu
12. Kuin korpi nukkuva
13. Juomamaa
14. Tuttu on tie