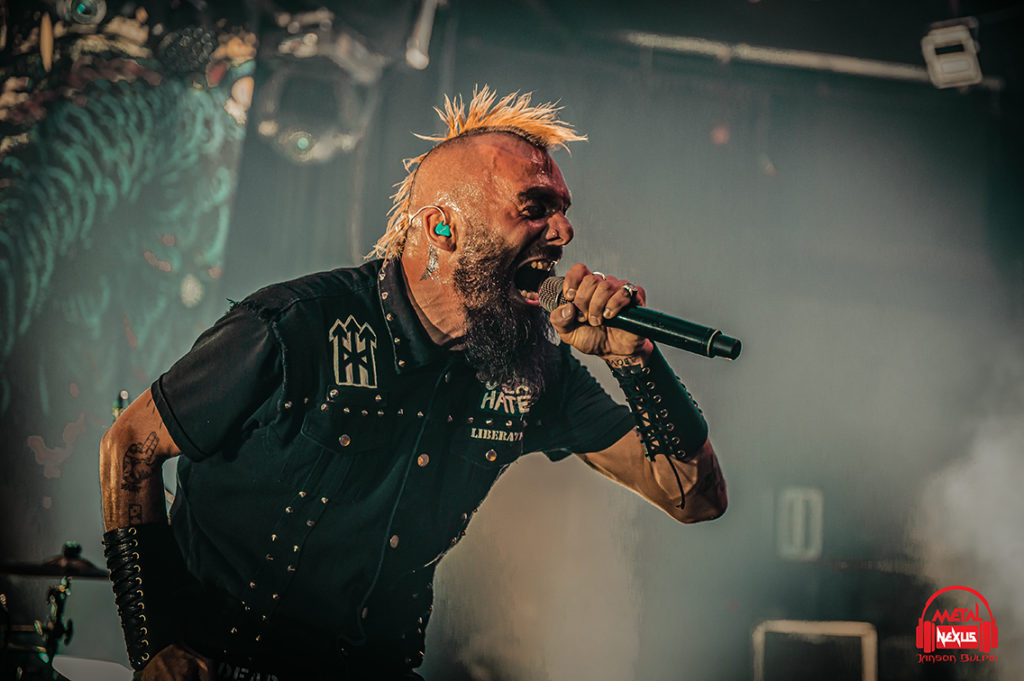 So on arrival to the Bristol o2 the queue was all the way up the hill next to the venue before the doors opened. I overheard fans chatting before the show and I heard them saying Howard Jones was there, but you hear that at every Killswitch Engage gig, and yes sometimes he does turn up. Also will Adam D wear a cape tonight, or will he go to the bar again and order shots mid set? It was bound to be an amazing night with not only Killswitch Engage taking the stage but also Boston, Massachusetts based band Revocation and the German metal band Tenside opening the show. What would be the stand out memories from tonight's show? Let's just wait and see.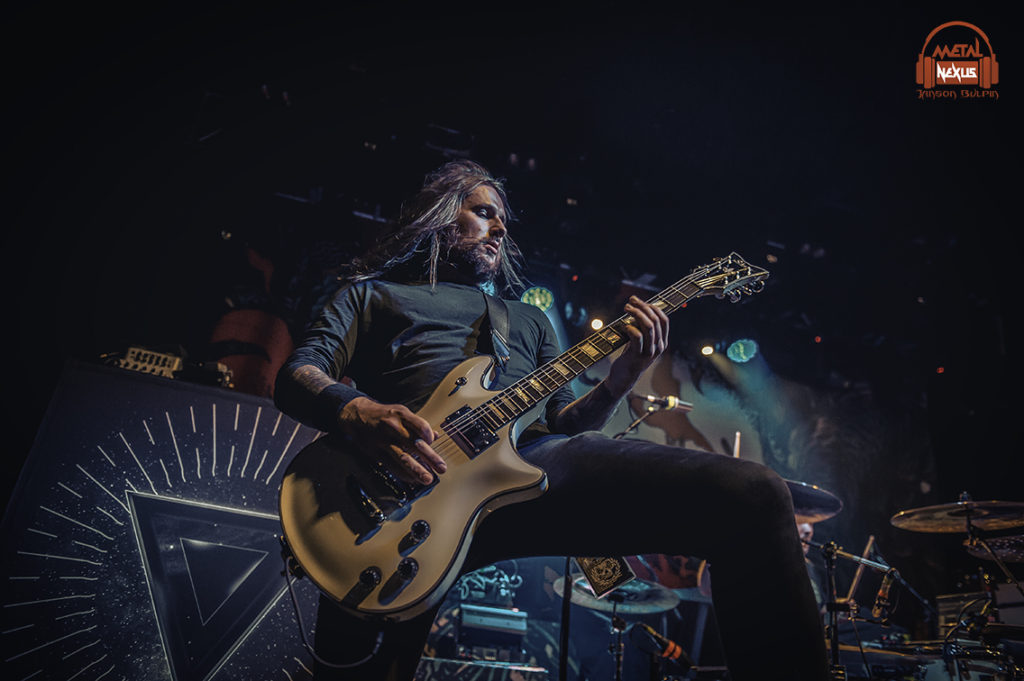 Tenside came out to AC/DC playing and when it stopped the lights dimmed then BANG; full throttle metal smacking you right in the face. I've never witnessed these guys live who hail from Germany, and actually hadn't had a chance to hear their music prior to the show. However, their album is now on my list of vinyl I must buy. Stand out members for me were the guitarist Michael Klinginberg and bassist Jonas Holscher. These lads had so much stage presence, spinning around and kicking the air you guys deserve success.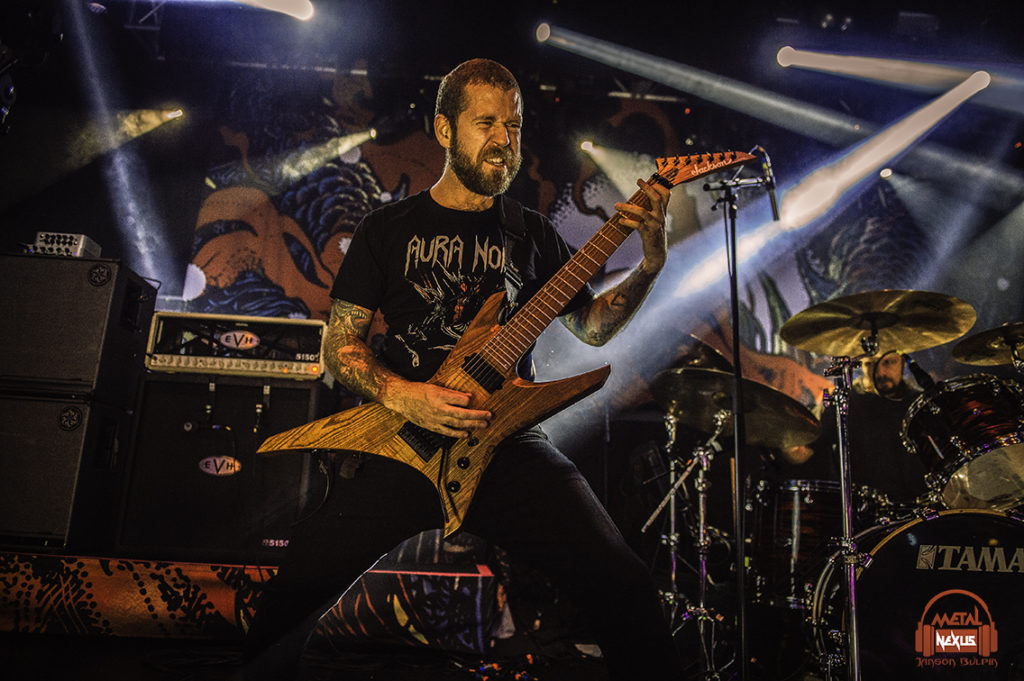 Revocation; just wow, straight in blast beats, full speed machine gun riffs, moshpit breaking straight out, damn these guys meant business! Vocalist/guitarist David Davidson charged round the stage crouching and screaming and shouting into the front row of the o2. For second band on to ask for a circle pit is normally denied but this sold out crowd got stuck in. Guitar solos were a plenty and executed flawlessly with elements of Pantera's Dimebag Darrel sound to them, I'm sure he would be proud. If you like fast music to head bang to then look no further than these guys.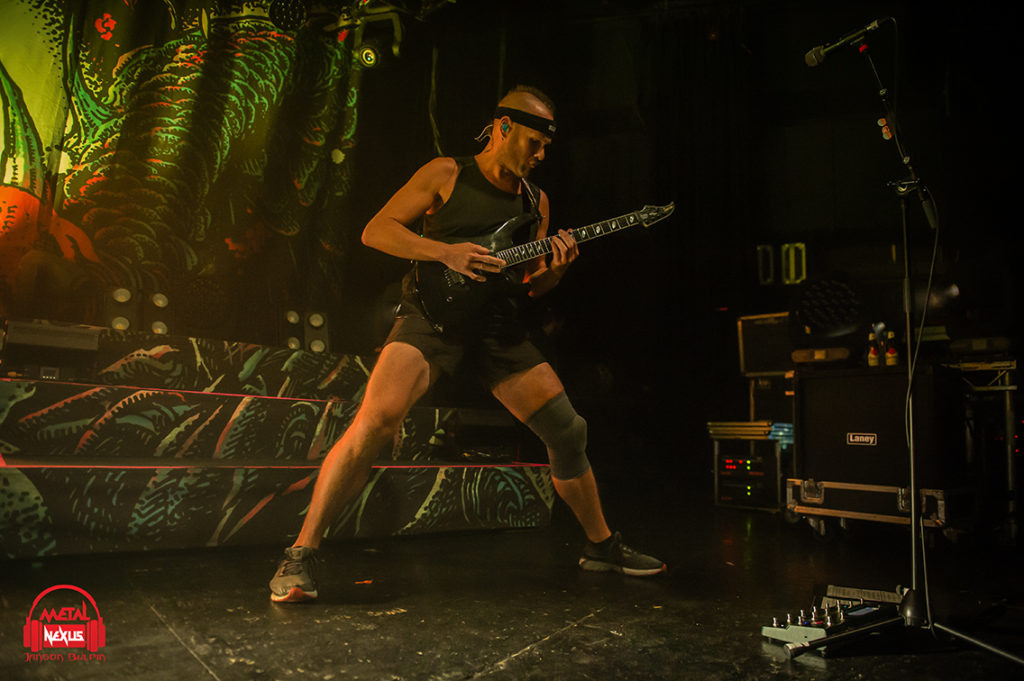 So the time has come for Killswitch Engage to hit the stage. With the release of their new album 'Atonement' which has flew off the shelves and yes some buy digitally but you know what I mean. This sold out Bristol crowd is ready and it is so crowded I'm struggling to move around the venue. Fourth song "My Last Serenade" saw the whole crowd singing along louder than the band with nearly damn deafening cheers after every track too. The song "I Am Broken Too" was also appreciated off the new album by the crowd and damn for an album being so fresh the die hard Killswitch Engage fans knew the lyrics and was nearly sung back as loud as "My Last Serenade."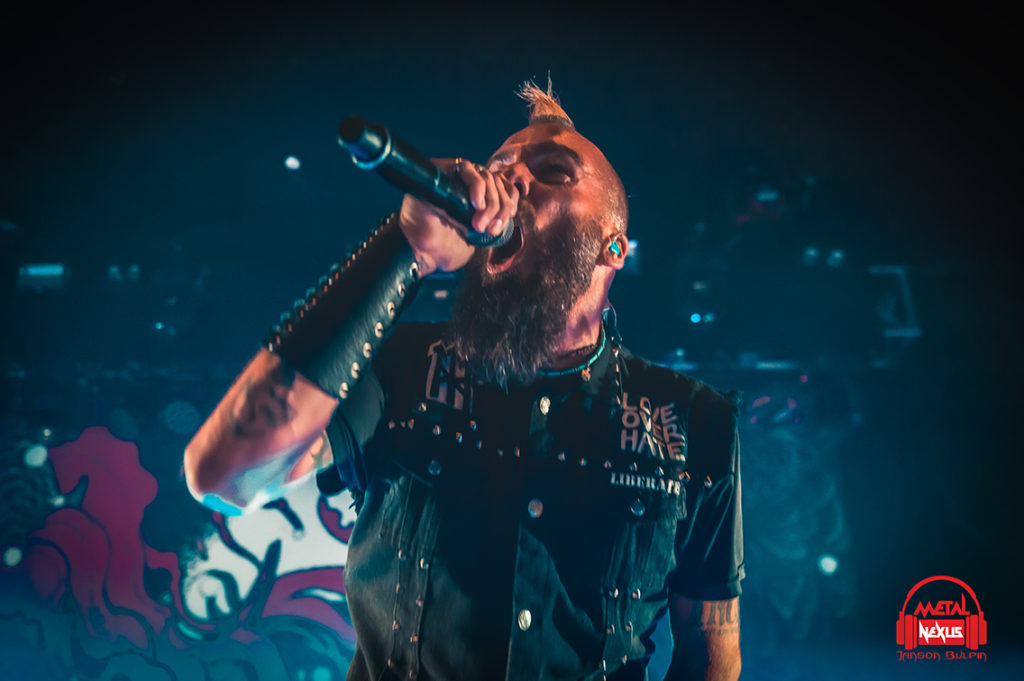 Killswitch Engage have bags of the energy, its hard to know who too watch Jesse Leach jumping from the drum riser, bassist Mike throwing that heavy bitch ass bass about and Adam D with his usual running around all over the place, just nuts. Joel Stroetzel guitarist was also on fire tonight the whole band looked like they enjoyed every moment tonight.
My fave is the drummer Justin Foley, this guy can play and hit those drums properly. I was able to go upstairs and manage to look over him and I play drums but wish my bass drum feet were half as good as his. Jesse and the band went totally silent from time to time to let the crowd sing lyrics outstanding. Killswitch Engage have been together for 20 years now, "The Signal Fire" was dedicated to Howard Jones and Light the Torch. Well, as if this place couldn't get any louder or crazier, it did. "My Curse" sorted that out and I glanced at the set list and "Holy diver" was going to finish the night. I thought the place was going to explode. At "The End Of Heartache" it got louder, which I thought wasn't possible, but those double bass drums pounding your chest like a gorilla in the wild, FUCK! The crowd was drowning out Jesse again which happened all night.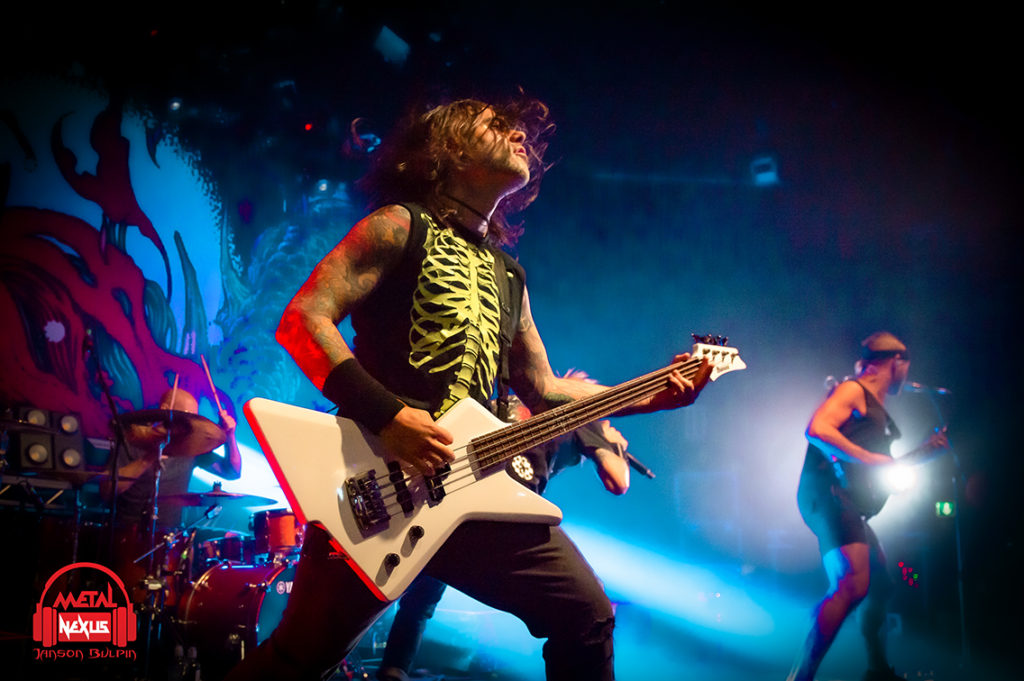 They dedicated their cover of "Holy Diver" to the man that made the song so iconic, one of the greatest vocalists of all time, Ronnie James Dio. It was the last song of the evening and what a send off it was. The crowd went nuts knowing it was their last chance to dance. Crowd surfers and one hell of a mosh pit opened up and don't forget devil horns were a raised all around which is fitting since Ronnie James Dio was the originator of the devil horns to begin with. Well if you are thinking of getting a ticket I would do it now because the release of Atonement in my eyes is going to elevate Killswitch Engage a lot more and that's a fact 2020 is going to be awesome for the band. If my counting was correct they played four tracks off the new album in the set "The Signal Fire," "I Am Broken Too," "Unleashed" and "The Crownless King."