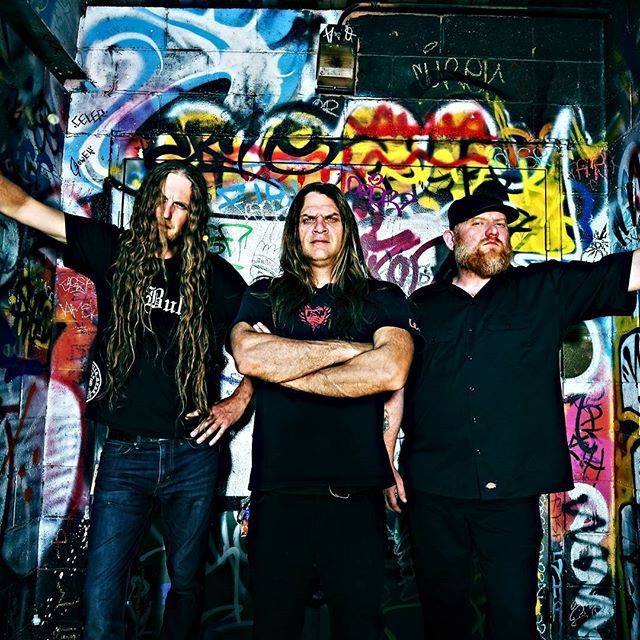 Coming at you from the cold, dark nights of Wisconsin, Jungle Rot, an American death metal band has released a brand new music video for their new song, 'Send Forth Oblivion'. This comes from their tenth studio album, 'Jungle Rot'. Coming off the 2015's release of 'Order Shall Prevail', Jungle Rot, has filmed a video for their brand new song. Jungle Rot, one of the all-time greatest American death metal bands, deliver their badass new music video for 'Send Forth Oblivion.' The track leads off their strongest album to date, appropriately titled 'Jungle Rot', in stores and available everywhere. A sequel to their previous blood-shedding video, 'The Unstoppable,' the band's latest cinematic work of art transports us to the midst of an intense battle, with the Wisconsin trio exhausted, lacking supplies, and one man down. While they are trapped and fighting for survival in an isolated bunker, we learn of their brainwashing by those in power.
"The experiments they did prevented them from eliminating us," explains guitarist Geoff Bub. "Operation Oblivion could be their own demise!" Meanwhile, lyrically, the song "expresses what these surviving soldiers are thinking as they ponder what's become of humanity," vocalist and guitarist Dave Matrise adds. "Greed and power has brought the downfall of society. Is there any hope?"
"Dave wanted to take a different approach for this video," explains director Dustin Smith. "Specifically telling us, 'I don't want a single shot of us performing, just a full-blown action movie featuring Jungle Rot.' This was the tenth music video I've been involved with for Jungle Rot, so it had to be something special. All of the credit goes to editor Brian Raida, the ass-kicking crew and to the band for going above and beyond during production."
As the album hits shelves tomorrow, Jungle Rot will hammer audiences as they return to the road this Monday in St. Paul, MN with Havok and Extinction A.D. The tour includes a stop at the Heavy Montreal Festival on July 28 and will continue through August 6.
JUNGLE ROT On Tour With Havok, Extinction A.D.
7/23 St. Paul, MN @ Amsterdam Bar & Grill
7/24 Chicago, IL @ Reggie's Rock Club
7/25 Lansing, MI @ The Loft
7/26 Rochester, NY @ Montage Music Hall
7/27 Providence, RI @ Fete Music Hall
7/28 Montreal, QC @ Heavy Montreal
7/29 Poughkeepsie, NY @ The Loft
7/30 Philadelphia, PA @ Voltage Lounge
7/31 Brooklyn, NY @ St. Vitus
8/1 Toledo, OH @ Ottawa Tavern
8/2 Indianapolis, IN @ Emerson Theater
8/3 Iowa City, IA @ Gabe's Oasis
8/4 Omaha, NE @ Lookout Lounge
8/5 Denver, CO @ Bluebird Theater
8/6 Kansas City, MO @ Riot Room