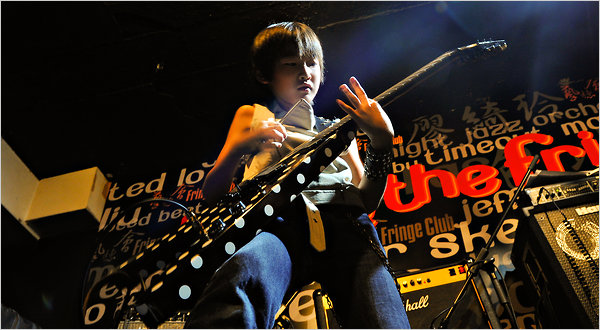 Born February 21st 2000 in Tokyo, Japan YUTO MIYAZAWA is likely the first guitar prodigy of this century. At the age of only eight GUINNESS BOOK OF WORLD RECORDS tabbed young Yuto as "The World's Youngest Professional Guitarist".
One year later in 2009 Miyazawa was featured on THE ELLEN DEGENERES SHOW. During his appearance there he performed the Ozzy Osbourne classic "Crazy Train" for the viewers at home and in attendance. After his performance Ellen asks him who his musical idols are and the young man quickly cited OZZY OSBOURNE and RANDY RHOADS. To his surprise Ellen had a special guest there to meet the up and coming guitar player. Who else would it be but Mr. Osbourne himself? Yuto was elated to see his hero. The best part is that YUTO MIYAZAWA had no idea what would happen next. Later that year OZZFEST2010 was held in Yuto's hometown of Tokyo. During his headlining performance Ozzy surprised everyone in attendance when he brought the ten year old out to join him and the group on Yuto's favorite song "Crazy Train". Video of the performance quickly went viral.

YOTO MIYAZAWA  is now 16 years old and plays guitar in a group called THE ROBOTIX with other musicians around his same age. For the most part he lives a normal life. He lives with his parents and he goes to school just like any other 16 year old does. He only tours during breaks from school. Who knows, maybe Yuto can be Ozzy's full time guitarist someday. One thing is for sure. Ozzy doesn't show any signs of slowing down. You never know.  Yuto rocking that polka-dot flying V is certainly a good start.