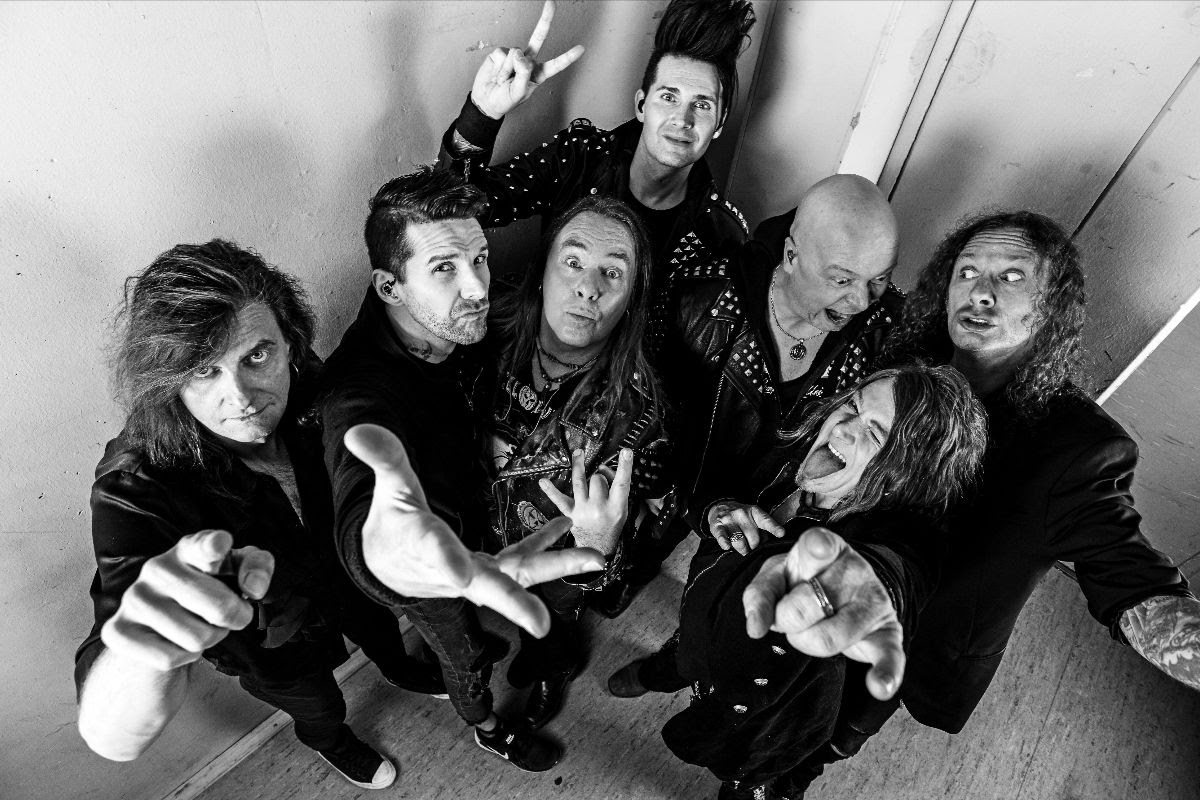 German metal legends Helloween have released the new live album/DVD United Alive! and United Alive! In Madrid. Featuring the Pumpkins United World Tour, revisit 30 years of classic Helloween performed live right from your living room! The 14-month tour was featured in countless metal magazines including Japan's BURRN!, one of the world's largest metal magazines, dedicated a four cover story to the tour. Of course, this massive tour had to be documented and given to world. 
The massive collection features performances from Wacken Open Air, Sao Paolo, and Madrid and that's just the first disc! The DVD features three hours of material in stereo and premium 5.1 surround sound plus a movie compilation with the essentials of the concert's LED content, all cartoon clips of Seth and Doc, further surprises, and the very personal 30-minute band interview about the past, present, and future. 
One of the live videos featured is the song "Future World" which is also available to the public for free on Youtube. The performance is from their epic Madrid Arena performance, a show with 14,000 fans! Watch below:
While this package is being released Helloween is currently playing alongside Iron Maiden, Scorpions, and Sepultura at Rock in Rio in Rio de Janeiro. To keep up to date on all things Helloween, follow them on Facebook and Instagram. 
 United Alive & United Alive In Madrid will be available in the following formats, and can be ordered here: http://nblast.de/HelloweenUnitedAlive
2 DISC BLU-RAY DIGIBOOK

Disc 1: Live concert, Disc 2: Bonus material – intro movie, interview, LED compilation, Seth & Doc animations & more

3 DISC DVD DIGIBOOK

Disc 1 & 2: Live concert, Disc 3: Bonus material – intro movie, interview, LED compilation, Seth & Doc animations & more

3.DISC LIMITED DIGIBOOK LIVE AUDIO CD 

Live concert Madrid plus bonus tracks: "March of Time

"

, "Kids of the Century

"

, "Why

«

and" "Pumpkins United

"

5 DISC VINYL BOX 

Live concert Madrid plus bonus tracks: "March of Time

"

, "Kids of the Century

"

, "Why

"

and "Pumpkins United

"

8 DISC EARBOOK BLU-RAY & DVD & CD 

Complete contents of Blu-ray, DVD, and CD in premium packaging
UNITED ALIVE – DVD/BLU-RAY
Disc 1
Halloween 13:29*

Dr. Stein 5:47*

I'm Alive 3:23**

If I Could Fly 4:13*

Are You Metal? 4:19***

Rise And Fall 4:22**

Waiting For The Thunder 4:04*

Perfect Gentleman 4:26*

Kai´s Medley 14:36*** (Starlight / Ride The Sky / Judas / Heavy Metal Is The Law)

Forever And One 4:32**

A Tale That Wasn't Right 6:09***

I Can 4:48*

Pumpkins United 6:28***

Drumkins United 4:50***

Livin' Ain't No Crime / A Little Time 6:38*

Why 4:32**

Sole Survivor 5:15**

Power 4:16*

How Many Tears 10:58***

Invitation / Eagle Fly Free 7:55*

Keeper Of The Seven Keys 20:13*

Mos-Kai-To 2:38*

Future World 4:46*

I Want Out 9:08***

Outro & Credits 4:59
Total running time: 2 hours 47 minutes
(*) Recorded live in Madrid, December 9th, 2017
(**) Recorded live in São Paulo, October 29th, 2017
(***) Recorded live at Wacken Open Air, August 4th, 2018         
Disc 2
Halloween 13:35 – Live in São Paulo, October 29

th

, 2017

Dr. Stein 5:29 – Live in São Paulo, October 29

th

, 2017

Kids Of The Century 4:08 – Live in Prague, November 25

th

, 2017

March Of Time 5:27 – Live in Santiago de Chile, October 31

st

, 2018

Pumpkin's Whisper – 35:27

Bursting Hamburg – 01:59

The Essential LED Compilation – 17:09

Seth & Doc, The United Thing – 12:04

The Keeper's Journey – 1:19
UNITED ALIVE IN MADRID – LIVE–CD/Vinyl
CD 1
Halloween 13:37

Dr. Stein 5:36

I'm Alive 3:48

If I Could Fly 4:01

Are You Metal? 4:28

Rise And Fall 4:22

Waiting For The Thunder 4:02

Perfect Gentleman 4:50

Kai's Medley 13:52 (Starlight / Ride The Sky / Judas / Heavy Metal Is The Law)

Forever And One 5:22

A Tale That Wasn't Right 5:43
CD 2
I Can 4:57

Livin' Ain't No Crime / A Little Time 6:39

Sole Survivor 4:58

Power 4:11

How Many Tears 10:56

Invitation / Eagle Fly Free 7:13

Keeper Of The Seven Keys 17:03

Future World 5:36

I Want Out 8:47
Live in Madrid, December 9th, 2017
CD 3
March Of Time 5:28 – Live in Santiago de Chile, October 31

st

, 2018

Kids Of The Century 4:00 – Live in Prague, November 25

th

, 2017

Why 4:40 – Live in São Paulo, October 29

th

, 2017

Pumpkins United 6:32 – Live at Wacken Open Air, August 4

th

, 2018
Total Running Time:  2 hours 41 minutes
—-
Live dates:
04.10.  BR Rio de Janeiro – Rock in Rio (w/ IRON MAIDEN, SCORPIONS, SEPULTURA)