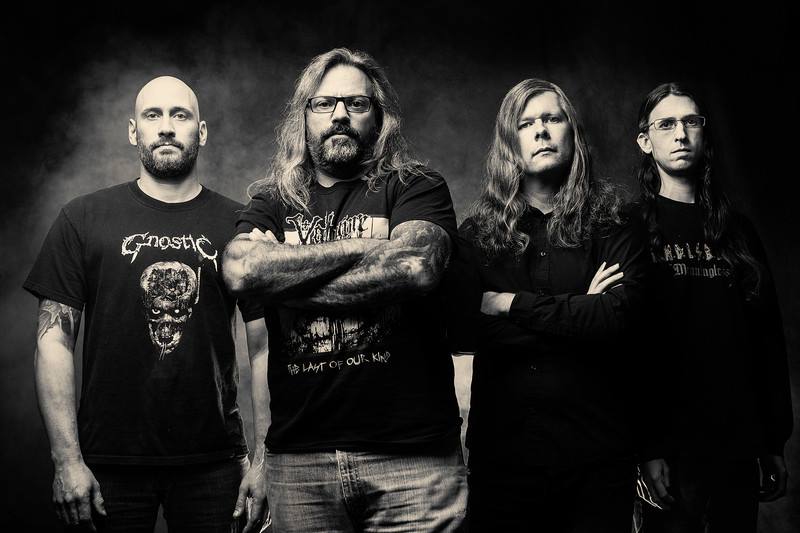 Defeated Sanity's Facebook page had hinted at a major announcement coming, but I did not expect anything as huge as this! Without a doubt, this has to be one of, if not THE, sickest North American tour happening this summer. And its official, folks – Gorguts will be trekking across the states with both Defeated Sanity and Exist! Perhaps Metal Nexus will be covering one of these shows??
Making their return to the Western hemisphere, Gorguts are fresh off the roads of Australia and New Zealand, having toured down under with Marduk throughout this month of March. Now before the tech death legends embark on this tour of the states, they will be heading out next month for some Canadian dates with Dysrhythmia, the prog metallers who share members with the reincarnated Gorguts. Ultimately, Luc Lemay and the gang will be headlining Covenant Montreal which takes place April 13th-15th – this festival is sister to Covenant Festival in Vancouver, both of which are weekend gatherings to celebrate the music of Death with performances by multiple extreme metal bands, comprising lineups that can be found here. After this tour of their homeland, Gorguts is state-bound, kicking things off in Syracuse at Lost Horizon on June 3rd. Rest assured, I think we can expect to hear some of the critically acclaimed Pleiades' Dust EP performed on this tour!
Gorguts Canada tour w/ Dysrhythmia 
4/11 Salon Wabasso de la Shop du Trou du diable Shawinigan, QC
4/12 L'Anti Bar & Spectacles Quebec, QC
4/13 COVENANT MONTREAL La Sala Rossa Montreal, QC (Dysrhythmia Only)
4/14 Bar Le Magog Sherbrooke, QC
4/15 COVENANANT MONTREAL La Sala Rossa Montreal, QC (Gorguts Only)
Gorguts U.S. Tour w/ Defeated Sanity & Exist
Sat 6/3/17 Syracuse, NY @ The Lost Horizon
Sun 6/4/17 Rochester, NY@ Montage Music Hall
Mon 6/5/17 Detroit, MI @ A Loving Touch
Tue 6/6/17 Cleveland, OH @ The Agora Ballroom
Wed 6/7/17 Chicago, IL @ Reggies
Thur 6/8/17 Columbus, OH @ Alrosa Villa
Fri 6/9/17 Milwaukee, WI @ Club Garibaldi
Sat 6/10/17 St Louis, MO @ Fubar
Sun 6/11/17 Kansas City, MO @ Riot Room
Mon 6/12/17 Oklahoma City, OK @ Thunder Alley
Tue 6/13/17 San Antonio, TX @ Rock Box
Wed 6/14/17 McAllen, TX @ Sofies
Thur 6/15/17 Houston, TX @ White Oak Music
Fri 6/16/17 New Orleans, LA @ Siberia
Sat 6/17/17 Tallahassee, FL @ The Wilbury
Sun 6/18/17 Orlando, FL @ The Haven
Mon 6/19/17 Atlanta, GA @ Masquerade
Wed 6/21/17 Richmond, VA @ Strange Matter
Thur 6/22/17 Baltimore, MD @ Metro Gallery
Fri 6/23/17 New York, NY @ Le Poisson Rouge
Sat 6/24/17 Boston, MA @ Brighton Music Hall
Sun 6/25/17 Hoboken, NJ @ Maxwell's (Gorguts Only)
Defeated Sanity is currently on the latter half of the Disposal of The World tour, performing dates all over Asia from Dubai to Tokyo! With that said, it's safe to say that the guys have been touring extensively since the July release of their fifth studio album, Disposal of the Dead/Dharmata. The album itself easily made my top ten list for 2016, as the first half of the album (Disposal of the Dead) is crushingly brutal, while the second half (Dharmata) is a beautiful counterpart with jazzy progressive metal arrangements. The band has confirmed here that Defeated Sanity will be playing songs from Dharmata for this batch of U.S. dates.
Opening things up on this ravaging tour is Exist from Washington D.C. I'm not nearly as familiar with the band as their touring mates, but I believe the band has a former member or members of Cynic. It comes as no surprise then that the trio debuted with a genius work of extreme prog metal back in 2015 on their full-length, Sunlight. After this tour, Exist will remain on my radar – that's for sure!