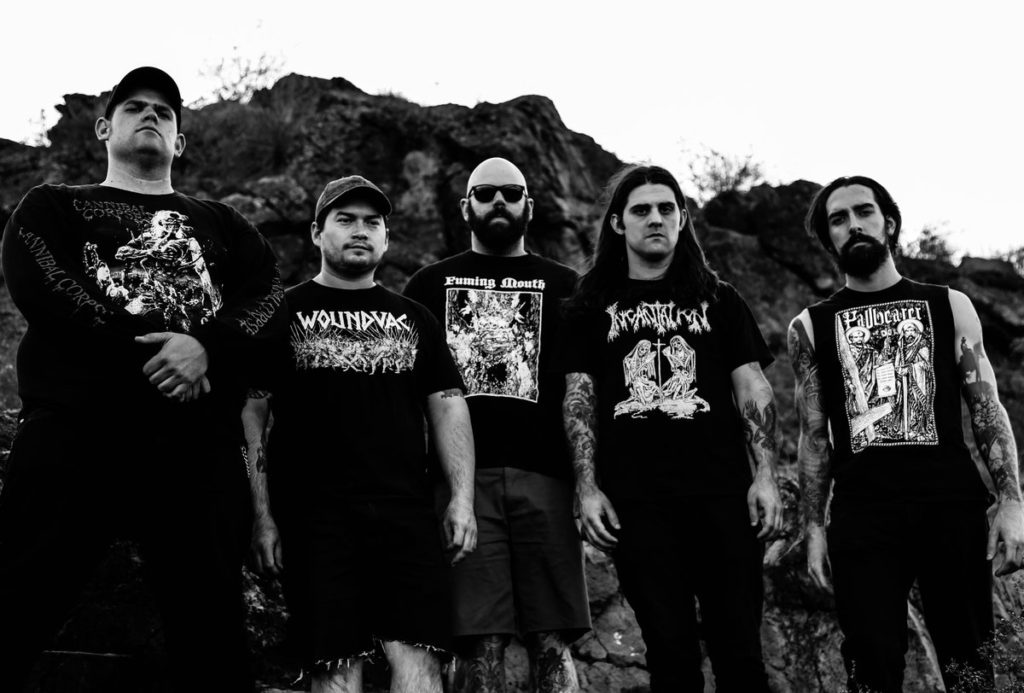 GATECREEPER 
will kick off their North American co-headlining tour with recent Relapse signees FULL OF HELL this week. GATECREEPER will join 'The Sweltering Ecstasy Tour' on 

May 28th

 in Phoenix, Arizona following their appearance at the Modified Ghost Festival III in Vancouver, British Columbia on May 24th. From there, the pair will crush skulls together for three weeks, the tour concluding on 

June 17th

 in San Antonio, Texas. See all confirmed dates below.
GATECREEPER released a split LP with Iron Reagan in March. Mixed by Kurt Ballou at Godcity Studios, the split is currently available on CD, LP, and digital formats. For
 physical packages and to sample tracks, visit Relapse.com HERE. Digital orders are available via GATECREEPER's Bandcamp HERE.
GATECREEPER: 



5/24/2018

 Modified Ghost Festival III – Vancouver, BC
w/ Full Of Hell: 


5/28/2018

 Crescent Ballroom – Phoenix, AZ


5/29/2018

 Hi-Hat – Los Angeles, CA


5/30/2018

 Golden Bull – Oakland, CA


5/31/2018

 Old Nick's – Eugene, OR


6/01/2018

 Northwest Terror Fest – Seattle, WA


6/02/2018

 V.I.P. Boise Event Center – Boise, ID


6/03/2018

 Diabolical Records – Salt Lake City, UT


6/04/2018

 Streets Of London – Denver, CO


6/05/2018

 Riot Room – Kansas City, MO


6/06/2018

 Cobra Lounge – Chicago, IL


6/07/2018

 Sanctuary – Detroit, MI


6/08/2018

 Velvet Underground – Toronto, ON


6/09/2018

 Bar Le Ritz – Montreal, QC


6/10/2018

 Sonia – Boston, MA


6/11/2018

 Saint Vitus Bar – Brooklyn, NY


6/12/2018

 Strange Matter – Richmond, VA


6/13/2018

 Drunken Unicorn – Atlanta, GA


6/14/2018

 The End – Nashville, TN


6/15/2018

 White Water – Little Rock, AR


6/16/2018

 Ridglea – Ft. Worth, TX


6/17/2018

 Limelight – San Antonio, TX
GATECREEPER
was forged in September of 2013 with members originating from both Tucson and Phoenix, Arizona. Bonded together over a mutual love of old-school death metal,
GATECREEPER 
set out to write classic yet memorable songs for a new generation. The band recorded and released a self-titled four-song EP digitally in 2014 which quickly garnered the attention of media. This short but satisfying release gained the band a large following of fans from both the hardcore and metal communities. 2015 saw
GATECREEPER
embark on their first tour of the West Coast, soon followed by the release of a split seven-inch with fellow Arizonans Take Over And Destroy. The band spent the second half of 2015 touring the East Coast, cultivating their rapidly growing local and national following, and recording more new material to be released on several different split releases throughout early 2016.
After returning from another West Coast tour, this time with Colorado's Of Feather And Bone, GATECREEPER returned to Homewrecker Studios to record their debut full-length album with Ryan Bram in Tucson. 'Sonoran Depravation' was mixed by Kurt Ballou (CONVERGE, NAILS, BLACK BREATH) and mastered by Brad Boatright (OBITUARY, SLEEP, MAGRUDERGRIND), both of whom are known for their unparalleled work in the extreme metal world. GATECREEPER expanded their discography in 2017 with the live cassette 'Unleashed In The Middle East' recorded in Cambridge, Massachusetts and the 'Sweltering Madness' seven-inch (Closed Casket Activities). Additionally, the road warriors shared the stage with Death Metal legends Cannibal Corpse, headlined their first European tour, and performed at notable festivals such as Psycho Las Vegas and Sound And Fury.