Damn! Greece's Stoner band scene continues to impress our staff! From Heraklion, Forsaken Memoriam is the latest in an ever-growing stream of winning bands we have had the pleasure to review.

In this case, let us start at the end of the review instead of the beginning, shall we: Forsaken Memoriam's self-titled debut is almost too good to be a first album. It is tight, perfectly engineered by Vaggelis Theodorakis and has very mature lyrical and sound development. It is accessible across many genres and is professional at every level. Ranging from low, heavy songs, to bluesy and clean with beautiful harmonics, to Progressive Metal and Psychedelic Rock. Hell, even some heavy Punk is thrown in for good measure! This band has it all and does everything to perfection. There are simply no weak links. Members include Adonald on vocals and synth, Vlasis playing lead guitar, Skandal on bass, Kosmo on the rhythm guitar and Stelio covering the drums. In addition, Giannis Mantzaris serves as the guest vocalist on "So Long Ago" and The S.K.A.L. Choir (Giorgos Raphael Skandalakis, Jim Kotsis, Antreas Kostas, Spyros Lafias) sing on "Forsaken Memories".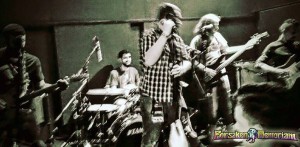 Playing at a medium-tempo, Forstaken Memoriam never crosses into overdoing anything. All of their songs are restrained just to the point of exploding, as their obvious musical direction dictates. Staying true to this idea, Kosmo's rhythm guitar and the slightly to heavily distorted bass lines of Skandal keep a somewhat down-tempo, creating a thick atmosphere of sound to keep things in check while lead guitarist Vlasis and Stelio's drumming push the envelope. Oftentimes, clean bass is also used as a bridge from one musical idea to another, but never showy in a "bass solo" sense. A very cagey, unusual and effective use of the instrument. In this vein of never overstating their intent, the lead guitar and drums are used to push and release the tension within each song without disturbing its fluctuating rhythm. Another clever anomaly on the album is the close relationship between the emotive vocals of Adonald and the background instead of following the lead. This perfectly synchronizes Forsaken Memoriam's very distinct and identifiable sound and feel. Adonald's vocals are rich, deep and, for the most part, clean and stirring. A few, carefully chosen screams are used to make a point within lyrical lines, but are few and far between. Lyrics are thoughtful, personal and could fit comfortably into any genre; dealing with everyday angst and frustration. Again, nothing that is overly dark or happy; striking a perfect balance that could apply to anyone wise enough to listen to this exceptional band.
With such a perfectly balanced sound, accessible lyrics and genre-encompassing music, Forsaken Memoriam has set a very high bar for itself now and into subsequent releases! This band deserves a high place on any music fan's play list!