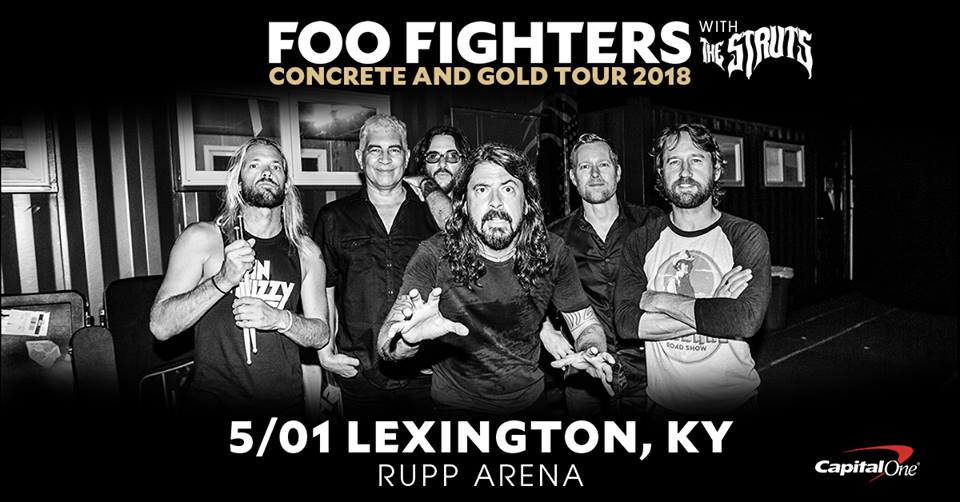 It's been a couple weeks since Foo Fighters rolled through (or should I say rolled OVER) Lexington, KY, and my ears are still ringing.  The city's famed Rupp Arena hosted the eleven-time Grammy-winning legends earlier this month after their original stop in the Bluegrass state was canceled last October due to a family emergency which frontman, Dave Grohl addressed mid-set with "There's only one thing I love more than Foo Fighters, and that's my mama!  And when my mama gets sick, f*ck all you motherf*ckers!" causing the crowd to erupt in cheers.  For well over 3 hours, the band entranced a nearly sold-out crowd with a slew of everyone's favorite Foo Fighters tunes, as well as new material from their latest release, 'Concrete & Gold'.  To call this show "just another rock show" would be an incredibly understated observation.  For me, personally, this single night had more heart, emotion, energy, and fan-to-artist connection than most shows I've seen.
Foo Fighters, for those who are a little unfamiliar, have been around since 1994 after Nirvana drummer, Dave Grohl, embarked on a (then) solo project after the death of Nirvana frontman, Kurt Cobain.  The band saw a few lineup changes until settling with its current lineup which includes Dave Grohl (guitars/vocals), Taylor Hawkins (drums/vocals), Pat Smear (guitars/vocals), Nate Mendel (bass), Chris Shiflett (guitars/vocals), and Rami Jaffee (keys).  Foo Fighters have released 9 full-length studio albums, with four of those earning the band Grammy Awards for "Best Rock Album" (1999's 'There Is Nothing Left to Lose', 2002's 'One By One', 2007's 'Echoes, Silence, Patience & Grace', and 2011's 'Wasting Light').  The band also claimed several other Grammy Awards including "Best Rock Performance", "Best Hard Rock/Metal Performance", and "Best Rock Song", so it's safe to say these guys are no strangers to success.  While this is true, one thing is prominently noticeable in simply watching the way each band member interacts with fans, media, and each other – they haven't let it go to their head by any means.  Foo Fighters definitely exude gratitude and a genuine love for their fans which makes their fan base a loyal one.
Flash forward to the night of May 1, I find myself surrounded by thousands upon thousands of anxious, eager fans waiting for the guys to take the stage as they swarm the merchandise booths to get their Foo Fighters gear while it was available.  To kick off the night's festivities, United Kingdom natives, The Struts, welcomed everyone for roughly 45 minutes with a raw display of rock and roll and entertained as well as they played.  Though their set was only 8 songs, the band introduced themselves to Lexington storming out of the gate with "Put Your Hands Up" and kept the show rolling with "These Times Are Changing".  As frontman Luke Spiller moved from one side of the stage to the other and back again during the entire set, entertaining and interacting with the crowd while he belted the lyrics to each song, the crowd was definitely feeling it.  Spiller spoke to the crowd displaying an overwhelming emotion of gratitude to the fans for being so "warm and welcoming", and to Foo Fighters for giving them a platform to showcase their music.  Not to halt the rocking any further, the band powered through several songs including the smash "Put Your Money On Me" and wrapped things up with the well-known "Could Have Been Me".  As The Struts say their goodbyes and exit the stage, the lights come up for changeover.
When the lights darkened a final time for the night, everyone in attendance was on their feet, shouting and cheering as loud as their lungs would allow as Foo Fighters stormed the stage.  Grohl greeted us all with "You knew we were coming back, right!? You knew that shit!" and the crowd erupted.  While the roar of the cheers was still shaking the arena, the band instantly switched gears and abruptly stopped, giving way to Grohl singing "Wake up, run for your life with me…", leading the buildup into "Run" which was clearly the perfect choice to open the show.  Since the band opened up with a new song, it only seemed fitting to follow up with an older song, and that's exactly what they did when Grohl started strumming the riff to "All My Life", which was one of many sing-alongs that night.  Before the song kicked back in after the breakdown, Grohl informed the crowd "It's gonna be a long f*ckin' night!  We got some makin' up to do, don't we!?"  Let me just say he is a man of his word; it WAS a long night.  And as far as the making up?  Foo Fighters did enough to make up for the missed show AND the next show powering through several well-known hits like "Learn To Fly", "The Pretender", "Rope", and the newer hit "The Sky Is A Neighborhood" from 'Concrete & Gold' before letting drummer, Taylor Hawkins deliver a mind-blowing drum solo as the drum riser he was positioned on started to elevate to what looked to be 15 or so feet above the stage where he finished the solo and took over vocal responsibilities as the band precisely and fluidly jammed "Sunday Rain" also from 'Concrete & Gold'.

*video courtesy of YouTuber CanadianBlueJayGirl
Grohl took the reigns once again, leading the crowd in another sing-along; this time to "My Hero", preceding hits including "These Days", "Walk", "Breakout", and introducing each band member with snippets of "You're The One That I Want" from the Grease soundtrack, a fantastic mash-up of John Lennon's "Imagine" and Van Halen's "Jump", and the Ramones' "Blitzkrieg Bop".  Just when I thought the night couldn't possibly have any more surprises, we were privileged to see what every Foo Fighters fan wants to see – Dave behind a drum kit. (Sorry, Taylor, we still love ya!)  Hawkins and Grohl switched band duties and invited The Struts' frontman, Luke Spiller, to come back out and join them in an unforgettable rendition of Queen's "Under Pressure" which resulted in another sing-along as mentioned earlier.  Concluding the main set, Grohl led the band through the musts "Times Like These", "Monkey Wrench", and "Best of You".  With a completely dark arena, the huge video screens illuminated live shots of the band backstage, and without saying a word, Grohl "negotiated" with the crowd, with an end result of four more songs that included "Dirty Water" from 'Concrete & Gold' and "This Is A Call" from 1995's self-titled release.  To end the night on a high note and with two songs left to play, Foo Fighters hit Lexington with a sneak attack and unleashed a superb cover of AC/DC's "Let There Be Rock" that had the whole crowd moving and singing along just as hard and energetic as we did in the first song of the night.  As we all could guess, the band's last song of the night was surely the always-pleasing "Everlong" which seemed a fitting way to end such a most memorable night.
All in all, without a doubt, this show was definitely one of the best shows I've ever witnessed.  Period.  The band offered such a variety of songs and never strayed from the goal of putting on a great show.  Everything about the show was fantastic – the lights, the mix, the band itself, the atmosphere, it was just a good place to be on a Tuesday night.  I can say with certainty that if you are looking for a real authentic rock show or any show for that matter, Foo Fighters are your band.  So take my word for it, buy your ticket, and go have the time of your life while jamming to some good tunes!  You'll not be disappointed!
Foo Fighters Tour Dates 2018
July
7 – Philadelphia, PA @ BB&T Pavilion
12 – Toronto, ON @ Rogers Centre
14 – Wantagh, NY – Northwell Health at Jones Beach Theater
16 & 17 – New York, NY @ Madison Square Garden
19 – Pittsburgh, PA @ PPG Paints Arena
21 & 22 – Boston, MA @ Fenway Park
25 – Cuyahoga Falls, OH @ Blossom Music Center
26 – Noblesville, IN @ Ruoff Home Mortgage Music Center
29 – Chicago, IL @ Wrigley Field
30 – Chicago, IL @ Wrigley Field
September
1 – Seattle, WA @ Safeco Field
4 – Edmonton, AB @ Rogers Place
6 – Calgary, AB @ Scotiabank Saddledome
8 – Vancouver, BC @ Pepsi Live at Rogers Arena
10 – Portland, OR @ Moda Center
12 – San Jose, CA @ SAP Center
October
5 & 6 – San Bernardino, CA @ CalJam18
8 — Phoenix, Ariz. @ Talking Stick Resort Arena
10 — Denver, CO — Pepsi Center
12 — Kansas City, MO — Sprint Center
13 — St. Louis, MO – Scottrade Center
15 —Detroit, MI — Little Caesars Arena
17 — Milwaukee, WI — Wisconsin Entertainment and Sports Center
18 — St. Paul, MN – Xcel Energy Center


*video courtesy of YouTuber Timothy Dobson