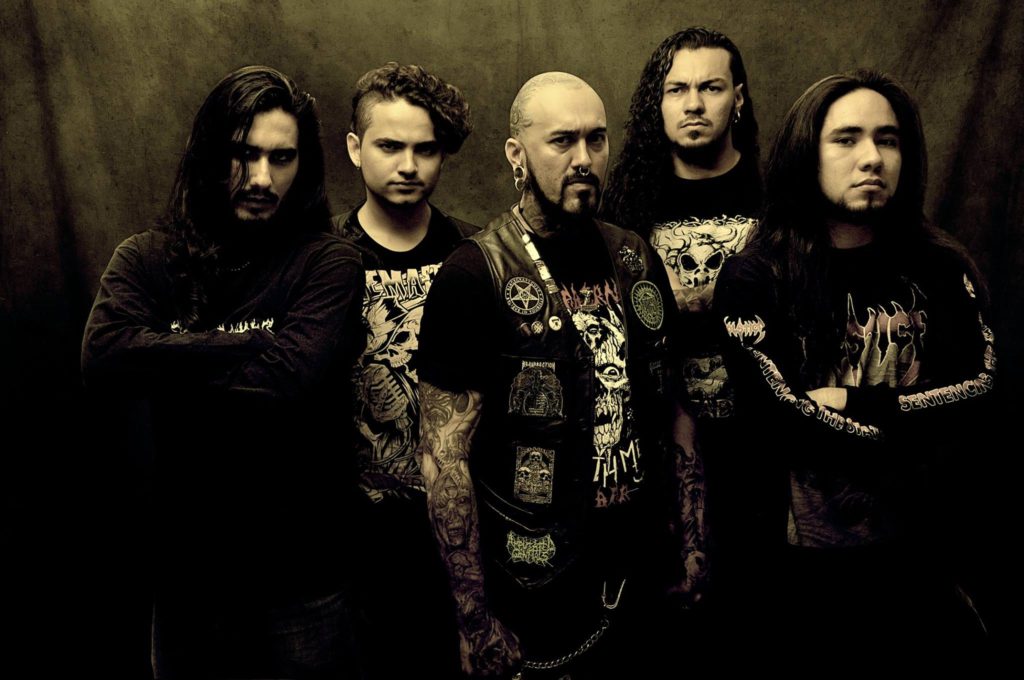 Symphonic death metal holds a special place in my heart because it has so much atmosphere to it. It sets a mood that other genres can't quite match. Eshtadur proves just that in their latest offering entitled 'Mother Gray' set to release September 8, on Bleeding Music Records.
Eshtadur was established in the fall of 2005 in Periera Colombia. They have been making waves since the beginning. They have toured through Colombia, Peru and Mexico and are currently preparing their first ever US tour dates! (I'll be looking out for those!) Eshtadur has shared the stage with acts such as Vader and Cradle Of Filth and worked with artists such as Bjorn Strid (Soilwork), Per Nilsson (Scar Symmetry) & Allan Marcus (Arecibo) these guys are clearly getting attention that is well deserved in my book! Eshtadur is Jorg August – Vocals & Guitars, Mauro Marin – Drums, Sebas Patiño – Guitars and Victor Valencia – Bass Guitar.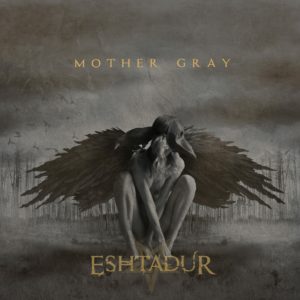 Let me begin this review by stating that Eshtadur does a great job making the symphonic elements of their songs not seem forced or out of place. The orchestrated parts compliment the music very well and add that extra flare and the vocals fit in very nicely with the feel of the music!
Vocalist and guitarist,  Jorg August, does a great job as the voice of Eshtadur and is able to go from low menacing growls into what I can only describe as sounding like a tortured soul from the deepest depths of hell! It is almost like I can hear pain and suffering in his voice and that is something that I can't say many other bands are able to do which really helps these guys stand out a bit more in my opinion. The opening track "Belong To Nowhere" is a perfect example as to what I am talking about here. The second song on the album had a bit of a task on its hands. With a name like "Plaguemaker" it had to be awesome because the name is freaking killer! Luckily the song delivers! The guitars that greet you around the 1:04 mark are goosebump inducing! "Cornered At The Earth" was released earlier this year in February and is a song you should go check out! There are still a few more days before you can get your hands on "Mother Gray" so it should tie you over until then! "Desolation" has one of my favorite intros on the album which allows their symphonic side to shine through. Being one the slowest songs on the album, it allows you to catch your breath before moving onto the rest of the album and also features one of my favorite solos! Onto song number 5 which means that we are halfway through, "Time Hole To Paris" is epic! I feel like I am always saying "this is my favorite", "no this is my favorite". Well here we go again….. The intro (yes the intro again) is my favorite!! The intro to this song really helps me appreciate the tone these guys use a little more just because the guitar sounds super chunky and almost even a little "Djenty" during that opening riff. Don't worry though the rest of the song does indeed deliver. The phrasing of the guitar and the vocals during the chorus is one of the many cool parts of this track that keeps me hitting the replay button.
Lets slow it down a bit once again with "March Of The Fallen". I would almost think of this as a "Desolation" part II. The songs are different enough to play on their own but in my opinion, almost play off of each other in a way that Metallica did with "The Unforgiven" and "The Unforgiven II" which I find to be very cool. "The Day After I Die" and "Heavens To The Ground" are two tracks that are straight neck breakers! Both starting out with blast beats right out go the gate and keeping the intensity at 11 throughout! Have you ever heard a song or a part of a song that you feel like you've had in your head forever but have never actually heard in real life? Then you suddenly hear it and get extremely excited because it is exactly how you pictured it? For those of you that have had those moments then you can relate with how awesome that is! Well for me, that is the intro to "Last Day Of The Condor". I have images of huge lumbering titans in my head as this intro plays which of course will leave an everlasting impression on me personally! Thank you Eshtadur! "Hats off to you gentlemen!" Last but certainly not least the closing song is a freaking masterpiece!! When Eshtadur teams up with members of Soilwork, Scar Symmetry and Arecibo, then you know that you are in for a treat! This super group does absolute justice to Survior's "Burning Heart". The vocals done by Bjorn Strid of Soilwork are absolutely fantastic! Me being a huge Soilwork fan instantly got excited when I first heard him start the song off. Bjorn's clean singing meshes very well with the harsh vocals provided by Jorg August, as the two play off of each other throughout the track. As for the instruments, they take the song and twist it to hit harder but still stay true to the original and I don't think they could have done a better job! If Rocky Balboa was training to this version instead of the original, I think he could have taken Ivan Drago down in the first round….Just saying.
This album is fantastic at utilizing all of the elements implemented within the music, without making anything sound out of place. For fans of Death  Metal, Melodic Metal Symphonic Metal or Rocky Balboa references then this album (and review) is right up your alley!