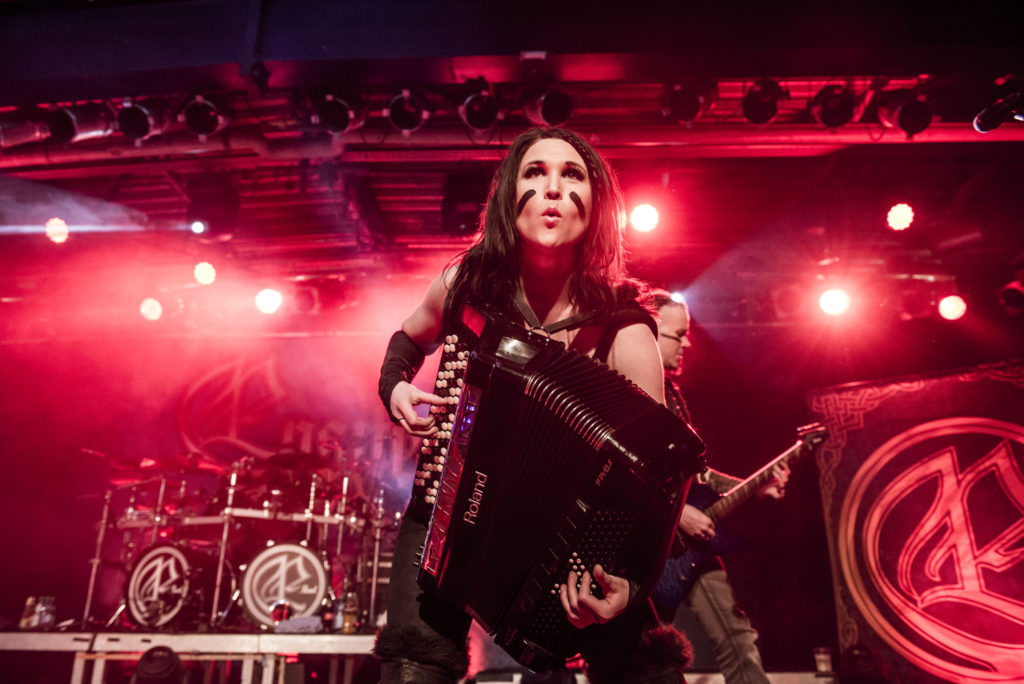 There is a bit of sad news that is coming out of Finland's folk metal band, ENSIFERUM, as their sole female member, the talented Netta Skog has decided to quit the band as she wants "to move on and focus on other things" and thus "head into new adventures." Netta joined the band in 2016 and was a part of their most recent album, 'Two Paths', she played the accordion and also toured with the band all over the world, even though her stay was short lived. This unfortunate but inevitable news hits us before the band sets itself into a mini Asian tour where they are slated to play three shows in China and two shows in Japan starting this New Year's Eve. As per the band's official statement, they "are not looking for a replacement" as of now, and will still go ahead and play all their scheduled gigs without Netta. The band promises to announce their future plans soon.
The band makes it clear that there is no feud or "drama" between Netta and the band, and it is not the reason for Netta's decision. Following is what the band had to say in their official statment,
NETTA SKOG TO LEAVE ENSIFERUM

In life, there are times when you have to take a look in the mirror and be totally honest with yourself and those around you. Those moments usually culminate in big decisions. Today, that moment has arrived for Ensiferum as our dear friend Netta Skog will no longer be a member of Ensiferum

There is no drama here. Sometimes, time schedules overlap and priorities change meaning they no longer match with the people who you are working with. In these situations, it's better for everyone to take your separate paths and to move on.

We want to thank Netta for all the great times on the road and in the studio and we wish her all the best on her new journey.

Netta says: "I've gotten to spend amazing times with great people and I could not be more grateful for what I have experienced. So many great memories with one of the coolest band ever! But unfortunately now it is time for me to move on and focus on other things in my life at the moment and head into new adventures. Thank you all for your great support on the road and I wish nothing but the best for the boys in the band! See you somewhere in the future! Love you all!"

At the moment we are not looking for a replacement and we will inform more about our future plans soon. All confirmed shows will happen as planned and more gigs will be announced soon.
Netta joined ENSIFERUM just last year and was a pivotal piece in the making of 'Two Paths'(Read Plague's review of the same, HERE) as she contributed her melodic and folk-ish tunes with her skillful playing of the accordion. She was previously also in TURISAS, another folk metal band, from 2007-2011. Netta has many accolades under her belt, she was the winner of the Finnish accordion folk music in both 2003 and 2005, a finalist in the Tango-Singing competition in 2013. She also emerged victorious in the 2015 edition of the World Championships in digital accordion.
It definitely sparks one's interest and curiosity in knowing how the band now will handle the duties Netta was involved in, and how they are going to sound live from now on.
As Netta steps into another new chapter in her life, we at Metal Nexus wish her all the best and thank her for all the good tunes she had to gift us while her short stay in ENSIFERUM.
Order ENSIFERUM's 'Two Paths' and get all the tour dates HERE!