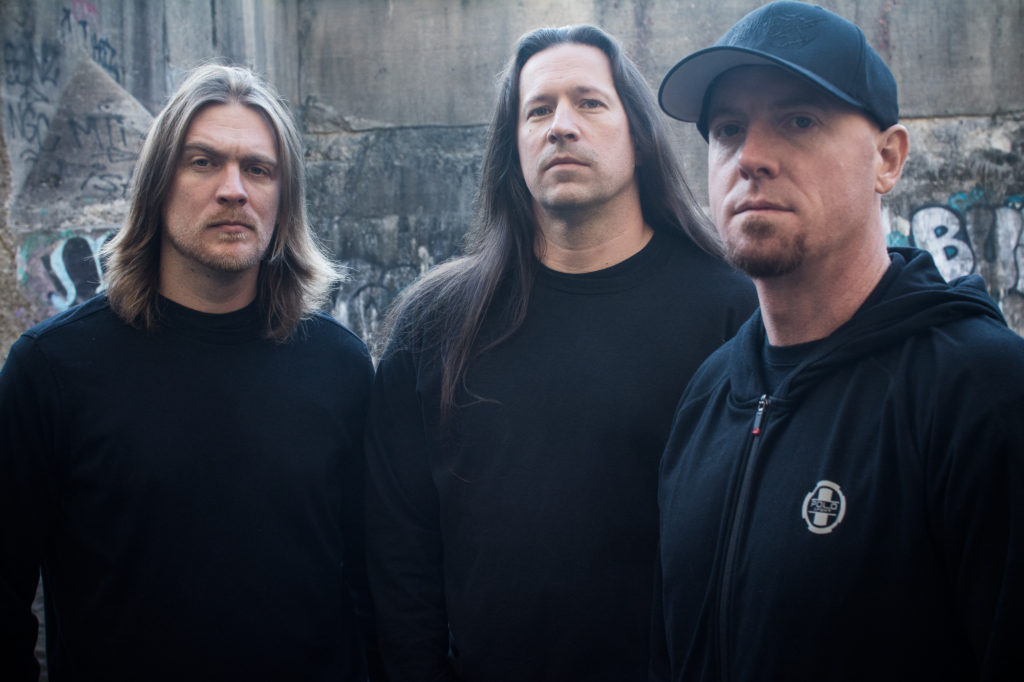 Death metal overlords DYING FETUS announce the European Annihilation Summer headlining tour. The tour begins August 2 at Wacken Open Air in Germany and ends August 25 at Death Feast in Andernach, DE. Direct support will be provided by CARNIFEX, TOXIC HOLOCAUST, GOATWHORE and VENOM PRISON on select dates. The tour includes additional festival appearances at Brutal Assault, Rockstadt Extreme, Party San and more! All confirmed tour dates are listed below.
Additionally, DYING FETUS will also perform at Las Vegas Deathfest and at 3 Floyds Brewing's Dark Lord Day in May. Las Vegas Deathfest features additional Relapse artists INCANTATION, CEPHALIC CARNAGE and DEVOURMENT. Dark Lord Day in Munster, IN features support from label mates PIG DESTROYER and BRAIN TENTACLES plus REVOCATION, ALL HELL and CANYON OF THE SKULL.
DYING FETUS once again raise the bar of sonic extremity with their 8th studio album and first new material in over 5 years, 'Wrong One To Fuck With'. The seasoned veterans manage to further stretch their creative and technical boundaries across 10 complex tracks of pulverizing death metal, filled with more dynamic intricacies, brutal breakdowns and varied vocal patterns than ever before. Now over 25 years into their distinguished career, DYING FETUS cement their legacy with 'Wrong One To Fuck With' and uphold their position as the most dominant force in death metal today. The new album has been very well received by fans worldwide, the riffs, intense sweep picks, and the machine gun drumming has totally made the album one of the best records of 2017. 
I had the good opportunity to review their all new record last year and if you haven't heard it yet, you're committing a blasphemy. But nevermind, HERE's the review if you wanted to read before you choose to let Fetus take over you.
Trey Williams, the man behind that damned drum kit, playing those chops like a machine gun at ease is one of the best drummers out there, and how lucky of us to have him grace our site for a short interview. Read on the interview HERE as Trey talks about their latest album, and how they offended one doctor in Netherlands due to their ridiculous band name, along with many more topics which we covered in the interview.
Until then, see if your nearest venue will be hosting DYING FETUS or maybe they're coming to a fest you're planning your summer getaway to. All dates listed below.
DYING FETUS Tour Dates:
Aug 02                Wacken, DE, Wacken Open Air 2018
Aug 03                Brasov, RO, Rockstadt Extreme
Aug 05                Bratislava, SK, Randal Club #
Aug 06                Warsaw, PL, Proxima #=
Aug 07                Berlin, DE, Bi Nuu #=
Aug 09                Jaromer, CZ, Brutal Assault
Aug 10                 Schlotheim, DE, Party San
Aug 11                 Leeuwarden, NL, Into The Grave
Aug 12                 Arlon, BE, L'Entrepot *=
Aug 13                 London, UK, Islington Academy *#=◊
Aug 14                 Manchester, UK, Club Academy *#=◊
Aug 15                 Oberhausen, DE, Kulttempel *#=◊
Aug 16                 Pagney-derriere-Barine, FR, Chez Paulette *#=◊
Aug 17                 Dinkelsbuhl, DE, Summer Breeze
Aug 18                 Paris, FR, Petit Bain =◊
Aug 19                 Saint-Nolff, FR, Motocultor Festival
Aug 20                Montpellier, FR, Secret Place #=◊
Aug 21                 Aarau, CH, Kiff #=◊
Aug 22                 Milano, IT, Spazio Naif #=◊
Aug 23                 Klagenfurt, AT, Club Stereo #=◊
Aug 24                 Lindau, DE, Club Vaudeville ◊
Aug 25                 Andernach, DE, Death Feast
CARNIFEX*
TOXIC HOLOCAUST#
GOATWHORE =
VENOM PRISON ◊
Tickets go on sale Friday, May 4th at 11AM CET.