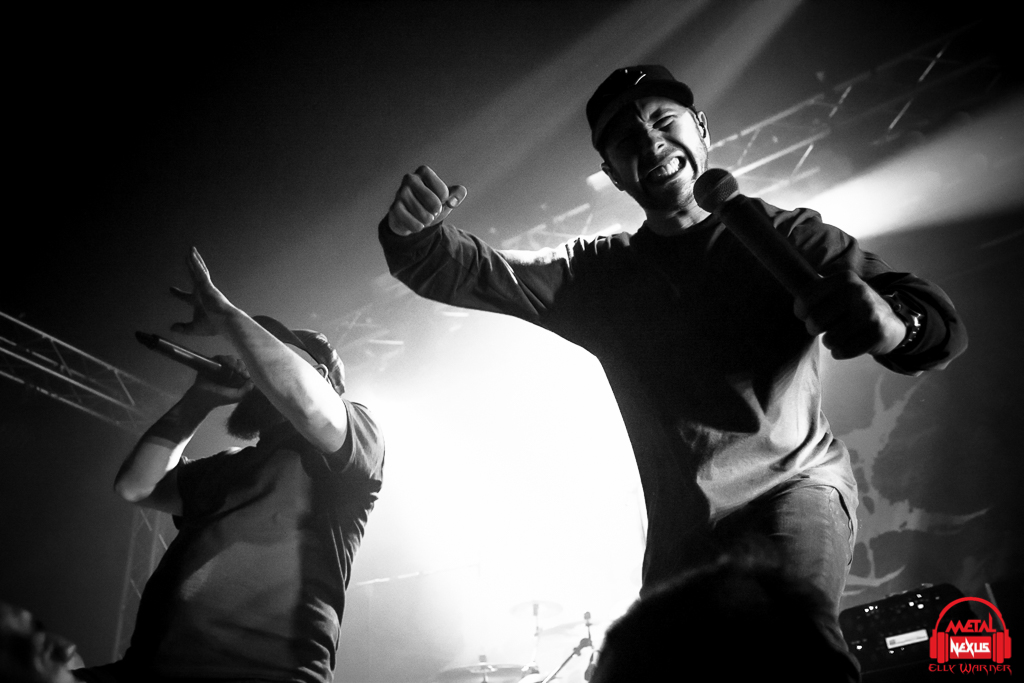 "It's been a long f**king time!" shouted front man Alex Erian. In fact, it's been 11 years since Despised Icon have graced our shores with a headline set – long since 2007's phenomenal co-headline UK/European tour with Misery Index, Annotations For An Autopsy and Beneath The Massacre. Whilst they have played the UK as recently as 2016, tonight marked a monumental occasion, firmly solidifying the Montreal metallers legacy and dominance over the Deathcore scene. For fans, this headline set may have been a long time coming but 'The Beast' is back and fully reawakened!
Following immediately on from their sold-out show in Antwerp, tonight's performance at The Dome in central London marked the first leg of the UK section of this momentous comeback tour. With only a handful of tickets left on the door of this 500 capacity venue, and subsequent shows at Birmingham and Manchester expected to sell out, it was clear that everyone here was about to witness something very special. With support combining the best tech, hardcore and slam, whoever put this line-up together must be some kind of god-tier genius – for joining alongside Despised Icon were Vulvodynia, Archspire and the UK's very own Malevolence. Missing this show was not an option!
With the crowd all ready buzzing, within what seemed a matter of minutes since the doors opened, the lights dimmed and a green sludgy hue filled the stage. With backs turned South African brutal slammers Vulvodynia entered and the room was filled with demonic breathing, bludgeonous blood splattering and murderous screaming with the telling intro from "Psychosadistic Design". What better way to get in the mood than with the uneasy feeling that your entrails are about to be ripped out? "What the f**k is up London?" screamed vocalist Duncan Bentley before he ripped into a guttural assault, with vocals every bit as dynamic live as on record. For an opening track they absolutely slaughtered it with an explosive energy on stage that was echoed by the crowd. Pits opened instantaneously with crowd members pushing to the front and screaming along to the chorus. "We've learnt not to give a f**k" said Bentley and neither do the audience as circle pits became lethal in "Unparalleled Insubordination". Reinforced by Bound In Fear front man Ben Mason who stormed onto the stage shouting "Tear the place up!" before performing with insane guest vocals alongside Bentleys extreme high and low unearthly pig squeals.
On the announcement of "Flesh Tailor" the crowd went absolutely insane with the pit spreading from wall to wall and bassist Greg Van Kerkhof and guitarist Kris Xenopoulos jumping and thrashing around to the thunderous beat of Thomas Hughes' double bass. Crowd killing was in full swing with fists aggressively pumping the air and facial expressions ranging from sheer ecstasy to full throttle madness with possible murderous intent. On closing the set Bentley proclaimed that "this is the first track ever written down" by Vulvodynia and announced "Drowned In Vomit" which was greeted by an almighty cheer from the crowd. Taken from the 2014 EP 'Lord Of Plagues' the crowd pushed to the front of the stage – the already sweaty bodies exploding for one last song. The sound paused momentarily for a unified "f**k motherf**ker" that filled the room. Vulvodynia set the bar high with this ferocious, highly charged opening set that left the audience grinning manically for more!
Following on from a performance that strong would be a feat for any band but I felt confident that Archspire would blow the crowd away with their sheer insane technicality – provided that they could keep up the pace live as in the studio. Touring with 2017s 'Relentless Mutation' which has recently been nominated for the Metal/Hard Music Album of the Year at next month's Juno Awards, this performance marked their UK debut and London was the first stop. They took a little while to get going which became a slight bug-bare for some with one fan coaxing "stop teasing" as the intro was paused once again – his plea was heard and Archspire more than made up for the slight delay with a ferocious assault. Vocalist Oli Rae Aleron bounded onto the stage with considerable force and shouted "Let me hear you London!" before exploding into rapid fire death growls from "Calamus Will Animate", taking the room by storm (and for some by complete surprise). Being relatively unknown in the UK, those who didn't know Archspire before this night, certainly will now! The whole performance was on point with tight sweep picking from guitarists Tobi Morelli and Dean Lamb with insane tapping and fretwork from bassist Jared Smith. Despite technical metals constraints live with a lack of jumping around the set was still explosive in delivery with pits forming and adrenaline pumping to the insanely fast pace and head-banging from Archspire and the crowd alike – especially in "The Mimic Wall" where pints and horns were thrown in the air and the melodic mid-section had the audience clapping in unison to the beat of Spencer Prewetts bass drum.
In "Lucid Collective Somnambulation" Aleron enticed the crowd multiple times exclaiming "let me see your hands in the air" and shouting "circle pit, 1, 2, 3…", jumping around from one end of the stage to the other and getting down low with the crowd. Insane harmonics really sent chills up the spine whilst the solos were a feast with both guitarists having their moment to blow the audience away – both Lamb and Morelli expressed their passion, with Morelli mouthing to the licks in ecstasy. The performance was mesmerising for music lovers who were captivated by the talent on stage and may certainly make a guitarist or two feel perhaps a little inadequate. Archspire certainly saved the best till last, I was absolutely stoked that my personal favourite "Remote Tumor Seeker" was played as their closing number. This is by far one of their most explosive and memorable tracks, which had the whole audience in a frenzy. The crowd and band gave it their all for this final song, the lights fired as insanely fast as the music and the whole experience was an exhilarating climax to end on. "We are Archspire – Stay Tech!"
Next to take the stage were Sheffield based Malevolence. Whenever a UK band is direct support to a band as monumental as Despised Icon, you are guaranteed that us Brits will come out in full force and tonight was no exception! What already seemed like a packed venue suddenly became overwhelmingly full – it was clear that a good 100 or more so people had joined especially for this performance. The security had rightly warned me prior that this could get ugly but I wasn't fully prepared for what was about to happen. As soon as opener "Slave To Satisfaction" began playing the crowd became absolutely lethal with crowd surfers leaping off stage and crowd killing moves in the pit. For whatever reason the track sounded way heavier and faster live and it was amazing to hear so many members of the audience singing along with guitarist Konan Hall for his contrasting (yet aggressive) cleans. Lead vocalist Alex Taylor provoked the crowd to get closer whilst thrashing about on stage with his powerful hardcore vocals and moves. He had such a dominating stage presence that it seemed that whatever he said was law! "What the f**k is this?" he exclaimed to the pit – that was my que to get the hell outta there as the carnage unfolded way more dangerous than before.
"London let me f**king hear you!" roared Taylor during the explosive "Trial By Fire" which had the whole room headbanging, leading to a fantastic moment when a fan began screaming for us to "get the f**k away" from the ever expanding pit with arms outstretched as a protective measure, to then suddenly begin violently jumping around with arms and legs hitting anyone in close proximity. It was like the music had completely consumed him, which was expressed by many across the entire set. During "In The Face Of Death" from their debut album 'Reign Of Suffering' fans again jumped on and off stage, with the microphone turned to fans multiple times who of course screamed the lyrics back with a passion. Another of multiple solos across the set were well received with loud cheers and replicated the sheer ferocious energy that all members expressed throughout the performance. "If you know what's about to happen get in the pit, if you don't get the f**k away!" In "Self Supremacy" and the closing track "Serpents Chokehold" the crowd continued to push ever closer despite looking exhausted. Guys were climbing all over each others backs, air guitaring and singing along with the band who were still on top form passionately headbanging and thrashing about on stage. This was an experience that was completely insane yet so exhilarating – after the music had stopped the audience was still absolutely buzzing with fans sharing stories of past gigs and commenting on how incredible the set was. Man do these guys deliver!
Momentarily I felt for Despised Icon having to follow on from a performance that intense, but these guys are pro's in the field and I had no doubt that they would be on fire! Entering in dim backlight the crowd cheered loudly when the six members entered with arms in the air and grins on their faces. Malevolence had really gotton everyone in the mood for this final monumental performance (which afterwards had many audience members posting to social media that those who were attending the nearby clashing Arch Enemy gig had massively missed out!) The whole set consisted of songs from across Despised Icons discography, kicking off with "A Fractured Hand" from 2007s 'The Ills Of Modern Man'. "London England! Let's have a good time tonight my friends!" shouted Alex Erian before the whole band began pounding to the chugging rhythm with fans jumping excitedly with fists pumping the air. Guitarists Ben Landreville and Éric Jarrin repeatedly swapped positions to give everyone a taste of their brutality – well, a mixture of brutality and fun as throughout the set bassist Sebastien Piché repeatedly stuck his tongue out and pulled some entertaining faces at the crowd! Both vocalists Alex Erian and Steve Marois were on top form with their dual vocal attack – adding the strong diversity that makes Despised Icon distinctive. The effect was electrifying with the crowd bouncing off of the dynamic.
Pits opened right up in "Bad Vibes" followed closely on by "The Aftermath" with both songs explosive in delivery. The pits may not have been quite as insane as Malevolences by this time in the evening, but it was clear that everyone was giving it their all despite looking exhausted! "Give it up London! Malevolence was so f**king sick! Give it up!" "Inner Demons" massively showcased Marois' range with his mixture of deep growls and screamo vocals that contrasted perfectly against Erians more hardcore style. The two on stage visibly supported one another with pats on the back, arms round one and other, and taking it in turn to entice the crowd. This level of respect shown between the two performers was fantastic to witness. It then made it seem rather ironic when they then screamed in unison "F*ck my life!", joined in by the crowd. The feeling portrayed was more of "f*ck everyone else, we're in this together!" When it came to "Beast" the pounding double bass from Alex Grind really set the pace and gave the crowd that extra momentum to keep going. Arms and horns pumped the air to the brutal lows from Marois whilst Erian continued to encourage the circle pit screaming "You know what time it is London? Let's go!" straight into "Icon is back!" – they certainly are!
Next was "one for the metalheads", "Retina" from 2005s 'The Healing Process'. All members of Despised Icon were still on fire this late in the set, giving it their all and looking like they were having a fantastic time. Smiles could be seen from all across the audience that released a new found energy to which many began crowd killing again. By the final track everyone was visibly tired but before the mad rush to catch the nights final tube, the crowd went ecstatic to the closer "MVP" with one guy rushing straight through the middle of the pit to get right to the front of the stage. Everyone once again became reenergised for one last circle pit with every single member of Despised Icon consistently delivering right through to the end.
"What you guys have shown us means a f**king lot to us! It's been a f**king pleasure!" says Erian with passion. For a death metal gig I have never seen so many smiling faces! In their own words "Icon is back" and they absolutely killed it tonight!
SET-LISTS
 VULVODYNIA
Psychosadistic Design
Praenuntius Descends
Forced Fecal Ingestion
Unparalleled Insubordination
Flesh Tailor
Depraved Paraphilia
Drowned In Vomit
MALEVOLENCE
Slave To Satisfaction
Severed Ties
Condemned To Misery
Wasted Breath
Trial By Fire/Bodycount
ITFOD/Delusions
Self Supremacy
Serpents Chokehold
DESPISED ICON
A Fractured Hand
Bad Vibes
The Aftermath
Furtive Monologue
Inner Demons
Bulletproof Scales
Day Of Mourning
Les Temps Changent
Beast
Retina
In The Arms Of Perdition
MVP