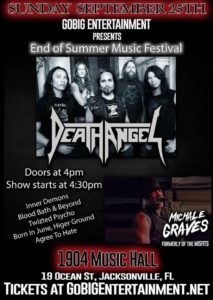 Man, this was a big show! Put on by GoBig Entertainment at the 1904 Music Hall in Jacksonville, FL, eight bands covering about seven hours, making for a great afternoon and night of music! A huge helping of local talent before Michale Graves and freaking Death Angel for those fortunate to get there early and stay late. Walk around and you can have endless conversations with all of the bands as they stand in support of one another. After their sets, this included Michale Graves and Death Angel who both were gracious enough to talk to fans, take pictures and sign whatever audience members brought along. A memorable night with old friends and new!
The first act of the evening was Jacksonville's own, Twizted Psycho, whom I have seen many times in the past but the first time I have seen them with my friend Barbie Cason–Hillyard on bass. They describe their music as a combination of Dirtbag Metal and Hardcore Punk and never cease to be entertaining and way too much fun to watch and listen to. The rest of the band include David Scott Jaco on the vox and guitars, Phillip Allen Pelley on guitar and James Frye on drums. After the show, I spoke with James and commented on how good they sounded this particular night. He stated that his monitors cut out so he had to wing the drums for the better part of the show. While there were some bass drum hiccups, he did a great job of continuing the show by adapting around the technical issue. It happens and took nothing away from just how entertaining "Fuk Brains", "Bipolar", "I Shit Myself", "Drinking with Lincoln", "Arthritis" and "Twisted Psyco Zombie" were. In the middle of the set they even busted out Metallica's classic "Am I Evil" which was done extremely well and opened up the night's first pit. Twizted Psycho was definitely a great starting point for the remainder of what would become and epic evening!
Born in June was up next up. Being a big supporter of my local music scene I was surprised that I have not seen them before or heard any of their music, which is not so startling since they are only about six months old, three months with lead singer Harvey Hapton and this only being their third live show since inception. With their debut EP Ill Gotten Gains due out in November, members Bryan Rock on drums, Cayse and Gene Ramierez on guitars, and Nick Terrell covering bass shared a bevy of their original tunes including "One Last Time", "Legendary Defender", "From Within", "Don't Hug Me I'm Scared" and "Necklace Made of Rope". Their sound is a Metal take on Southern Rock that is sure to resonate with a diverse group as their fan base grows. Being very tight and with great stage presence, Born in June will be on my watch list as they expand their influence. Be sure to watch out next month for my review of Ill Gotten Gains which I have already talked to the band about. In the interim, I'll drop their first single as a teaser of what is to come from this diverse, killer band.
Third up for the evening was a Jax local band called Higher Ground. This is another band that I have seen a time or two over the course of the last couple of years. Having kind of an old-school, Classic Stoner Hard Rock sound, members Tim Westerwell on the vox, C.M. Jones on drums, Flynt Rock on rhythm guitar, Dusin Nix covering lead guitar and Skinny Lynrd playing bass blasted out all original material. Their set list included "Wasted Rock Rangers", "Mary Jane", "High Again", "Higher Ground", "Electric Chair", and "It Wasn't Me". Over the top enthusiasm and passion emanate from Higher Ground. They are always entertaining and have all of the old school attitude to back up their retro sound. Check out that original '68 Gibson V too! One envious writer right here!
Agree to Hate was up next. I have seen them open for a number of national acts and as well as part of local shows many, many times and have always enjoyed their brand of Hard Rock and straight ahead Heavy Metal. If they were playing anywhere, I would put an extra effort to make their shows but, over the course of the last two years they, unfortunately dropped off the face of the earth. While I continued to listen to their offerings on various media outlets, I have to admit I was disappointed not being able to see them live for so long. After talking with band members afterward, it turns out that they lost their bass player Eugene Randall Mayberry to a tragic motorcycle accident that sucked the soul out of the band. Well, thankfully founder and original vocalist Anthony T. Hatred and guitarist/aux vocalist Charlie Johnson have again joined forces with their original bass player Kenny Scarboro and new drummer Alan Brown to reignite the Agree to Hate flame. Always bad-ass with tons of energy and attitude, this band has returned with a roar. If in doubt, please check out ATH for a taste of what ATH is all about. The set list on this particular night included "Clarify", "Welcome to My Life", "Substance", "Walk Away", "The Day that Never Came", "Burn It Down" and "Face Your Past". Anthony is also a comedian and provides humorous banter throughout all of the shows and during show gremlin glitches which further increases the entertainment value provided by the band. While attitude is a keystone of an ATH show, all members are approachable and extremely friendly and engaging. I am very glad that Agree to Hate is back on the scene!
Blood Bath & Beyond followed with their unique Metal take on popular songs like "Hold It Against Me" (Britney Spears), "Don't Turn Around" (Ace of Base), "Cool for the Summer" (Demi Lovato), "1999" (Prince), "E.T." and "Dark Horse" by Katy Perry. With extended range instruments, blasting drums and bass lines along with Death Metal screams and exaggerated falsetto, members Chaz Winter (vocals), Chet Lewis (rhythm guitars), Jerred Smith (lead guitars), Shane Waldrop (bass) and Zach Harris on drums play these songs like you have never heard done before. With the addition of high-energy on and off stage antics, Blood Bath & Beyond are always a blast to listen to and always throw in new material from the most unlikely of sources. I have seen these guys play a few times now and they are always throwing curve balls musically or by hanging from the ceiling or singing from the top of the bar. The unexpected should always be expected and part of what makes Blood Bath & Beyond so damned fun to see live.
My friends in Inner Demons were next. With the immanent release of their new CD Feel the Cold later this month (this is also on my list for review upon its completion), we got a special treat with my man James Leopard covering drums. After the recent departure of Chris White, James sat in this fine evening to help his brothers out. I have known everyone in this band for quite some time and this just felt like home. On a side note, Longineu Warren "L.P." Parsons III, formerly of Yellowcard will be joining the band on drums and began practice with this killer band earlier this week! Members include Karl Hasse of KKR Studios covering vocals, guitarist extraordinaire Chuck Hillyard, his multi-talented son Zakk Hillyard on bass/harsh vocals and Sean Watson on rhythm guitars. Together they produce some of the best heavy, contemporary Thrash Metal around. Clean vocals mixed with harsh on top of heavy rhythms and shredsmithing that few guitarists can aspire to are just a few things that make Inner Demons so damned special. Honest, heart felt lyrics that accurately reflect the band and its members is the pièce de résistance for one of my favorite bands around, bar none! Whether you live in Florida or not, Inner Demons needs to be on your list of must listen to bands. Love these guys!
Michale Graves definitely needs no introduction. When I saw that he was playing with Death Angel I thought that it was an unusual pairing of bands, but when taken in context with the diverse bands playing, fit perfectly. Formerly of the Misfits, Mr. Graves has expanded his sound and vibe past the Horror Punk Rock that gained him much of his notoriety without drifting so far of center to loss his existing fan base. While Punk rock has never been my cup of tea, Michale Graves' more current offerings have caught my attention and interest with more of a Hard Rock lean. In preparation for the show I listened his 2016 release of When Worlds Collide and really found myself truly enjoying the album. If you have not checked it out, it is well worth the musical investment. With an equal amount of modern and classic material played during his set, die hard fans' enthusiasm was palpable from the opening note until the band leaving the venue after sticking around to meet and greet everyone (no charge). It was almost as fun watching the crowd's response to Graves as it was watching him on the stage. All knew every lyric and felt every note this legendary artist performed. For about and hour, Graves owned 1904. Very cool and extremely impressive to be sure! With J.V. Bastard on bass, Loki on guitar and Quincy Smash on drums, Graves provided one of the best performances of the evening. His set included "Bedlam", "American Psycho", "Speak of the Devil", "Walk Among Us", "Beginning of the End", "Teenage Monster", "Saturday Night", "Lost Skeleton", "Hate the Living", "Shining", "Forbidden Planet", "Crawling Eye, "Helena", "Scream!" and "Dig Up Her Bones". He and his band continue to awe audiences with their kinetic stage presence and positive attitudes. They exude professionalism and belong on the stage. This is one band that must be seen to be fully appreciated. While I have not seen him live before, I was left with the impression that Michale Graves and his band sincerely appreciate their fans and would be just as comfortable playing to five enthusiastic fans as they would be playing to a concert hall. Much respect and completely understand why his die hard fans would follow him to the gates of hell in support. When he comes through again, I will put an extra effort to see this seminal performer again and again. Seriously, if Graves lands anywhere near where you live, take the time to hit the show. I assure you that he will make it worth your while!
Alright, I have an extremely long history with Death Angel and cannot overstate how thrilled I was to be present for this show. I remember when The Ultra–Violence came out in 1987 and endlessly listening to this debut gem. When Frolic in the Park and Act III dropped in 1988 and 1990, respectively, I continued to be sucked into their take on Bay Area Thrash. During that period I saw Death Angel a number of times in Cincinnati, OH, Louisville, KY and Indianapolis, IN in small music venues and along with big acts like Megadeth, Testament and Exodus. While they are highly regarded today, I would go one step further and include Death Angel as one of the most influential Thrash bands of all time. Their sound is simply like no other and remain true all the way up to their recent release of The Evil Divide. Slayer, Testament, Anthrax, Exodus, Pantera and Megadeth are the other bands I would include since they have never strayed into other genres and continue to influencing bands since their inceptions. While there have been a number of line-up changes over the years, current members include Rob Cavestany on guitar, Will Carroll on drums, Mark Osegueda on vocals, Ted Aguilar on guitar and Damien Sisson on bass and are still killing it! Even after some thirty years, Death Angel shows not one gray hair as a band. Complex, dueling guitars played on some of the best rhythms in the business behind the distinctive pipes of Osegueda show no signs of slowing down or turning their backs on what made them great. They continue to blaze a wide swath of Traditional Thrash tone while still sounding modern and relevant in the sea of modern bands. Even though I have not seen them in a few years, I see no appreciable difference in the amount of heart, soul and devotion Death Angel has for their music and their fans from the first time I saw them to now. They still look like they are having the time of their lives and treat fans with the respect and gratefulness. These guys are freaking legends and are just as approachable as your next door neighbors. This is a true testament to Death Angel and makes this mystical band's aura shine that much brighter. The set list for this show was a killer mix of old and new, including "The Ultra–Violence", "Evil Priest", "3rd Floor", "Claws In So Deep", "Left for Dead", "Son of the Morning", "Fallen", "Father of Lies", "Lost", "Thrown to the Wolves" and the "The Moth". I have to say that Death Angel is one of those bands that I could watch every night and never get bored or tired of listening to or watching. They are one of the rare animals that can do nothing wrong. I cannot wait until they plow through Jacksonville again!
If seeing this many bands including the legendary Michale Graves and Death Angel was not enough, you just never know who you are going to run into. Just before the first band took the stage I was talking with Inner Demons guitarist Sean Watson and his lovely wife. An older gentleman walked over who Sean introduced as Banner Thomas! I froze and went slack jawed. The Banner Thomas?!? I am an older guy and immediately recognized him as the original bass player for one of my favorite, Southern Rock bands, Molly Hatchet. He was playing during their heyday and was part of such classics albums as Molly Hatchet, Flirtin' With Disaster and Beatin' the Odds! What a complete honor. I was humbled by his gracious manner and ended up talking with him extensively over the course of about two hours. The depth of musical knowledge that this man holds is beyond belief. I fully intend to follow up with a formal interview for our readers at some point in the future, so stay tuned! If you live in the area, Mr. Thomas has retired but still plays regularly for fun in St. Augustine, FL so check him out! Banner Freaking Thomas! Just as I thought the night could get no better; but hey, this is what happens when you go out and support the music scene, at any level. You make new friends, hear stuff that you may not have heard before and sometimes even run into a life long hero! Wow!