Coalition is:
Steve Gresswell – songwriter, keyboards, drums, bass
Blake Carpenter – lyrics, vocals
Colin Tench – guitars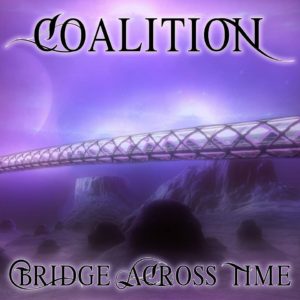 Bridge Across Time: October 7, 2016
From Reading in the UK comes the brilliant, recent release of Bridge Across Time from the Prog Rock trio called Coalition. This album has been a long time coming and has been well worth the wait since their 2011 release of In Search of Forever.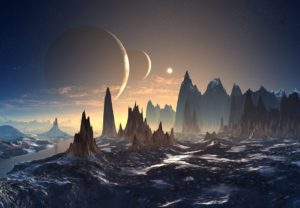 Started in 2010, Coalition came about with the specific goal of recording music "with the ultimate aim of 'getting out there' and playing the tracks live" (from Coalition online media) by mastermind and musician extraordinaire Steve Gresswell (songwriter, keyboards, drums, bass). Gresswell has been a professional musician since the ripe old age of fifteen and is also currently also involved with The Inner Road. Original members also included Phil Braitwaite (guitar) and Paul Bulger (vocals) who together released the aforementioned album, In Search of Forever in 2011. By 2013, Coalition was in search of a new vocalist after the departure of Bulger. As a well known and highly respected musician in his own rite with his solo project entitled The Minstrels Ghost, entered Blake Carpenter. Equally well known and admired by fellow musicians with numerous releases with Corvus Stone, Minstrel's Ghost, CTP and Bunchakeze, Colin Tench replaced Braitwaite on guitars about a year later and quickly resulted in the release and opening song for Bridge Across Time entitled "Across the Sea".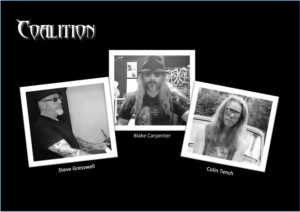 This delicious piece of Prog Rock virtuosity is a huge step forward for Coalition in its grandeur of scope, both lyrically and musically. As a concept album, Bridge Across Time stands head and shoulders above just about everything else that has recently been released. This album is something very, very special and will surly attract just about any fan of pure, traditionally styled Prog. As classic ear candy, Bridge Across Time is a flowing collection of complex and moving music that can easily allow the listener to float away on Coalition's beautiful aural waves. When the mood strikes, however, Coalition must be taken in as a whole; where the music becomes the conduit from which they animate a fantasy world from which their perception of living life to its fullest comes into vibrant focus. Lovely and pragmatic, Bridge Across Time serves as a mature fairy tale that exudes the innocence of a cherub through the wise eyes of an archangel with a huge array of applicable nuance based on listener contextual experience. Absolutely gorgeous! The initial single, "Across the Sea" begins the tale with the soothing sounds of the ocean and somewhat sad sounding guitar followed by the unique clean vocals of Carpenter. With operatic backing vocals, our journey gains momentum. We are taken away on a dream ship in search of real life buoyancy. Lovely piano accompaniment provides a full and rich tone as distant thunder can be heard as we continue on to "Fantasy Island". Awaking like a dream within a dream by a digital alarm clock, we are welcomed by upbeat and brilliantly played keyboards trading leads with layered guitars and saxaphone. Coincidence or as a dazzling tribute to Styx, 1977 classic "The Grand Illusion", Coalition invites us to a world of fantasy where the dream is the solely owned by the individual if the mind is open to receive the unconscious message; where the unlimited potential view of self can be personified. The analog ticking of time stops abruptly as we continue or journey into "Labyrinth". Layers of rich keyboards, stellar guitar and flute directs us into a circus maze that transcends both time and space. Just as in life, being lost is part of the game. The choices that we make and how we deal with pain and loss define how we will ultimately exit the maze. Embrace the mystery, slow down and think through decisions because perspective and outcome are never predetermined. Learn from experience and revel in the journey. Angelic choral voices and elegantly simple string arrangement follow us from the maze into the "Land of Dreams". Captivating piano and reflective vocals encourage us to follow the dream instead of denying its existence. Taking a rather Zen perspective, dreams are under our control and should be given higher relevancy than the uncontrollable, conscience world around us. Choose to base dreams on one's internal compass instead of how we are perceived from others. The point and counterpoint of guitar and piano musically personifies this internal struggle from childhood (baby crying) and progresses through the noise to the serenity of nature as we step, metaphorically out of our bodies to view the world from above (plane flies over). Ultimately, peace can only be found when we turn inward. Emotive keyboards and acoustic guitar carry us forward before the record scratches and is replayed. The door is closed as we follow the path into "Lost Soul". At the zenith of pure Prog Rock sound, our journeyman is overwhelmed and seeks the companionship of a partner. Forget the dream, forget life and take the easy way out where the he is again subjugated to a world where all responsibility has evaporated; every road too long and he no longer has the ability to distinguish his place in the universe. A sad church bell tolls and we are lead along with a mournful chorus. This perspective is reversed as "River Song" finds us guidance and direction when we find ourselves again lost in the maze. Upbeat and positive, we have gained strength; no longer afraid of the unknown, no longer looking backwards, instead looking forward into the light. The same church bell rings, this time with a more celebratory tone. "The Light" is our symbolic return. Worn as a battle scar, we have conquered the maze; learning that we are defined by the choices we make and how we react to those that were not so well chosen. With this knowledge we are free and happy as triumphant horns, some of the best guitar on the album and flowing tempo changes guide us along the tough, high road where we are able to focus on the light of what we value in life. "Valley of Shadows" begins with the gentle singing of birds that quickly soars with huge guitar with string accompaniment that transitions into screaming guitars. As the song slows, intensity smolders as piano segues into glorious horns and the sadness of violin. The valley of shadows, where time stands still and peaceful eternal emptiness are available at a whim now that the fear of the unknown has been alleviated. Immediate recall of all things learned since there are no guarantees in life, including longevity. The horns and sax transition to vocals blurs and accurately reflect the thin line between perception and reality. Acoustic and emotive electric guitar welcome our ability to open the gates to the valley at will. Gresswell flexes his keyboard prowess as birds peacefully carry us along our ever-changing path. "The Watcher" begins as an airy and catchy yet sarcastic mocking of the journey laid out throughout this album. As a compilation, the watcher serves as a reminder that inner doubt, worldly perspective and life content out of our immediate control will always stand in our paths. We are reminded to be careful what it is we seek, listen to our consciences and always learn from scrapes along the way. Poignant subject matter in a day where finding oneself is defined by how we are perceived.
Bridge Across Time has quickly landed itself on my list of favorite albums this year. It is beautiful and disturbing; complex yet so easy to listen to; genius and brilliantly played out. Music following lyrical intent so closely and accurately is so rare at the level Coalition has managed to reach. Purely as a Prog Rock album, Bridge Across Time stands among the classics. All things considered, it has an emotional entanglement that can serve as life long navigational tool that can morph in meaning as context changes. Absolutely astonishing!
Tracklist for Bridge Across Time:
"Across the Sea"
"Fantasy Island"
"Labyrinth"
"Land of Dreams"
"Lost Soul"
"River Song"
"The Light"
"Valley of Shadows"
"The Watcher"
Please check out more about Coalition on: Facebook  BandCamp