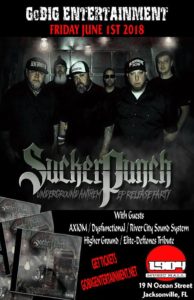 First show in a while, and ohhhh, what a doozy! Gotta love supporting such a huge variety of incredible bands ranging from Rap to some of the heaviest Metal has to offer and everything in between! Some of the best music available today remains in the underground and, invariably, right around the corner, no matter where you live. Well, June 1st at 1904 Music Hall served as the launch point for SuckerPunch's release of Underground Anthem reviewed here. Not only was I stoked to hear some bands that I have heard and loved again, but also for the bands I have not heard of. Not only are they beyond talented, but I made some new friends and hope that you will give them a shot once you read my review of the CD release party. Enough chatter. Let's get down to it!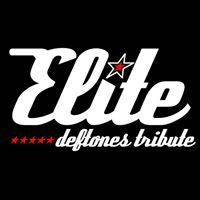 Get there early and stay late. Always my motto when covering any show as I refuse to sleight any band that takes the time to play their hearts out for the growing crowds. First up was Elite – Deftones Tribute Band. I have never had the pleasure of seeing the almighty Deftones live, but this experience was the best I am likely to get anytime soon. Not even a little disappointed. Vocalist/guitarist Jason Hensley, guitarist Shawn Johnson, drummer Scott King, bass player Matt Hall and sampling/keyboardist Michael Davis are the real deal and did a great job of warming everyone up. With a set list containing "Swerve City", "My Own Summer", "Rocket Skates", "Around the Fur" and "Street Carp", people lined the front of the stage to sing along with these seminal classics. So good, in fact, SuckerPunch called them out as the one band that they would take on tour once their band invariably takes off. Once hearing these dudes play, there is no doubt that they have the chops and tone to sate anyone's need for the Deftones! Spot on downtuned goodness that gives a unique and sonically accurate tribute feel without drifting far from the original intent and sound. I find this to be very impressive for a band as big as the Deftones. Tribute bands I have heard tend to try too hard to be exactly like the band that they are covering (this is impossible since all musicians bring different things to the table) or drift so far from the original that it no longer sounds like the band. Elite doesn't even attempt either of these extremes, instead hitting all of the highlights with tone and feel while making it completely theirs. They owned every song and absolutely killed the set. My hat is off to this band and I look forward to seeing them again in the future. Great work!
More on Elite – Deftones Tribute Band can be found on Facebook.

Alright. I have seen and reviewed Higher Ground before and love this band and its members. Singer/guitarist Tim Westerwelle, drummer C.M. Jones, Flynt Rock on bass and Nick Obenauer covering the rest of the guitarwork are not only stellar musicians but really cool cats too. We must have spent half an hour goofing off and laughing it up between sets Friday night. Good music and old friends. Does not get any better, right?!? In stark contrast, they have a completely different stage persona (minus Flynt, who is always smiling with his laid back style at every moment, on or off stage). These guys are all business on stage and take their version of Stoner Metal very seriously. Admittedly, I am not usually a big fan of this type of music, I find Higher Ground's music and energy incredibly infectious and an absolute pleasure to behold. Playing a set of original tunes including "High Again", "Under the Florida Sun", "Does It Make You Feel", "Mary Jane", "Suicide Note" and "Some Kill", the band just oozes a fun intensity that is almost never duplicated on larger stages by the "big bands". Having the vintage tones of 70's Hard Rock with a Folk Metal edge, Higher Ground is unique and entirely entertaining every time I have seen them. In all honesty, this was probably the best set I have heard them play, and I have seen them many times before. Staying in the Stoner vibe, this was nothing but dirty, bad-ass Rock 'n F'in Roll! After speaking with the band after their set, I found out that Nick joined the band recently, but has played with Tim for many, many years. This dude it so talented, he didn't even know the last song and improvised a guitar line that could have been recorded and released, no one being the wiser. No talent in modern music? Pshh. Whatever…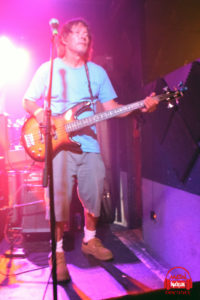 Check Higher Ground out on Facebook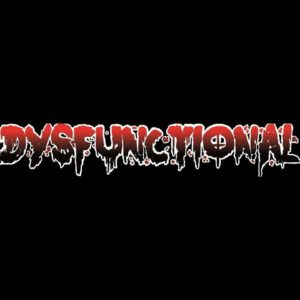 I had not heard of the next two bands to take the stage and was anxious to hear what they had to offer us that fine evening. First up was Dysfunctional. These guys had me hooked on note number one. At two years old, this band is tight and hit hard and fast with their killer brand of early Hair Metal meets Thrash. Think very heavy original Ratt, Twisted Sister and W.A.S.P. or maybe Megadeth meets Shout At the Devil era Motley Crue. Band members include Kenny Kohlmair on guitar, Maxx Aleman on bass, Larry Abrams on drums and Tonny Asbury covering vocals. Not to play favorites here, but a big shout out to Abrams. When they were setting up, the drum kit rolled in with over ten pieces. I have seen this before, only to find out that they use the same five or six pieces everyone else uses. Not Larry. He abused each head relentlessly all night long. This dude is beyond impressive and gets a nod as the musician's musician of the band from his mates, so I know I run no risk of ticking anyone off here. His only complaint is that he could not fit his full set on the small stage. Really?!? Definitely going to have to check them out on a larger stage. But I digress… This whole band is nothing but fun, Thrashy goodness with all of the late 80's excess included. Sex? Check. Violence? Yup. Playing an all original set including "See Your Way Out", "Remember Thee", "Take You Out", "Madam" and "Dead of Night", the crowd immediately became part of the band, even singing the chorus' with the band as they roamed around off stage with the crowd. With the fun factor off of the scale, this band is going places with their completely modern take on music that is long loved and being regenerated with bands like Steel Panther and the staying power of bands that have been on the road, packing stadiums for 40 years like Van Halen, Metallica, Def Leppard and so many others. Just as the music is completely accessible to a wide variety of musical tastes, the band is among some of the nicest and fun people one could meet. So lively and obviously thrilled to be playing on and off stage. They are currently a couple of songs short of their debut CD and I have been promised first crack at a review, so stay tuned. If it is half as good as their live show, Dysfunctional has success in the bag. New music, new friends. Now we're talking!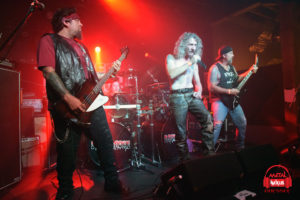 Stay up on everything Dysfunctional on Facebook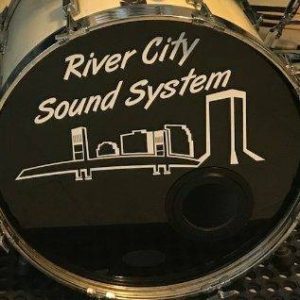 Huge thanks to SuckerPunch for bringing the second band I have not experienced to the stage in celebration of their new EP. River City Sound System was shockingly good and not at all what I was expecting from a predominantly Metal show. These guys take care of absolutely everyone's tastes: Rockabilly, Blues, Jazz, Hard Rock, NWOBHM, Punk and Ska. All without sounding scattered or schizophrenic. That may be the most impressive aspect of this band, because they are so good at it all. This is a recipe that often goes sideways, but these guys pull it off with grace and an immensely fun vibe. Brian Schubert covered backing vocals, bass, guitar and sax (whew!), Mark Pachell was behind the kit, Mikey Beaty does vocals, guitar and bass while Jeff Goodwin plays lead guitar. All are all top notch musicians with second to none songwriting prowess. This is probably what makes this band so damned special. Everything RCSS played was well thought through, musically emotive and just hit all the right notes across their expansive musical spectrum. Their set included: "I've Come Too Far", "Ghetto Street", "My Life", "Driven to Crash", "Mind Games", "Do It", "What Future", "Dub Song" and "Rock and Roll". This is one of those bands that it is hard to tell who is having more fun, the band or the crowd. They got an immediately positive response from this rowdy Metal crowd which comes as no surprise to me since we tend to be the most open-minded music lovers, in my humble opinion. With this kind of talent brought to bear and the tight songwriting brought to bear, it is almost impossible to take apart their music. Mind boggling speed when needed that is knocked back as needed creates an ebb and flow not normally heard outside of 40's era Bop Jazz creates a tapestry of sound that is almost tangible. Fine, smooth Egyptian cotton with the rough edge of gold thread laced into the material that is rough and cuts deeply if touched a certain way. Wonderful stuff! Like my other first of the evening with the guys in Dysfunctional, River City Sound System's band members are gracious, supportive and as friendly as they can be. If you are looking for something completely different to satisfy your wandering musical pallet, look these guys. Definitely won't disappoint!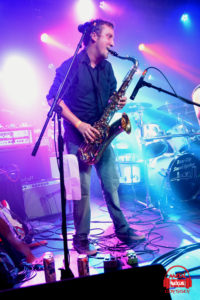 All the goods on River City Sound System can be found on Facebook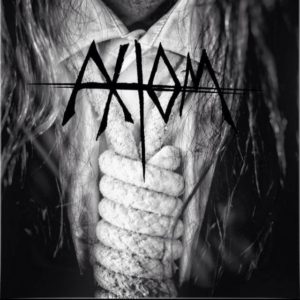 The next band up is a band that I have followed for quite a while and seen a number of times, but have not had the opportunity to review. Axiom was, by far, the heaviest band of the evening and among the heaviest in the Jacksonville Metal scene as well. These guys hit unbelievably hard and have the stage presence to back up their harsh brand of modern Death/Tech–Death Metal. To say that I am a fan is an enormous understatement. Hopefully, I will have the opportunity to get you fine people a review of their highly anticipated CD shortly, once they finish recording what is sure to be an absolute beast. Since KRR Studios is in on the action, production is sure to be 100% bad ass too! Friday night, they owned 1904 Music Hall with their set that included: "Deserter", "Let the Bridges Burn", "Severed", "The Wretched Iniquitous" and "Tracy Morgan" (check out the video below). Vocalist Austin Fadley, guitarists Easton Ray and Justin Ignacio (aka Lou Kang), bassist Skip Green, drummer Ray Schliefer and new vocalist Jamie Fadley simply slayed. I was standing next to Maxx Aleman from Dysfunctional and Axiom dropped his jaw after their opening song. He was frantically looking for the video and making notes to check the band out later as Austin took to singing from the bar top before joining in the pit fun that was ignited by their brutal set. Since first seeing them at Jack Rabbits right after their inception, Axiom has really stepped up their game and play CD perfectly now. Their polish and accuracy are beyond good and rival bands that have been playing for decades. While being in your face rough on stage, they never cross the line into fake, cheesy ego-driven excess. Hell, the music along is excessive enough! Like the rest of the bands that had played, the band is incredibly supportive of their stage-mates and extremely approachable as they roamed the hall during the other sets. As good as these musicians are, there is not one ounce of bravado or arrogance when speaking with or hanging out with the fans. If you are a fan of extreme Metal, Axiom simply must be experienced live. Definitely need to be checking them out… Like now… Go!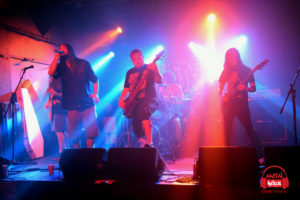 More Axiom abuse can be found on Facebook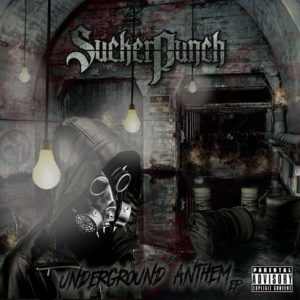 Five down and one to go. A huge shout out to SuckerPunch for this awesome show and allowing me to cover it! These guys are some of the best human beings one could ever meet and create some of the most unique music to be found anywhere. Wearing their underground status on their chests like Ozzy's iconic tattoo, this evening was a celebration of hard work, stellar talent, musicianship and patience to create their new CD entitled Underground Anthem. Since hearing their take on Rap/Metal/Hardcore a few months ago, I have become a huge fan. Jaded because they have become friends? Maybe. But I have had time to really take in what they do and think I have a full appreciation for SuckerPunch's music and their heart-felt support of the Jacksonville music scene and the undying fanbase that supports it. Not just Metal either. If not for an open mind, River City Sound System would likely have never hit the radars of the crowd. Holding off raging the stage, the anticipation was palpable as the crowd began chanting "SuckerPunch! SuckerPunch!! SuckerPunch!!!". As vocalist Chris Cesaro, drummer Tommy Rovelli, bassist Jeremy Ruggles, guitarist/vocalist T.J. Riviere and Jay Lightener and sound/tables extraordinaire Mike Davis (aka Reflections) finally stepped on stage, it… was… on! With a mix of old and new, SuckerPunch played "Stand Up", "Frontline" and (still my favorite) "SuckerPunch" from the new CD as well as "Confession", "Last to Run" and "Rain". The band was on-freaking-point too. By far, the best I have seen them play to this point. Even with their trademarked harsh lyrical themes, low, Metal grooves and gangster Rap/Hardcore vibe, the level of fun was stronger than I have experienced from them before. I spoke with Chris before the show, and he was coming apart at the seams with excitement to release their EP. This is a huge deal for newer bands as their blood, sweat and tears finally come to full fruition; all efforts culminating in a single exhilarating moment. Really moving and an absolute privilege to behold. So proud of my boyz in SuckerPunch! This was not just a fan party either. Nieces, mothers, sisters and brothers crowded the front row to feel the power SP has to offer. I spoke briefly with Tommy's mom after the show and she was blown away after never hearing or seeing her son behind the kit with SuckerPunch. With the caveat that she normally does not listen to this type of music, she beamed with proud, motherly affection. She even admitted to really liking my favorite tune, "SuckerPunch". What can I say? Great minds and all, right?!? I don't drink or do drugs, but was high as a kite listening to the band once again. Honestly, I cannot wait to see the star these guys latch onto in the near future. This band is really special in so many different ways. It just has to happen! Can't wait to see the bright future this band holds! Peace out, my brothers!
After my hiatus, I am thrilled to be back, supporting the music that I love. Big bands, little bands, Metal, Progressive Rock, Jazz. I don't care. I just love music and hope to be able to continue carving out time to continue bringing the Metal Nexus reader outside of the norm and introducing you to the music and bands you may have never heard of. Seriously. All of the bands that have been reviewed here need to be checked out. Friday night's show just proves that some of the best musicians in the world can be found right around the corner. You just need to get off the couch and go see them. Hell, you will probably make new friends and are guaranteed a good time to boot. Life is simply too short to not support your passion of music while allowing those that make the music support their dreams. Until next time…
You can follow SuckerPunch on Facebook