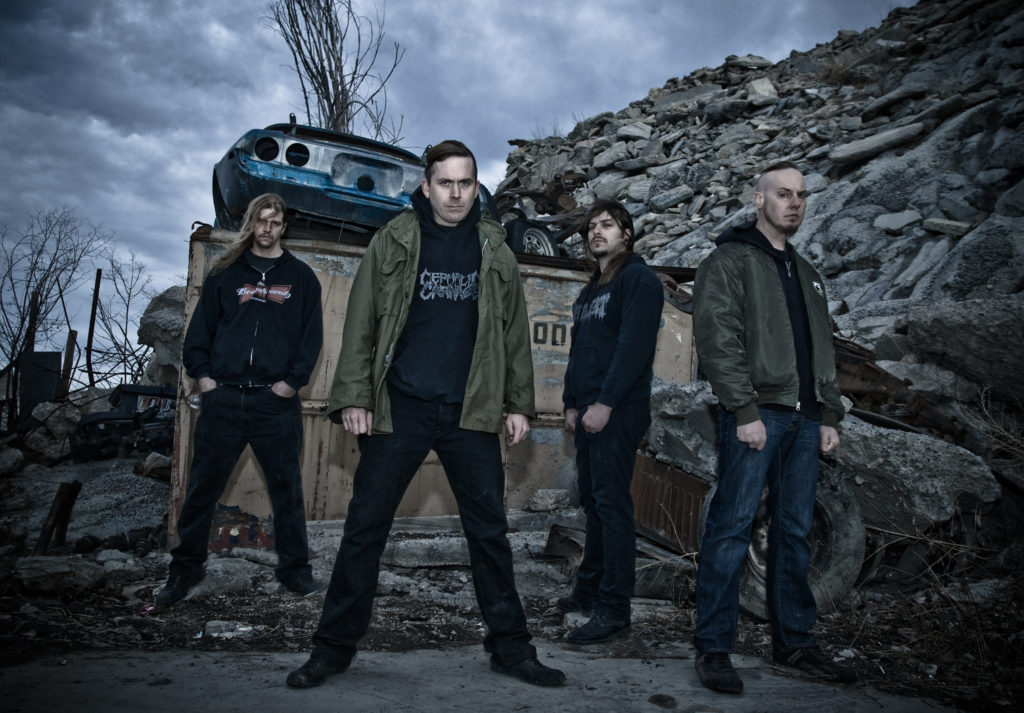 North America is already having a party this year with so many cool tours that are bringing along with it some exciting bands from both the big and underground ends of the spectrum alike. Stop everything that you are doing and turn your heads here, cause this is probably one of the most epic and brutal tours of all proportions. Just when you thought it wasn't brutal enough already, they drop this bomb. CATTLE DECAPITATION, REVOCATION, FULL OF HELL & ARTIFICIAL BRAIN will blow North America into smithereens together as they huddle up for a brutal and sadistic tour this October and November. This is a headlining tour with CATTLE DECAPITATION as the main headliner for the Metalsucks & Exclaim! Aggressive Tendencies Presents "The North American Extinction Tour Part II: Inhuman Beings". Tell me you spat your coffee. Didn't ya?
Tijuana, Mexico's mad doctors of gore THANATOLOGY will be replacing FULL OF HELL as support on the first 3 dates!
CATTLE DECAPITATION will be on the road supporting their latest album, 'The Anthropocene Extinction', which is one of the best in their catalog, while REVOCATION will be out there doing the same in support of 2016's 'Great Is Our Sin'. Expect new songs from ARTIFICIAL BRAIN and FULL OF HELL as well, from their all new 2017 records, 'Infrared Horizon' and 'Trumpeting Ecstasy' respectively, which have received an excellent rating since both of its release. All in all, this is one hell of an epic line up for fans of extreme metal, who like living it on the edge. Don't you dare miss this!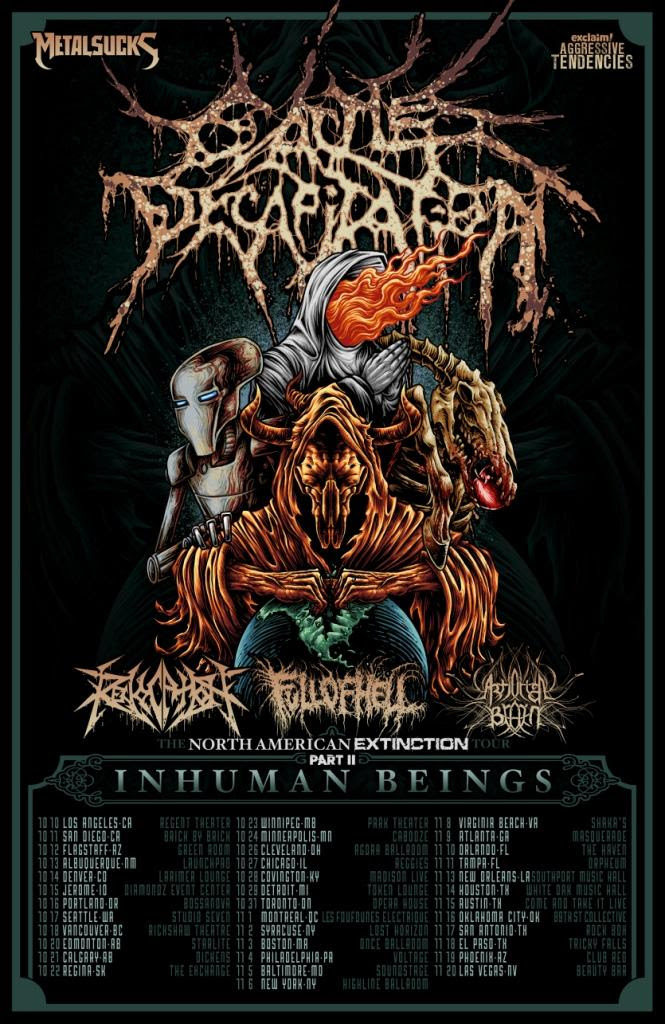 Metalsucks & Exclaim! Aggressive Tendencies Presents
"The North American Extinction Tour Part II: Inhuman Beings"
w/ CATTLE DECAPITATION, REVOCATION, FULL OF HELL, ARTIFICIAL BRAIN
Oct. 10 – Los Angeles, CA – Regent Theater * ^
Oct. 11 – San Diego, CA – Brick By Brick * ^
Oct. 12 – Flagstaff, AZ – Green Room * ^
Oct. 13 – Albuquerque, NM – Launchpad
Oct. 14 – Denver, CO – Larimer Lounge
Oct. 15 – Jerome, ID – Diamondz Event Center
Oct. 16 – Portland, OR – Bossanova
Oct. 17 – Seattle, WA – Studio Seven
Oct. 18 – Vancouver, BC – Rickshaw Theatre
Oct. 20 – Edmonton, AB – Starlite
Oct. 21 – Calgary, AB – Dickens
Oct. 22 – Regina, SK – The Exchange
Oct. 23 – Winnipeg, MB – Park Theater
Oct. 24 – Minneapolis, MN – Cabooze
Oct. 26 – Cleveland, OH – Agora Ballroom
Oct. 27 – Chicago, IL – Reggies
Oct. 28 – Covington, KY – Madison Live
Oct. 29 – Detroit, MI – Token Lounge
Oct. 31 – Toronto, ON – Opera House
Nov. 1 – Montreal, QC – Les Foufounes Electriques
Nov. 2 – Syracuse, NY – Lost Horizon
Nov. 3 – Boston, MA – Once Ballroom
Nov. 4 – Philadelphia, PA – Voltage
Nov. 5 – Baltimore, MD – Soundstage
Nov. 6 – New York, NY – Highline Ballroom
Nov. 8 – Virginia Beach, VA – Shaka's
Nov. 9 – Atlanta, GA – Masquerade
Nov. 10 – Orlando, FL – The Haven
Nov. 11 – Tampa, FL – Orpheum
Nov. 13 – New Orleans, LA – Southport Music Hall
Nov. 14 – Houston, TX – White Oak Music Hall
Nov. 15 – Austin, TX – Come and Take It Live
Nov. 16 – Oklahoma City, OK – 89th St Collective
Nov. 17 – San Antonio, TX – Rock Box
Nov. 18 – El Paso, TX – Tricky Falls
Nov. 19 – Phoenix, AZ – Club Red
Nov. 20 – Las Vegas, NV – Beauty Bar
* = no FULL OF HELL
^ = with THANATOLOGY