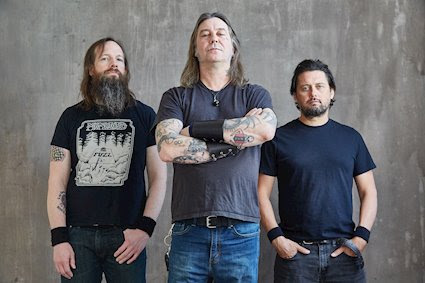 High On Fire are back with their 8th full-length release, Electric Messiah. This follows up their 2015 release Luminiferous via Entertainment One Music. With Sleep's triumphant return on the stoner holy day of 4/20 and this new album, it has been quite a year for vocalist/guitarist Matt Pike. As far as this record Pike explains, "This is by far the best record I've ever made with the High on Fire stamp. It just keeps getting better and better. We just try to outdo ourselves. I'm not saying the old work is progressively worse, it's just that we get better every time instead of burning out, which is a common finality for a lot of bands. This album is fucking excellent, I just love everything on it, I'm not bummed about anything. It's great when you think that about your record." This is their third release done with producer Kurt Ballou (Converge, Torche, Kvelertak), creating a strong bond with the three-piece. Now with more than a decade as unit with Jeff Matz on bass and Des Kensel on drums, this is some of High On Fire's best work.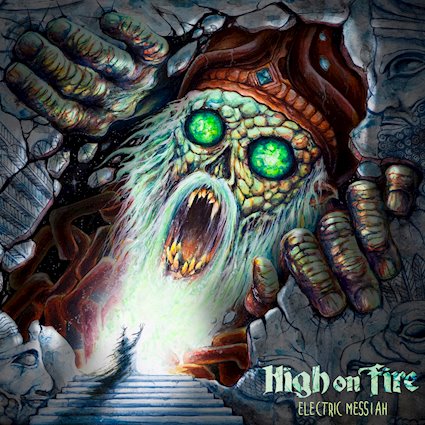 They waste no time with the first track "Spewn from the Earth", getting right into the thick of it with a catchy riff that will follow you around like a dog you met at the junkyard. He's badass, but he's a good boy. What follows is the 9-minute Sumerian epic, " Steps of the Ziggurat/House of Enlil", a brutal creation story about a war between two gods. The cryptic and ancient rhythm of this track puts you right in middle of the action. A tribute to the late metal god Lemmy Kilmister, this track oozes a Motörhead aesthetic while not trying to be something totally outside of High On Fire. Matt Pike explains the story behind this fitting tribute, "When Lemmy was still alive I always got compared to Lemmy," says Pike "so I had this dream where he got pissed at me. He gave me a bunch of shit, basically, and was hazing me. Not that he didn't approve of me, but like I was being hazed. The song is me telling the world that I could never fill Lemmy's shoes because Lemmy's Lemmy. I wanted to pay homage to him in a great way. And it turned out to be such a good title that the guys said we should call the album Electric Messiah. Although at first, the working title was 'Insect Workout With Lemmy'," Both "God of the Godless" and "The Witch and the Christ" are some of Pike's best vocal work yet. They carry nasty rhythms that you could only find behind a greasy gas station or a High On Fire record.
This album is fuel-injected dream that is definitely going to please longtime High On Fire fans. Each instrument is crisp and felt through each filthy note. Pike's vocal work is cleaner and more coherent but still gravelly and gruff. These past few High On Fire records have taken a little while to be released, but they this one is definitely worth the wait. I hope to see songs from this album get put in the regular rotation of live shows. Electric Messiah is out October 5 via Entertainment One Music. For more High On Fire news follow them on Facebook, Bandcamp, or their website.