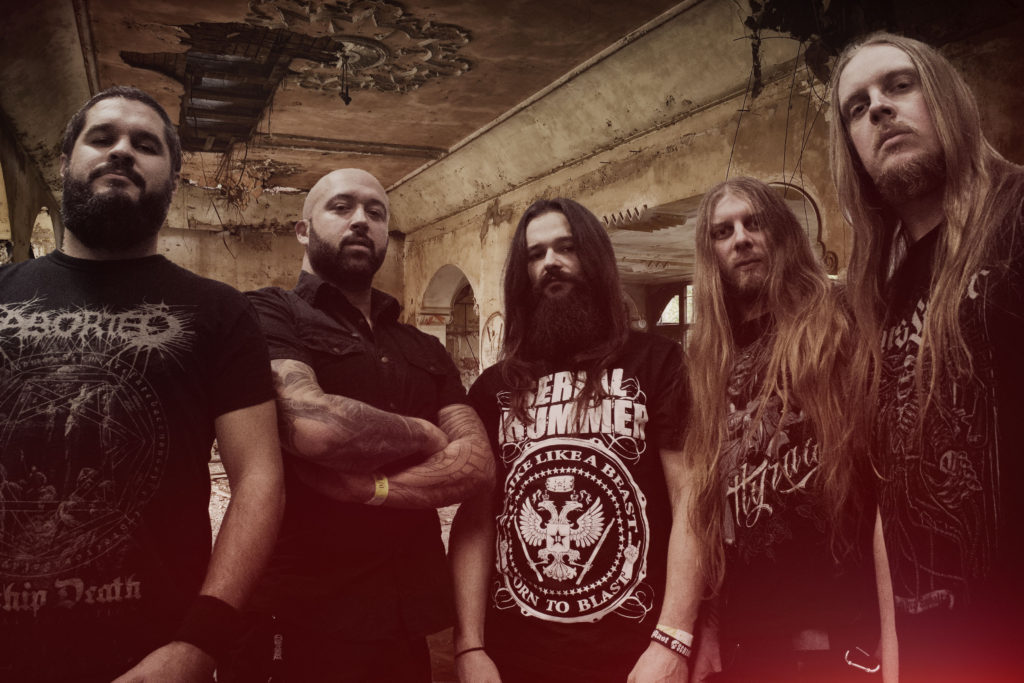 French death-grinders BENIGHTED have announced a fall European tour that sees the band joining ABORTED and CRYPTOPSY. The tour kicks off on November 1 and concludes on November 25. A full list of confirmed full dates can be found below.
BENIGHTED are touring in support of 'Necrobreed', which was released last year on February 27. It has been a little over a year now and the sickness of the new and latest record has not ceased spreading yet. The new album was pretty well received by fans and critics all over the world and cemented the band's impact on the death metal/grind scene even more. Released under French label Season Of Mist, this is their eighth studio effort, and if you ask me, it is the most strongest record in their entire two decade long catalogue.
BENIGHTED are currently slated for a number of festival dates in 2018 with more live dates to be announced in the months to come. Appearances already confirmed for this year include Hellfest in France, Obscene Extreme Festival in the Czech Republic, Party San in Germany, and many more. A full list of confirmed tour dates can be found below.
BENIGHTED European tour :
All dates with ABORTED, CRYPTOPSY, and CYTOTOXIN
Nov. 1 – Leeuwarden (NL) @ Neushoorn
Nov. 2 – Mulhouse (FR) @ Noumatrouff
Nov. 3 – Sint Niklaas (BE) @ Casino
Nov. 4 – Saint-Brieuc (FR) @ La Citrouille
Nov. 5 – Paris (FR) @ Petit Bain
Nov. 7 – Nantes (FR) @ Le Ferrailieur
Nov. 8 – Biarritz (FR) @ Atabal
Nov. 9 – Madrid (ES) @ Caracol
Nov. 10 – Barcelona (ES) @ Boveda
Nov. 11 – Lyon (FR) @ CCO
Nov. 12 – Brescia (IT) @ Circolo Colony
Nov. 13 – Ljubljana (SL) @ Orto Bar
Nov. 14 – Fribourg (CH) @ Fri-Son
Nov. 15 – Wien (AT) @ Arena
Nov. 16 – München (DE) @ Feierwerk
Nov. 17 – Uherske Hradiste (CZ) @ Klub Mir
Nov. 18 – Praha (CZ) @ Futurum
Nov. 19 – Poznan (PL) @ Klub Y Bazyla
Nov. 20 – Berlin (DE) @ Cassiopeia
Nov. 21 – København (DK) @ Pumpehuset
Nov. 22 – Hamburg (DE) @ Bambi Galore
Nov. 23 – Essen (DE) @ Turock
Nov. 24 – Weinheim (DE) @ Café Central
Nov. 25 – Eindhoven (NL) @ Dynamo
BENIGHTED tour dates
May 5 – Villeurbanne, FR @ CCO (20 Years Anniversary Show)
May 26 – Lac de la Vingeanne, FR @ Outch Festival
Jun. 16 – Clisson, FR @ Hellfest
Jul. 18 – Trutnov CZ @ Obscene Extreme Fest
Aug. 3 – Saint-Maurice-De-Gourdans, FR @ Sylak Open Air
Aug. 10 – Obermehler, DE @ Party.San Open Air
Prior to this massive European voyage, the band will be seen doing a mini US tour from July 26th to 29th, for the very first time. So American fans who are a fan of these ridiculously good bunch of death metallers can witness BENIGHTED for the first time. I have seen them live and I am telling you, you will be slaughtered, it's a gore fest!
During their last Asia tour, we managed to catch up with the brutal but yet humble and sweet Julian Truchan. I had the good opportunity to talk with him about the new album, we also came to know Romain Goulon(ex-NECROPHAGIST) who was a part of the band departed until the release of the new album, and not to forget shared quite a laugh or two. Click HERE for the interview!
As of now, BENIGHTED are back at Kohlekeller studio, where they have recorded their past albums as well, and the recording process for a brand new EP has already been in the works.With regular updates coming in from the band's Facebook page, it looks like the EP, details of which are yet to be made public, will drop soon late this year or during the early half of next year.
Don't you miss this brutalizing and gore-filled line-up's live rituals this fall.