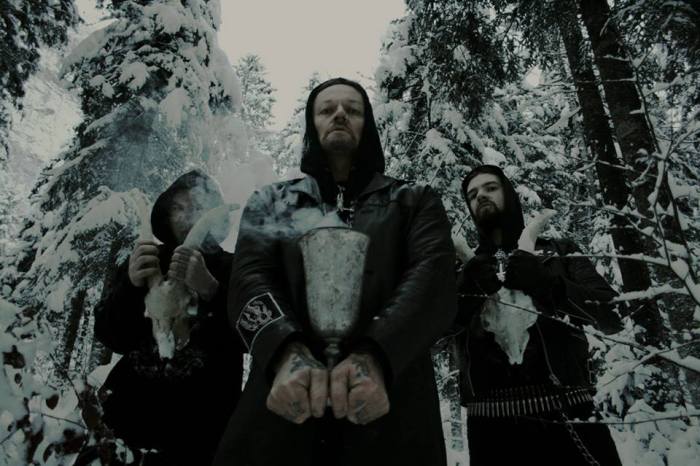 Hailing from Salzburg, Austria Belphegor has been raising hell with their signature sound since 1993 and they are set to unleash album number twelve on September 15th via Nuclear Blast records. The band has already released a few tracks from the upcoming release, so until then get your ears full below.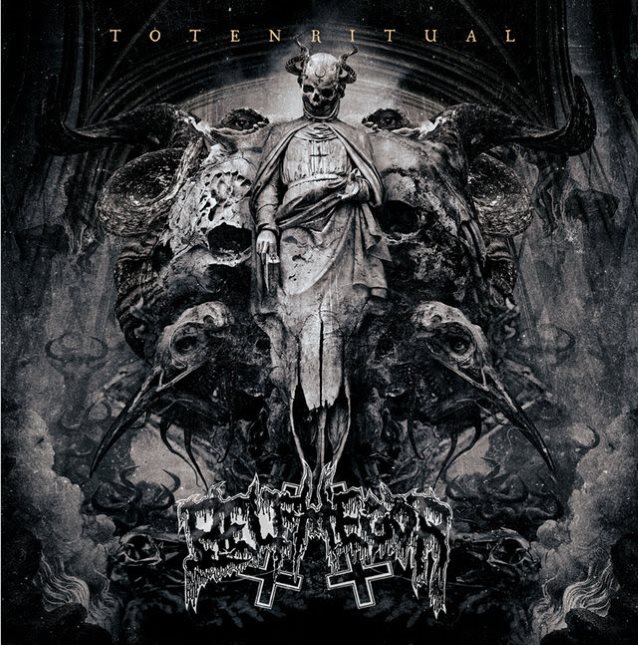 We were fortunate enough to speak with vocalist/guitarist Helmuth Lehner and learn some interesting things ranging from their writing process to an assault in Russia, lyrical content and some insight on their upcoming release "Totenritual" .
Metal Nexus: Belphegor was formed in 1993, What has been the strength keeping the band consistently releasing brutal music?
Helmuth Lehner: "TOTENRITUAL" is the perfect representation of BELPHEGOR for 2017. When I start a project, I get into the mood for intense practicing. I don't want to practice in the studio or waste time that should be used for the creative process. For the studio recording, I focus all of my energy on my visions to create something dark and extreme. Of course, prior to recording, we practice the songs in the rehearsal room all together as a band. It felt great to write this eleventh offering as a band, the mood all was good, everyone welcomed the challenge.
I am a musician. My discipline is about improvement. I am very passionate about everything I do. Great live rituals are also inspirational and give me back the energy and the desire to keep going and overcome things. I couldn't do what I have been for over two decades if I didn't enjoy it. BELPHEGOR still has a major impact on my life, I'm interested in many different things, but musick, BELPHEGOR, playing guitar, and traveling the world is my main focus.
Metal Nexus: Growing up we all have our musical "heroes." Have you had the chance to share the stage with yours? If so who? Who would you like to play with but have not had the chance to yet?
Helmuth Lehner: I have had the pleasure of playing with many of my heroes. It's an unbelievable feeling, an excitement, and a great honor. Some are missing, some others have died. The list would be endless..
Metal Nexus: Are there any songs that you began writing and had to put on hold for an extended period of time before you had the inspiration to finish it? What song and how long was the writing process?
Helmuth Lehner: If I recall correctly, "EMBRACING A STAR", which directly flows into the track "TOTENRITUAL". It is a single song but divided. Musically, this album offers duality of brutality and tranquil acoustic arrangements. I describe it proudly as sort of a Death/ Black Metal opera with all these several parts and the Ritualistic vibe all leading up to an outro that takes over to finish this exalted arrangement.
Metal Nexus: You have toured extensively over the years. When on a long tour, how are you able to preserve your voice in order to perform every night? Any special remedies?
Helmuth Lehner: Not really, I take better care of myself and drink a lot of water [nowadays haharr…]. I also try to get enough sleep. I do some clean vocal warm-ups 5-10 minutes when I start the incense Ritual backstage. To be honest, I don't have any clue nor proof if it helps, I just go for it, and used to bring me into this special mood. As soon as I hear the live Intro I switch into another twilight zone and get ready for the Ritual and transcend into a different dimension for an hour. It's a great experiment if people are into the show, getting loud and insane and we can feel the twisted atmosphere during the cremation.
Metal Nexus: The artwork for 'Totenritual' was created by Greek artist Seth Siro Anton who also completed the art work for 'Pestapocalypse VI' (2006) and 'Conjuring The Dead' (2014). Was there a specific idea in mind or did you just let him run with it?
Helmuth Lehner: You did your homework! Yes, Seth has done the art for three projects now. The artwork for "TOTENRITUAL" was created with the same method as the others, but of course, each new project demands much more time. I always have a strong visual concept in mind and give direction to Seth as he makes the image. This time, I wanted cold coulours to make the conjuring elements visible, which perfectly represents the lyrical content. He contributes many of his own ideas as well, and nowadays he knows how I roll. Like the process of making musick, it must develop until perfection is achieved. I consider album artwork part of the whole LP package, it all must fit together. Musick, verses, artwork.Of course Musick thrones above all!!
Metal Nexus: In your latest album "Totenritual" would you say that you guys stepped out of your comfort zone? Did you try anything new in the studio?
Helmuth Lehner: It's important to leave your comfort zone, it's the only way to create art and keep things exciting. We never stuck to any formula, I always work with new studios and artists to keep things fresh. I hate stagnation. This time it was a Norwegian shaman, Mr. Espen Dyngen who lives in the mountains alone and sleeps outside in a wigwam, very inspiring guy. Often fishing and hunting for food, by living amongst nature, he brought a lot of inspiration into the verses. We added new details to our musick, some songs you need to hear four or five times to discover all we've put into them. I would say this is our most vicious album yet. Jason Suecof and Mark Lewis forged an aggressive sound wall in Audiohammer studios [ Florida/ USA]. You can distinctly hear each instrument even the bass guitar, present at all times. Songs like "BAPHOMET", "SWINEFEVER – REGENT OF PIGS", TOTENKULT – EXEGESIS OF DETERIORATION or "THE DEVIL´S SON" are the perfect representations of how we wanted to sound for 2017.
Metal Nexus: Last year in St. Petersburg, Russia you were assaulted by a Russian orthodox activist at the airport. How do you deal with things like that and continue to stay calm?
Helmuth Lehner: Religion is still the base of political power in most countries, and as long as there are sheep, there will be corrupt tyrants intent on leading them. Religion is the most efficient way to control and mold a large number of humans, so I do not see true freedom of expression happening anywhere in the world anytime soon. Some countries are just more brainwashed than others.
I've traveled the world for two decades and I adore it. It's expected to come into contact with shit like that sometimes. It shows me we are doing something right if they take us so seriously We are not here to please everyone, we please ourselves first. If people get it and respect our legacy, we highly appreciate that.
Those people are the reason why we are still here and trying to get better and stronger as musicians and performers. It's fine by me if other people are offended and/ or hate us. To each their own. I don't waste my time worrying about that, it's their loss, not mine.
Anyways, as far as the situation in Russia goes, I don't see myself as a victim. I knew better than to attack him and respond to his provocations. It should go without saying that if it happened on neutral ground it would have been different for those degenerates. Thanks to Mr. Karl Sanders of NILE who stood in the way and blocked him. What a loyal gesture from Karl, I will never forget that. Otherwise, everything could have gotten really out of control.
I hope people like that never get into power, or ART in general, will be more suppressed and censored than it already is. Books, film, musick, etc. will be forbidden or burned again. I don't need anyone to make decisions for me and my life. We created a song about these types of deranged people, entitled "SWINEFEVER – REGENT OF PIGS".
Metal Nexus: Lehner stated in regards to 'Totenritual': "It is the most brutally heavy offering we have consecrated thus far." What do you think is attributed to this being more brutal then previous releases?
Helmuth Lehner: We've never had a recording lineup as strong as we do for "TOTENRITUAL". It feels great and I am very proud of this new LP. We added many technical details without sounding like a Death – Jazz band. I tried to compose intense several riffs but still repeat parts that do not become too modern. We are still a riff band, and that's what we do – create hellish riffs of fire. I record all of the guitars for the albums since 2006, but we always recruit an experienced session guitarist for live shows. It is the first time we've tuned our guitars down to B and A#, which is way lower than we've ever done before. That was a new challenge to me and opened me a new world of shredding: The plan as we started this project, to create our most brutal LP with a ritualistic vibe that runs throughout all nine compositions.
Metal Nexus: Your lyrics are a huge part of the Belphegor sound. What inspires your lyrical content?
Helmuth Lehner: There is a lot of shit currently going on in this world and that always makes for good inspiration for art and musick.
Sex-magick and self-creation are still themes in BELPHEGOR´s lyrical content on the new offering and that won´t change. Maybe it's more subtle nowadays, not so loud and in your face. You can't divide sex and evil, that doesn't work. DIABOLI VIRTUS IN LUMBAR EST, as a song title from "LUCIFER INCESTUS [2003] album sums it up, an old archaic Latin poem. Translated it's like: the power/ stamina of the devil is in his hip. Here is a kind of breakdown of some lyrical work:
"THE DEVIL´S SON" deals with the life story of the Italian violinist Niccolo Paganini, written from his point of view. He had very pale skin and always dressed in black His virtuoso violin performance and [demonic] technique of precision and his appearance with his long limbs, nimble fingers, and joints led people to the idea that he must have been possessed and had a pact with the devil. Very interesting indeed. The song is blasting with ultra-fast shredding guitars and a classically influenced arrangement.
"APOHPIS – BLACK DRAGON" the ruler of darkness and chaos, the black dragon, indestructible. He always takes the forms of dragons and serpents. If you look into his eyes for too long you die. He is said to be the oldest enemy of the sun god RA [RE] in Egyptian mythology, born from the saliva from goddess Neth. Vocals on this exalted track are in four different languages. I've been on vacation to Egypt three times from 2005-2010 and had the chance to experienced so many inspiring places there. I've visited the Giza Pyramids [been inside one, magnificent and impressive. I've also been standing on top of the Sun Pyramid in Mexico two times, those places are worth traveling to more than once]. Been at the Valley Of Kings, Luxor – Karnak Temple, Museum in Cairo where I saw the mummified Tutankhamun and his golden death-mask and loads other interesting things, so I know what I'm talking about.
"SWINEFEVER – REGENT OF PIGS" the probably the most brutal track on the new album. It is blasphemy towards the hypocritical institution of the church.
"BAPHOMET", the sabbatic Ritual Goat, a divine androgyny, power absolute. Goat God Dominus!! The arrangement deals with the duality of life. Man – Woman. Death – Life. Fire -Water. Human-Demon, Night – Day. It is also about discipline, freedom and the will to walk your own way "alone" without letting someone else decide things relating to your life. Its essence is purity in solitude. When two become one, all is silent.
"EMBRACING A STAR" is musically probably the most experimental track on TOTENRITUAL, and I am very proud of this composition. The track goes directly into the "TOTENRITUAL", it's like one song. Pure Magick. We tried a lot of new things and incorporated several new elements, such as acoustic guitars, monk choirs, chants etc.
You can hear these ceremonial influences throughout the whole album. It is very different from the rest with the lyrics being very philosophical. Old magical manuscripts and works of Crowley are also referenced in the lyrics; sex, magick, and self-creation. It celebrates the inner ecstasy and self-empowerment that comes from sex for pleasure. Every sexual act is not meant to create new life and that is as blasphemous and insulting to the Christian ideas of human relations. I relish in this idea and practice. The mood is elevated and holds the spirit of what Friedrich Nietzsche preached: self-overcoming.
Metal Nexus: What do you do on tour to relax after dominating fans from the stage?
Helmuth Lehner: Always depends. As a private person, I try to get as much solitude as possible. I save my energy for our live Rituals and we march in worldwide. We will return to North America 5th of November until 10th December 2017. This is our eleventh tour since 2006. Line up and dates will be announced during end-September. I can already promise you one of the most brutal Death/ Black metal packages of 2017.
Watch our social media sites for news and announcements. We want to bring a bigger production this time and make this headliner raid something special and outstanding for the people who attend the cremation ceremonies. We really dig touring North America, it's a pleasure and honor to celebrate "Diabolical Death/ Black Metal" with you guys.
I also want to mention that the digipak version of the album comes with two bonus live tracks, both recorded in April this year at Inferno festival in Oslo, Norway with the titles "GASMASK TERROR" from the "CONJURING THE DEAD" LP and "STIGMA DIABOLICUM" from "BONDAGE GOAT ZOMBIE".
Metal Nexus: Will my face be intact after a Belphegor show, or should I bring a bucket to catch what is left of my melted face?
Helmuth Lehner: Yeah right man. Thank you for the space in Metal Nexus. A BELPHEGOR concert is more like a Ritual than a typical Metal show. As I revel in leaving my body for +/- one hour during a live situation, letting the demons take over and submitting into total possession with the musick, it's a pleasure. I almost cum if the ceremony is great and the audience gets wild while glorifying death musick. (We feel that might be a little bit of an overreaction, and if he actually wants to cum maybe Check out the latest porn videos here.) Often it is Magick between the band and the people, those are the most intense ceremonies if you feel the sweat the obscurity while we fire our tracks with the uttermost brutality into the horde.
Hails to all the demons who support us by listening to our sounds, attending our ceremonies, getting merch and spreading the plague! See you all on the road in Nov./ Dec.. Hail Magick! Hail Death