On Friday night, May 18, 2018, Combichrist kicked off the start of the Everybody Still Hates You Tour at the Glass House in Pomona, CA. They did an exceptional job of picking their tour mates, as this time around, they are out on the road with Death Valley High, Prison, Night Club, and Wednesday 13. This star-studded show features something for everyone, from hard rock, to goth-rock, to industrial, and even industrial pop.
Night Club is a band that has been making waves, and making a name for themselves. The duo, comprised of Mark Brooks and Emily Kavanaugh, have a poppy sound, with an industrial flair. Having toured with bands like Aesthetic Perfection, and recently opening two shows for A Perfect Circle, it is obvious why the band is in such high demand. They have such an intense energy on stage, and Emily made it a point to interact with fans, who were singing the lyrics with her on Friday night. Night Club played a couple of new songs, including "Candy Coated Suicide," from their new, highly anticipated album, 'Scary World', now available for pre-order. The crowd loved the new material, and it's safe to say the new album will be just as well-received!
Wednesday 13 is a man who knows how to put on a show! He and his band of ghouls entranced the Glass House with their own brand of mesmerizing gothic rock! Wednesday switched between a few costumes, including an Edward Mordrake-style mask, acting as his second demonic face. The costumes complimented their set perfectly, adding a unique, artistic (and some might even say creepy) element. Many Wednesday 13 fans were in attendance, dragging themselves up from their graves for a spook show of an evening. The band always puts on a fang-tastic show, and Friday night was no exception! The audience sang along to hits including, "Blood Sick," "I Walked with a Zombie," and crowd favorite, "I Like to Say F*ck." They ended their set with a teaser of "Bad Things," and left the audience blood-thirsty for more!
Combichrist hit the stage with an unrivaled energy, in a flurry of pulsing lights bright enough to blind person! It was recently revealed that this will be their last tour before they go into the studio to work on a new album. The mastermind behind the act is Andy DeLaPlegua, a man that most certainly does not know the meaning of the words "slow" or "calm" when it comes to performing. Joe Letz is a character all his own behind one set of drums, taking on the persona of Neutered Nancy for live shows. All members of the band performed wonderfully, despite some technical difficulties, which plagued all of the bands on the bill, as can be expected on the first stop of the tour. The Glass House got to her Combichrist favorites including "Exit Eternity," "Get Your Body Beat," and "F*ck that Sh*t." Combichrist's live show is something one needs to experience to truly appreciate!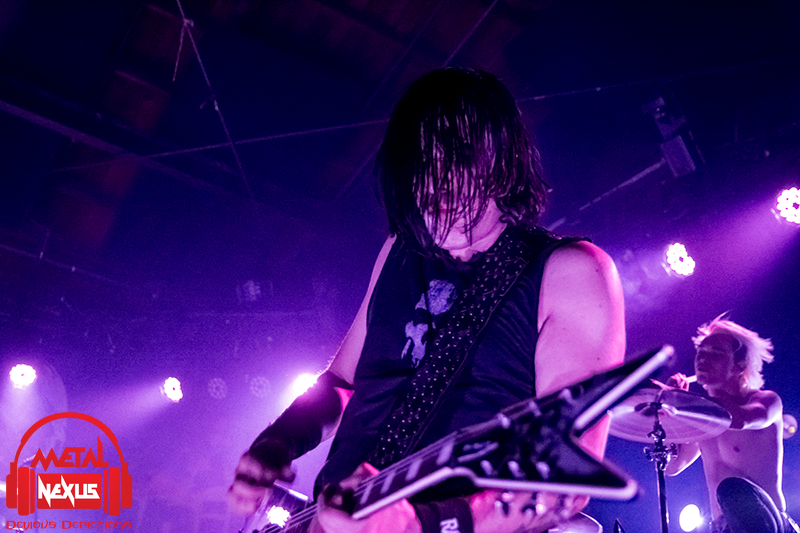 Combichrist, Wednesday 13, Night Club, Prison, and Death Valley High just started the North American leg of the Everybody Still Hates You Tour! There is ample time to purchase tickets and witness this awesome lineup for yourself! The Glass House in Pomona, CA was host to the tremendous start to the tour, and those who were not in attendance missed out!