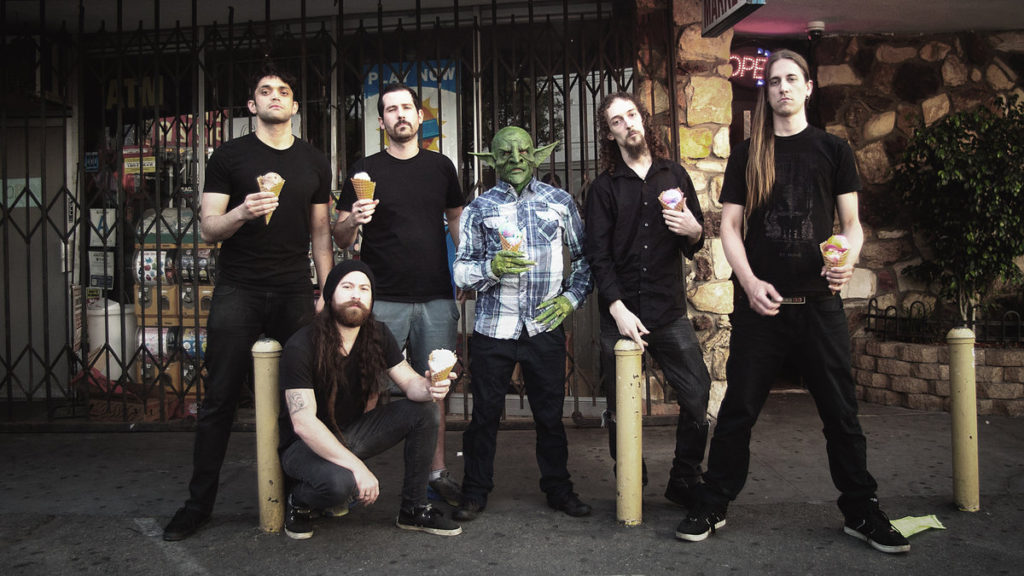 The hype man is alive and well in the metal community, and his name is John f**king Goblikon. If you aren't listening to Los Angeles, California's melodic death metal jesters NEKROGOBLIKON yet you are seriously missing out on one of the best acts to grace the stages of the United States.  Nicky "Scorpion" Calonne (Lead Vocals, Keyboard) Alex "Goldberg" Alereza (Guitar, Backing Vocals), Aaron "Raptor" Minich (Keyboard, Backing Vocals), Aaron "Zoot" VanZutphen. NEKROGOBLIKON has released 3 full albums 'Goblin Island', 'Stench', and 'Heavy Meta' as well as one solid E.P. 'Power' since they crawled out of some smelly hole in California back in 2006, and now they've dropped another one on our heads titled 'Welcome To Bonkers' which released on Friday, April 13th 2018 courtesy of Seek And Strike Records.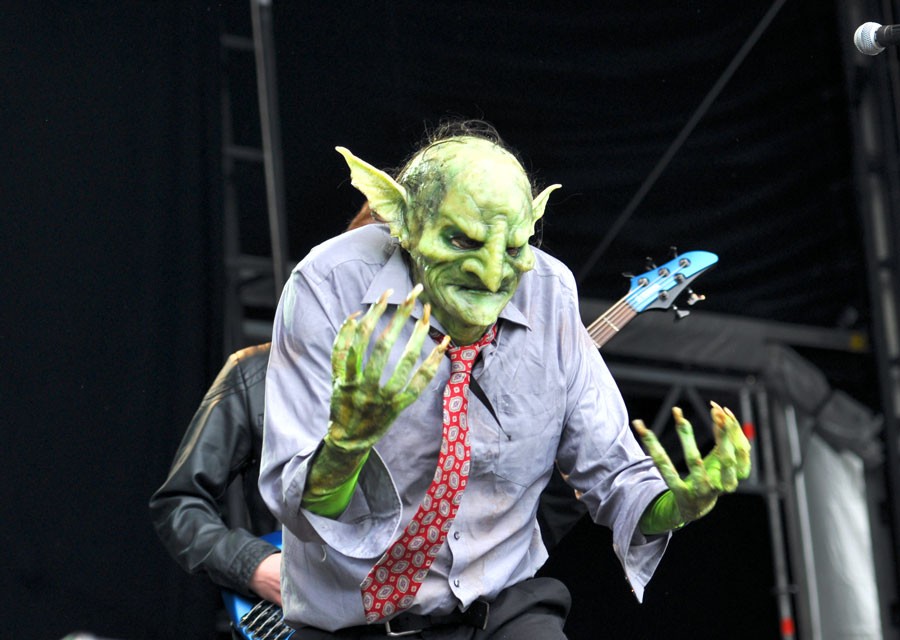 If you've listened to NEKROGBLIKON you already know that they're in a league of their own in today's music scene. Take the best parts of melodic death metal, throw in some synth tones, a splash of EDM and screams about goblins, bears, giraffes, and a whole slew of fantastic and gruesome topics and what you get is an extremely talented, and entertaining band that proves you don't have to be so damn serious to make great, heavy music.  It may come as a surprise, but metal does have room for a little bit of silliness, and that's what makes 'Welcome To Bonkers' a great addition to the NEKROGOBLIKON discography. You can read our review of the album here.
We had the opportunity to speak with the front goblin himself Nicky "Scorpion" Calonne and talk to him about everything NEKROGOBLIKON and their brand new record 'Welcome To Bonkers'. You can read the entire interview below.
Metal Neuxs: I'd like to start by saying thank you for taking the time to let me talk to you, Congratulations on the new album, it was the perfect addition to your discography, I reviewed it and it's now on my daily listening playlist along with a whole slew of Nekrogoblikon songs from previous albums.
Nicky Calonne: You're welcome. Awesome! Glad you're enjoying it.
Metal Neuxs: Do you feel the album been received well by the rest of your fans?
Nicky Calonne: Yes. This album has been well received by fans so far.
Metal Neuxs: How did the initial idea for the album come about? Was there any member of the band with a specific idea, or song that set everything in motion?
Nicky Calonne: After Heavy Meta, we did a few tours. At that point, the future of Nekrogoblikon was quite uncertain. After being pressured to write new material, I decided we could at least do an EP, and I wrote the song "Mold." We went on a tour with Alestorm in October 2016. On that tour, after many drinks, somehow we decided that it should be a full album instead of an EP. A few days later I was texting back and forth with Jason Suecof, who ended up being the guy to record and mix the album. I had from about November '16 to April '17 to write the songs, so that's what I did.
Metal Neuxs: Would you say that 'Welcome To Bonkers' is a concept album or has an overall theme tying everything together?
Nicky Calonne: No, it is not. Because it was all written within a relatively brief timeframe (when compared to our older albums…STENCH took about 4 years, for instance), there is a general sense of cohesion, but it was certainly not intended to be a concept album. Writing the lyrics for Heavy Meta (which is a concept album) took a lot out of me, and I vowed not to do another concept album again for a long time.
Metal Neuxs: How does a song come together for Nekrogoblikon? Do you all write together and let things happen organically, or what is the bands process for creating new music?
Nicky Calonne: It's changed over the years. Right now, basically I write something out in a sequencer, with MIDI gtr/bass/drums, and write the lyrics/record the demos over that. For WtB, I was drinking plenty of wine. It would basically be drink wine and write one day, be hungover and chill the next day- on repeat- for months.
Metal Neuxs: You recently added Eric Brown to the Nekrogoblikon family, I'm familiar with some of his previous work so naturally I'm curious as to how this collaboration came to be, and how much of an influence some of his previous work might have had on writing the album?
Nicky Calonne: Yeah, we love Eric. As far as influence, yeah, not that much. Obviously there's the omnipresent "Chiptune Lead" (what a good logic patch), and Eric makes chiptune music, so you can see the connection there. Who can say if that's the patch we would have gone with if Eric hadn't joined the band. Probably, but who knows. It wasn't in the version of logic I was using when we were working on Heavy Meta. Also, I used a lot more soft synths on this album than ever before, because they've gotten to a point where that's fine and if it ain't broke don't fix it. I still used my trusty Fantom X for a lot of the sounds, but also soft synths. The intro of "Dragons" was not originally what it is now. I had more of a 70's Billy Joel piano intro for it, but Suecof copied the key stem from the post chorus to the intro, and we got attached to it. I was like "really?" and he was like "yeah!" He's a sucker for that megaman shit.
Metal Neuxs: What can fans expect to experience when seeing Nekrogoblikon live? Is there anything new you have added to your live performance, or anything that ties in the theme of goblins?
Nicky Calonne: Fans can expect a high energy metal show, a bassist with a beard and just one dreadlock, and also a dancing goblin. New additions to our performance? No, not really. We might use some prop-based humor with the goblin on warped tour.
Metal Neuxs: I'd have to say that "Dressed as Goblins" is one of the most entertaining songs Nekrogoblikon has put out to date. The music video for it captures the feel of the song, but how could it not when it's directed by the one and only Brendon Small. How did that relationship begin, and what was it like working with him? Are there any other plans for collaboration for us to be excited about?
Nicky Calonne: No other confirmed plans for collaboration thus far. Originally the music video had this minute plus long dance sequence featuring the band members and Brendon really wanted to use it, but we ended up cutting it. The relationship began when "our people" reached out to "his people" and it turned out he was interested in directing music videos.
Metal Neuxs: It seems like there is always songs on any Nekrogoblikon album that is a curve ball in regard to style and sound. On 'Welcome To Bonkers' I believe that song is "The Magic Spider" which has a super melodic flow and some piano as well. What was the inspiration behind this track and was it intentionally created to stand out?
Nicky Calonne: I usually come up with nicknames for the other band members, most of them like it. With Eric, the obvious nickname was "Rainbow Brown." I thought of a funny name for a children's book once: "Rainbow Brown and the Magic Spider." This made me laugh and I decided it had to be a song. Later, when I came up with the main spider riff, it was obvious that this would be that song. I shortened it to just "The Magic Spider" when I realized the lyrics weren't about Eric. I fought for this song to be on the album, and for the vocals to remain clean. I write a lot of stuff all the time, mainly just for personal reasons (as in I haven't released anything beyond nekro)- the bulk of this stuff is NOT metal. In many ways, the metal is the exception. So no, I can't say The Magic Spider was created with the express purpose of standing out, but upon hearing it, it was pretty obvious that it would. I like to push the envelope of what people deem acceptable as "Goblin Metal." Straight metal, to me, is very very boring.
Metal Neuxs: For anyone who has listened to Nekrogoblikon over the years, we know that you have a variety of sounds, and a sound that goes pretty much without comparison. How does Nekrogoblikon stay so unique? Do you all listen to a variety of genres while writing, and are there and major influences that fans should know about?
Nicky Calonne: The main influence is freedom of expression. If we had been signed on the first album, and blown up, then obviously we'd still be putting out music that sounded exactly like that, or just failing. Since we've always been underground, there hasn't been outside pressure. One of my big goals with Nekrogoblikon was to get out of the "Goblin Box" after STENCH. If you're a keen observer, you may have noticed that the word goblins is only mentioned in 3 of the songs on Welcome to Bonkers. People think it's about goblins anyway. I don't like being confined to one style or sound, and the music reflects that.
Metal Neuxs: What are some of your favorite goblins throughout history and pop culture and which movies have the best goblins?
Nicky Calonne: I like the WoW goblins, Labyrinth goblins, and of course all the goblins in the "Gremlins" movies. Historically, my favorite goblin is Teddy Roosevelt.