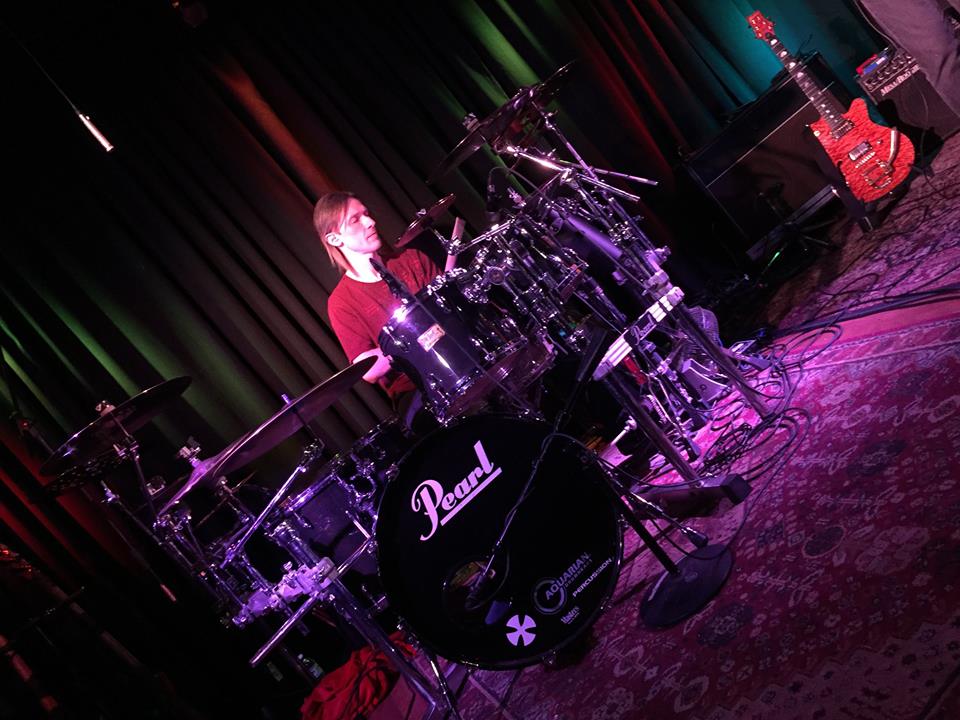 Mitch Hull is a drummer based in North Carolina whose musical resume includes everything from metal to country. Currently, he's one of the busiest musicians out there – playing with everyone from unknowns to legends (Ryan Martinie & Bon Lozaga in their new band Soften the Glare). To meet Mitch, you'll immediately find a friendly, kind, unassuming guy, yet within a few minutes of conversation, discover that he's had a pretty enviable career (and, even had a hand in starting one for a now well-known recording engineer). STG's highly anticipated first album, 'Making Faces', is set to release Spring of 2017.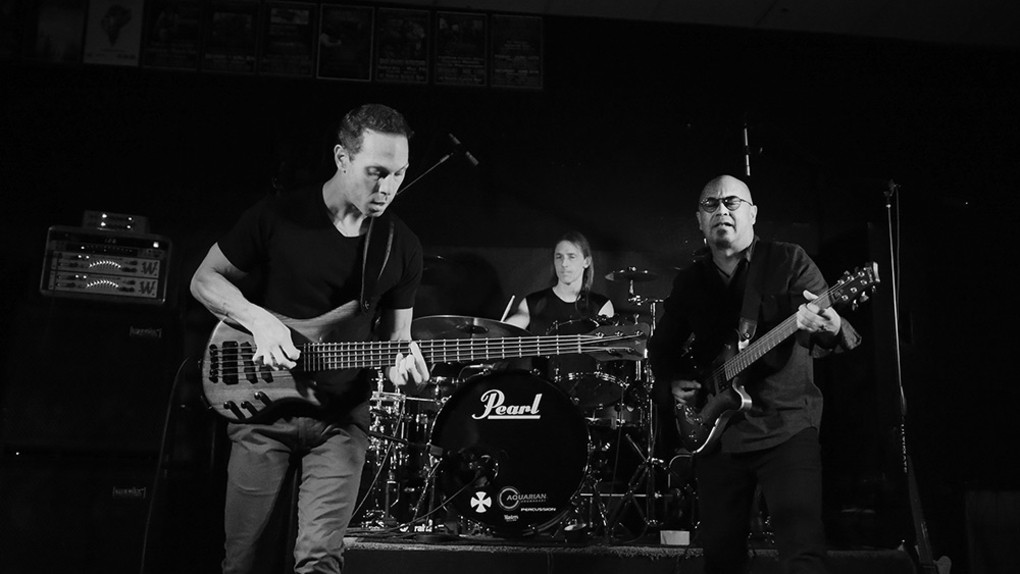 Metal Nexus: Ok, to begin, let's get some background. When did you start playing drums, and what lead you to it?
Mitch Hull: I started beating on foot stools around 3 years old, I got my first little kit when I turned 5 years old. It was Christmas 1972 and I also got a guitar, keyboard and a microphone. I was around music constantly due to my father owning a record store called Marty's and the local radio station. Mom always had music going and would bring stacks of 45's in my room and say, "play these", so I would stack them on the record player and go for it. I learned every song in the house! I was obsessed with learning every song I could find because I thought if wanted to play drums, then I needed to know every song! So, my days would consist of playing along to The Monkees, Diana Ross, Elvis, Bill Haley, Buddy Holly, Beach Boys and lots more. I was also taking guitar lessons so I would try playing everything on guitar too. Seeing Elvis's "Live from Hawaii" in 1973 was a pivotal point for me. It was equivalent to other drummers citing The Beatles appearance on the Ed Sullivan show as being an influential moment in their career. Around this time, I started during Elvis impersonations around the region. I would open up beauty pageants around North Carolina, Virginia and South Carolina. I did this from age 5 till around 9 which led to being onstage with Elvis twice. As I got better, I decided to buy one of the best drum set kits for kids and I loved it, I used that guitar every time I performed. I was wearing my Elvis suit at the show and he spotted me and brought me up on stage with him for a few minutes, pretty wild experience for a 7-year-old!
One day in 1976, just like routine, mom walked in with a stack of 45's but there was something different in that stack of records, there was new song by KISS called "Shout it out Loud". I found it scary at first so I put it on a shelf. After a few days I listened to it again and within days everything changed, that sound and energy was something I hadn't heard before, and I loved it!
Metal Nexus: Who would you say have been your biggest influences?
Mitch Hull: I've been influenced by so many people for different reasons. Early on it would be Ronnie Tutt from Elvis's band which I owe a lot to. I learned a lot from watching and playing along to him. Looking back I realize I was influenced by Hal Blaine (The Wrecking Crew) and then it would be Peter Criss, John Bonham, Neil Peart, Bun E Carlos, Alex Van Halen, Steve Smith, Jeff Porcaro, Buddy Rich, Dave Weckl, Dave Grohl, Gavin Harrison, Tony Williams, Art Blakey, Charlie Benante, Mike Portnoy, Terry Bozzio, Rod Morgenstein and plenty more. I'm still a student so I'm constantly exploring new things. I'm also influenced by other players and sounds too. I learned a really good concept for getting around the drums in triplets by dissecting a Steve Vai guitar lick. I still teach this motion in class today. Listening to nature and other daily sounds can influence me to come up with rhythms too.
Metal Nexus: You're a busy guy! You play in multiple bands and, also teach drums! And, that's on top of recording with Soften the Glare. How do you balance it all? Is there a significant difference in how you play for each band?
Mitch Hull: Aside from Soften the Glare, I play in several cover bands like 3 Card Monte and do lots of fill-in's, too. Last week I sit in with The Plaids for two wedding gigs and a show at the Fort Bragg Fair in Fayetteville, N.C. They play a variety of stuff ranging from "Folsom Prison Blues" to "It's Tricky". I also sat in with Will Jones last week, a local country band and played Merle Haggard, Blake Shelton, George Strait and more. I set up different sets to fit the gig so I end up playing a different set every week, which I like. You can hear me on the new "Craig Vaughn Experience" and hear another side of me. It's more blues rock and straight forward. No crazy time signatures like Soften the Glare! As far as balance goes it's just how I've always functioned, it's just another day of playing.
Metal Nexus: Speaking of teaching – How long have you been doing it? Are there any musical genres you teach more often than others?
Mitch Hull: I've been teaching off and on since 1984. I've had lots of students through the years and many have gone to be successful. Jamie King was a student of mine who is an incredible drummer and also just recorded and produced Soften the Glare's debut album. He has worked with many artists including Between the Buried and Me, The Contortionist, Scale the Summit and more. It's been really cool getting to work with him.
I always find out what music the students is into to help give me direction but it's really all the same path to me. Our language consists of 26 letters but creates many words. I feel teaching the basics is the key to learning whatever style they want. As far as genres go, this past week I taught everything from "The Reason" by Hoobastank to "Kung Fu Fighting". I tend to have more of the rock/pop/country students but have a few into jazz and prog.
Metal Nexus: Since touring season is about to begin, how do you stay connected with your family while away? (Outside of phone calls, obviously) Are there any special "Before you hit the road" traditions?
Mitch Hull: With cell phones, it's just another day when touring. Back in the 90's I toured a lot all over the country and was always calling and leaving hotel info. I had a calling card but those weren't cheap! Even though I have a Skype account I've yet to use it or any video chat.
Before going on the road I make sure I eat at home the night before. I know I'm going to have to eat out while on the road so if I have a tradition, it's dopiazo tofu with rice and naan bread!
Metal Nexus: Tell us about your best and worst venues played.
Mitch Hull: I've played so many places and different situations that nothing really takes those titles. I've played huge places with a small turn out and the opposite. Sometimes the best ones are on a small wooden stage in the woods playing for 100 people who are loving it! They have their own vibe and memories so I have many "best" places. Now if you want to talk about best and worst load in/outs then I have lots of places on that list!
Metal Nexus: Playing in a band requires a lot of cooperation, consideration, and, patience. I'd imagine even more so when playing in numerous bands with so many different personality types. How do you keep it together?
Mitch Hull: Most of the bands I play in are lifelong friends so it's always like a reunion when I play with them. I'm fortunate to play with a lot of professionals that all understand how it works so it's a smooth machine for the most part. I'm a laid-back guy and can fall right in with most people. I've been in radio, retail, managed a band and more so I've done a lot of public relations work and have always gotten along with everyone.
Metal Nexus: So, Soften the Glare has been in the recording studio with Jamie King. How has that been going? Explain a bit about how the new album has evolved over the last year.
Mitch Hull: Hitting the road prior to recording was what we needed to flush out the ideas and get the songs down really well. We were able to tighten them up and let them develop while on the road. Once in the studio we tracked the drums in a couple of weeks and then Bon (Lozaga) and Ryan (Martinie) started tracking. After they finished I went back in to do percussion overdubs in which I played everything from shakers, bells, a tin roof, a floor tom with air pellets in it and even played a door! It's a been a blast recording with Jamie. He helped push me and the guys for the right takes and has been a big player in the development of this album. He's part of the team!
Metal Nexus: You've been at this a very long time – what would you say is the most inappropriate thing a fan has tried with you?
Mitch Hull: Well, I don't remember anything ever being inappropriate BUT someone did give me a shot of Jagermeister laced with GHB once and I basically rolled off the drum riser after 10 minutes. Now THAT was inappropriate!
https://www.facebook.com/softentheglare/