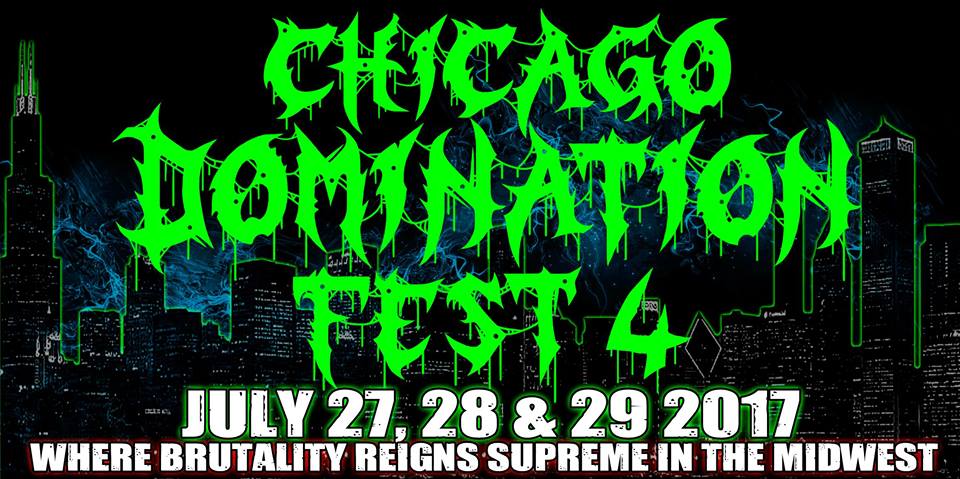 I once ran into a guy at a China Buffet off of I-57. The guy wore a Krisiun shirt, so I had to at least shake his hand in between trips for more General Tso's chicken, as not many people around these parts would have any idea as to who or what Krisiun is…. So, I come to find out that this fan of Brazilian metal is not only a die-hard fanatic of brutal death metal, but also happens to be one of the guys behind Chicago's premiere death metal festival, Chicago Domination Fest. His name was Jesse Denton, and he, along with his fellow patrons of brutality, are hosting the fourth annual Chicago Domination Fest this summer at Wire in Berwyn, IL! Jesse was gracious enough to answer some of my questions about promoting Chicago Domination Fest – he also elaborates on the brutal death metal community as a whole, and his relationship with death metal label New Standard Elite!  
Sprawled among three days, July 27th-29th, the festival features a stacked lineup with performances by Gruesome, Putridity, Diabolic and over 25 more gut-wrenching, brutal bands! The VIP tickets for this monster festival vanished in less than a week, but you still have a chance to score general admission tickets via the Chicago Domination Fest Big Cartel website here!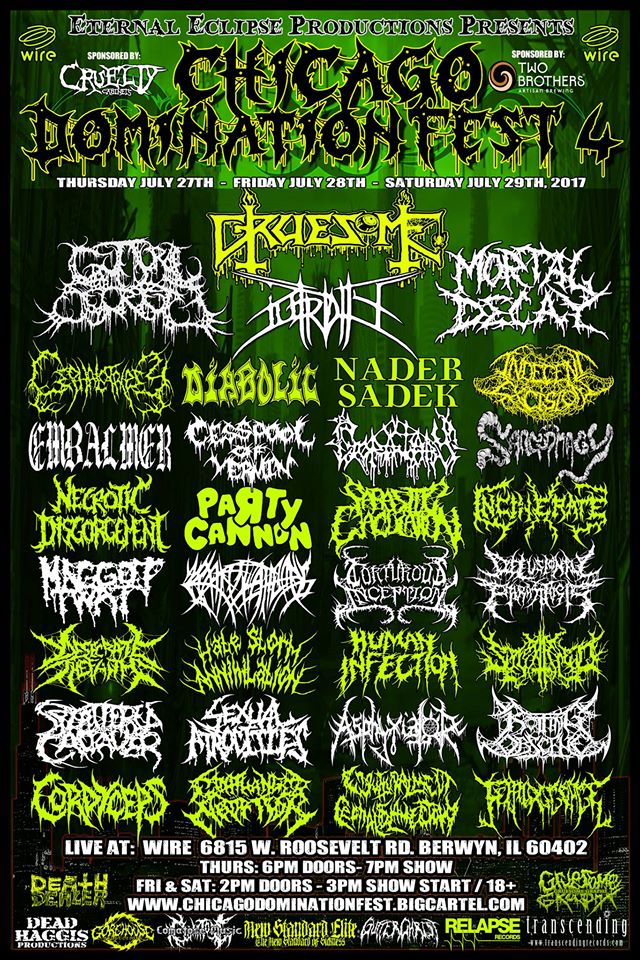 Nexus: I'd ask you how you do it, man, but it's no secret that you are promoting Chicago Domination Fest out of your genuine love for all-things brutal death metal. That much is evident in the social media presence that you have built around the festival, alongside Miguel (Medina, co-promoter). What's it like to be working with people who are just as passionate about the subgenre as yourself?
Jesse: Hey Noah, thanks for giving me this opportunity! I gotta say, it's been nothing but fantastic. As far as working with Miguel goes, he's been one hell of a mentor; before CDF, I was nothing besides a fan and a collector, I had never seen the business side of things before, or promoted any shows. One day Miguel called me up, said he saw how passionate I was about death metal and my desire to jump into deathfest promotion and asked me to be a partner in the fest. He's done a great job of showing me the ropes and teaching me how things work. As far as the bands, we book nothing but bands filled with great dudes who play the music solely for the love of it. Surrounding myself with a community of like-minded people has been an experience unlike any other.
MN: I've noticed that you are making a real effort of your own, to engage with fellow death metal fans online. You recently launched a blog partnered with death metal label New Standard Elite, right? What is the relationship like between New Standard Elite and the Domination crew?
Jesse: Yes, Daniel (Osborne, label owner) and I recently started a forum/discussion board online for brutal death metal fans globally to have a place to discuss music, merch, shows, and etc. Almost every year of Chicago Domination Fest has been involved with NSE in some capacity, even going back to the first year, where Gorgasm and Delusional Parasitosis, both NSE signed bands, played. Last year, Dan's band Inherit Disease played, and he had the label merch booth set up, which will be happening again this year; so needless to say, we've had a long-standing relationship with the label. This year, NSE band Delusional Parasitosis is making their CDF return, and newcomers Cordyceps will be playing as well.  New Standard Elite is personally my favorite label currently running and I own almost everything he's released. On a more personal level, Dan is not only one of the sickest, most passionate-about-brutal-death dudes I know, he's also one of the most down-to-earth and generous people I've met, inside or outside the death metal scene. He was one of the first dudes I met when I first began journeying into the fetid realms of the underground and really helped me find my place here.
We certainly plan on continuing our partnership with Dan and NSE as a whole, he's shown us nothing but love and support as long as the fest has been around, so we are compelled to do nothing less than return the favor. A little bird has mentioned to me that the New Standard Elite showcase tour, a tour comprising only of NSE signed bands, will be moved to 2018, as well as the fact that Chicago Domination Fest will be a definite tour stop. No bands have been confirmed yet, but everything on the label is absolutely KILLER. Personally, I've got my fingers crossed for Excoriation, Hymenotomy, Ecchymosis, or Secreted Entity, but I'll be happy with whatever Dan brings our way.
MN: Now this is Domination's fourth year going strong, so you've definitely endured the ups and downs of running a full-fledged metal festival. What has been the most rewarding experience so far, as a fan and a promoter?
Jesse: This is personally my second year of the fest biz, so I won't pretend to act like a pro, but yes, I've seen a lot of the trials as well as triumphs already. As a fan, it's incredible meeting all these band members and other fans from around the country, people I've spoken with on social media for years and never thought I would meet in person. Hanging out, drinking, and talking sickness with these people is always such a highlight at any show I go to, but at a fest, you have people from all over, so it's that much better. As a promoter, knowing that I've brought these people together is such an incredible feeling. Bringing some bands to the Midwest that many people here never dreamed of seeing is fulfilling to the highest degree. Death metal has given so much to me, all I want to do is give back, and throwing a fest like this is the perfect way to do so.
MN: Booking amazing bands from overseas must be a pleasure too; this year you've got Putridity and Indecent Excision coming from Italy; plus Party Cannon and Crepitation from the U.K. – with that in mind, would you say that you have faith in the U.S. customs and border system? I only ask because it seems like bands are being barred entry into the country more often these days, considering our current political climate. 
Jesse: Faith? Perhaps not. Willing to give it a shot regardless? Yeah. Tons and tons of bands come to the States from overseas every year, maybe 2-3% get turned away. I'm not worried; we've crossed all our p's and q's, so I'm very confident that everything is going to run smoothly.
MN: Now speaking of the American bands on the lineup, I might as well address the elephant in the room – Gruesome is headlining on Saturday. This has to be the perfect testament of the festival's growth and rising reputation in the death metal community at large. Is it fair to say that their addition to the lineup is a sign of bigger things to come in the future for Chicago Domination Fest?
Jesse: Absolutely! Gruesome is one of, if not perhaps the most renowned and currently hyped band that Chicago Domination has featured to date. It's been surreal working with members of some of death metal's elite and top tier bands including Exhumed and Possessed. We certainly plan on expanding in the future, the key is to regulate that growth to a manageable level, not expand too quickly and implode upon ourselves. However, we absolutely refuse to plateau or tread the same ground over and over. This scene constantly clamors for heavier and faster and sicker; how could we refuse to oblige this demand? Every year is only going to become a larger and larger monument to the glory of brutal death metal – never stagnating, never shrinking. We aim to constantly push ourselves. Granted, we may never get up to the likes of booking bands as large as Cannibal Corpse or Morbid Angel, but that's not our aim. Our ultimate goal is to grow and bring as much brutality to the Midwest as possible, while still keeping the underground spirit. We don't want to be Wacken or Bloodstock-lite. Not for us.
MN: What are some bands that you would like to book in coming years that haven't yet played the festival?
Jesse: Now that's a can of fucking worms haha. The beautiful thing about promoting a genre I love is my wish list will never shrink, no matter how long I do this. One of my personal dreams is to bring over Brazilian band Rebaelliun to the States for the very first time since they started back in 1998, or bringing Spawn of Possession back to America for the first time in fuck knows how long would be incredible as well. Having Demilich play the Midwest, or really anywhere in the states that isn't an MDF (Maryland Deathfest) offshoot, would be fucking orgasmic too. Booking one of my favorite bands ever, Immolation is another dream. More realistically, booking bands like Devourment, Severe Torture, Skinless, Wormed, or Broken Hope would be incredible. Seeing as how The Chasm is once again recording, booking them would be a dream come true, though they've told me they have no plans for live shows as of yet. Personally, I'd love to inject some old school death metal into the line-up eventually, so booking bands like Blood Incantation, Chthe'ilist, or Cardiac Arrest would be sick as well.  We're known as well for lots of reunions too; last year we had the Brodequin reunion show, and this year, we've been instrumental in resurrecting Splattered Cadaver. So bringing back some long dead bands would be such an incredible dream. Bands like Inveracity, Torsofuck, Digested Flesh, Cinerary, Liturgy, Sect of Execration, Scattered Remnants, or Mutilated would all be such an honor to host, but I know many bands are dead and gone. Again, all of the bands I've mentioned are just dreams, but hey, anything is possible.
MN: Aside from Gruesome, the bill boasts a ton of other native bands from all over, like Mortal Decay, Diabolic, Cephalotripsy, Goratory, Sarcophagy, Rotting Obscene, and on and on and on… I dare ask – which bands' performances should we watch out for most? Are there any bands that you look forward to particularly, yourself?
Jesse: Honestly, without trying to brag at all, every single band is worth seeing. At CDF HQ, our motto is "all killer, no filler". Miguel and I grew tired of seeing so many line-ups featuring a few decent bands but bloated with tons of bands that three quarters of the crowd will be outside smoking for. This is one pitfall we have tried our hardest to avoid, and I think that has been a large contributor to our successes so far. Personally, I'm probably looking forward most to sets from Guttural Secrete, Putridity, Hate Storm Annihilation, Diabolic, and Goratory, but I'm stoked for each and every band on our line-up.
MN: And what should a first-time attendee expect in regards to crowd participation and atmosphere? 
Jesse: Expect to make a lot of friends and hear more blast beats than you thought you could handle. The atmosphere is nothing but a good time. Everyone there is friends, some of which go back many years, as a lot of fans have been traveling to fests as long as fests have been around.  As far as participation, there's plenty of pits, and tons of headbanging, so anyone can feel free to enjoy the music however they wish. The whole weekend simply feels like a massive family reunion, nowhere on earth like it.
MN: You know, Warped Tour is stopping off in Tinley Park the weekend before Domination. Maybe someone is planning a week-long vacation to Chicago – that way they can see both the tour and CDF. Do you have any advice for that person? Haha.
Jesse: Bring drugs.
MN: What are some things that Domination Fest offers that you can't get from other festivals?
Jesse: CDF is all about the support and promotion of death metal as a whole. Nationwide and even worldwide, the "true" deathfest is a dying art. Very few festivals center entirely around death metal anymore, preferring to build cross-genre line-ups. And even when there are deathfests, the majority of them rely on filler bands to fill out their weekends. Chicago Domination fest is one of few shows on the planet that is built entirely around being a festival of death metal, with nothing but top notch bands for an entire weekend. Also, the fest is a smorgasbord of death metal merch, so it's a great place for collectors to show up and spend three or even four figures on shirts with chopped up whores on them.
MN: Representing the Midwest, Chicago Domination Fest definitely holds its own compared to other extreme metal festivals across the country. Is there a small amount of competition that you feel between the festival and say, the Bay Area Death Fest? Or even Full Terror Assault in Cave-In-Rock, Illinois? A competition to see who can assemble the sickest lineup, maybe? Hahaha. 
Jesse: Bay Area Deathfest and Las Vegas Deathfest are definitely our homies! Of course there's always going to be some kind of competition among friends, but there's [not] any animosity underneath. That's one thing I love about death metal; it's never about one person or group's glory, it's all about supporting the scene as a whole. As far as Full Terror Assault goes, we really aren't on the same page as far as bands and demographics go. They're much more on the path to be something like Bloodstock or something: big name bands, outdoor shows, food vendors, all genres, very, very little underground presence, so I never even think about them when considering what bands to book. Most people who travel for something like Chicago Domination Fest really won't look too much into a line-up such as the ones the FTA guys put together. Our entire set of goals and ideals are so drastically different that I really don't believe we're on each other's radars.
MN: Well, it's reassuring to know that someone continues to carry the brutal death metal torch for our region, carrying it to a grand-scale festival no less. Thank you for taking the time to talk about Chicago Domination Fest! Here's to many more! 
Jesse: A big thanks to you and Metal Nexus, man! Thanks so much for giving me the opportunity to speak about the fest to a group of fans who may have previously been unaware of what we're doing. I really appreciate it and I hope to see you there! Keep it sick!