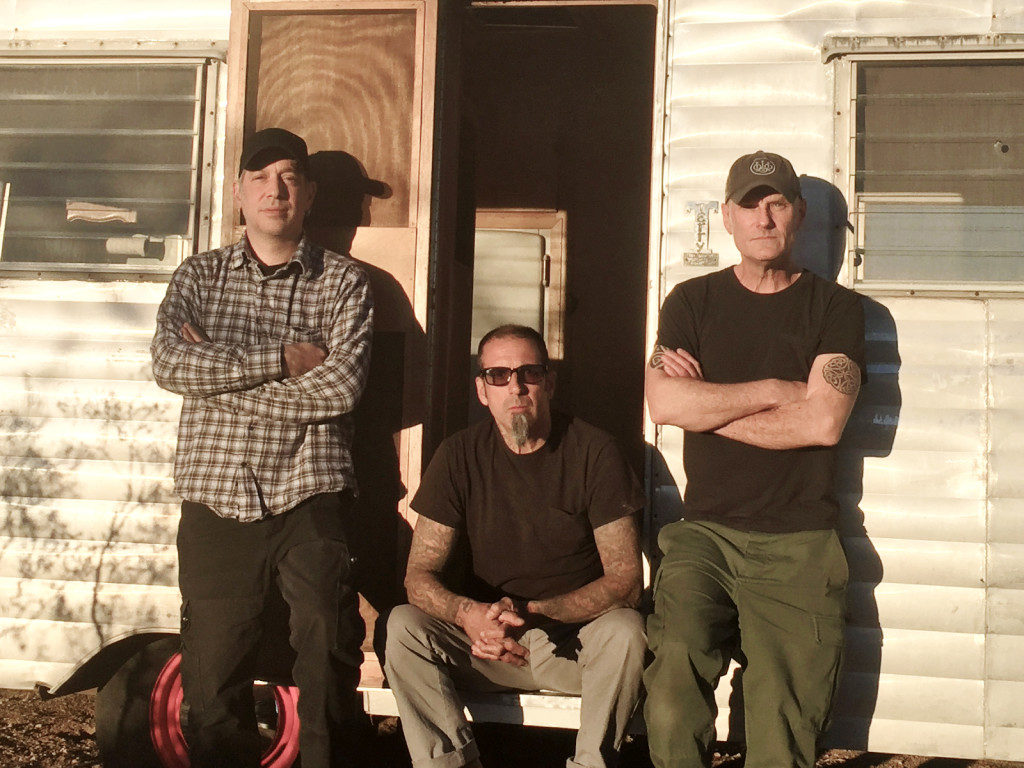 Bone-crushing rhythms, heights of sordid cacophony and a relentless cult following are all important elements of what constitute UNSANE as a musical project. Formed in 1988, the group have proved themselves to be an indefatigable force in the development of noise-rock as a genre. Nearing their thirty-year anniversary, the group are set to release eighth studio album 'Sterilize' via Southern Lord Records on 29 September 2017. The line-up consists of Chris Spencer on guitar / vocals, Dave Curran on bass / backing vocals and Vinnie Signorelli on drums.
The album opens with 'Factory' which is a track that fully emanates a sense of fundamental angst. Pessimism is a quality that permeates the track both in its chord progressions and the atmospheres that surround it. Vocal-wise Chris Spencer is at his cleanest here which is an uncommon trait for the group to carry. Without the usual plunging of vocal-distortion there is a striking similarity of his isolated voice to ex CRIMSON GLORY vocalist Midnight although that's probably not the most popular comparison he's faced with as a vocalist. What I like about the group is that the "noise" elements are actually to be found more so within the distortion of the root notes as opposed to the lead guitar melodies that carry the track, so it's when you're listening to one of the leading melodies that you can really build a sense of the strong chordal voicings that are going on. 'The Grind' is a very percussive track as it opens with a sprawling drum intro that carries it. Vinnie Signorelli is an inventive sort of "song-bearer". He knows how to build a piece and how to carry it but he doesn't overdo the intricacies of his constructions. 'Aberration' is the shortest song on the album and incidentally the only track that has been publicly leaked thus far. It's a very "punchy" song and probably one of the most aggressive ones here, plus it is also notable for it is the first time you really get to hear the distorted vocals decorated in their newest form of studio upholstery. A great song, in fact, but admittedly it pales in comparison to the following song 'No Reprieve', which is simply brilliant. The song is categorized by moments of incredibly stonking riffs and disharmonic guitar lines. This song and its following two pieces are among the strongest moments of the album and they form a very tight partnership due to the fact that they segue into one another via the usage of brief intervals of white-noise soundscapes. 'Lung' is written in 5/4 and the song is kind of based around its time signature. They do a very good job of retaining the core rhythm of a piece. 'Inclusion' is the final track of this "mini-saga" and it is probably the height of the album's complexity, rhythm-wise, as it alternates from a riff in 6/4 and 2/4. When you've got a lot of noise and chaos going on within the melodies it can often be an imperative impulse to occupy one's attention with the rhythms. 'Distance' is where things take more of an ambient turn. It's a song that relies more on rhythmic simplicity for the sake of creating an atmosphere. The atmosphere is built up by vast layerings of lead guitar melodies which almost creates an orchestral feel. I find it immensely impressive how they manage to stick bits and pieces of instrumentation in the most unexpected places, even more so because they manage to do so much with the little scope they've got to work with. 'A Slow Reaction' is one of my favourites as it features a lovely return to the time signature of 5/4 and it's a very memorable piece. 'We're Fucked' is in 7/4 and indubitably one of the most lyrically pessimistic pieces of the album. The final song, 'Avail' is probably the most distinct out of the bunch. It is the longest piece, clocking in at just below six minutes. Instrumentation-wise it is the most stripped-back and it's also very slow in comparison to the rest. A clever move on their part to balance out the extended length with a slower tempo.
Overall the album is strong, compact and it always retains a level of something new. I think this is something that could potentially appeal to metal fans if not more than noise-rock fans, although in a general sense there's elements throughout that will appeal to sectors of both audiences.
Chris Spencer – guitar/vocals
Dave Curran – bass/backing vocals
Vinnie Signorelli – drums
Be sure to check out the links below!