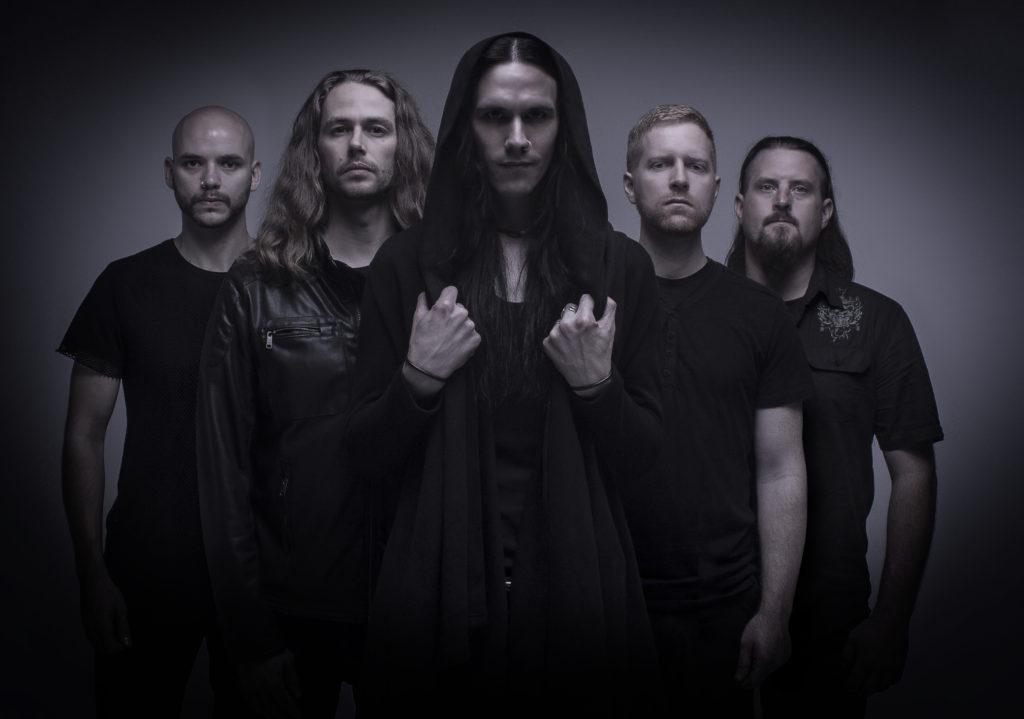 Two and a half years ago in the good wintry month of February, me and my cousin happened to witness one of the best prog extreme metal bands, who were pretty much new to my taste buds. A month before that gig, I started jamming their songs religiously and it instantly struck a chord in my heart. I remember my cousin weeping in all his happiness midway their set when Tim Charles started to move the bow to and fro on his violin strings, thus resulting in the harrowing yet beautiful 'Painters Of The Tempest(Part I): Wyrmholes'. I remember asking him "Dude, why the fuck would you cry in a metal concert?". Yes I know, I was pretty stupid back then and probably didn't understand the catharsis music leads you to. It actually lead me to some long time contemplation, how could someone be reduced to tears with such heavy and intense sonic atrocity.
Fast forward to 2017, NE OBLIVISCARIS are gearing up to release their third full length studio album, 'Urn' via French label Season Of Mist on the 27th of this month. If you still have no clue whom I'm talking about, you live under a rock and let me help you come out of it. NE OBLIVISCARIS, in Scottish meaning "forget not", which is the proud motto of Argyll, Scotland's Clan Campbell, are an Australian progressive extreme metal band. Having formed way back in 2003, this quintet has three EPs and three LPs under their belt as of now and every record has been a testament of their ever increasing technicality and progression as musicians. After 2012's 'Citadel', NE OBLIVISCARIS shot to worldwide fame thus breaking the virginity of many who were new to this wall of sound, which paved their way on Season Of Mist's roster. Does 2017's 'Urn' have the mettle to overpower its predecessor's flair? Let's find out.
This sweet prog juggernaut clocking in 45 minutes starts off with the opening track 'Libera(Part I) – Saturnine Spheres' and it makes you realise the trademark sound of NE OBLIVISCARIS hasn't really faded over the years. With the bass and clean lead intro setting the atmosphere into a "calm before the storm" kinda vibe, the storm finally gets you with the sudden surge of heavy riffing and maniacal double bass, laced with some odd time signature drumming from one of the best drummers Dan Presland. Grueling guitars, exquisite melodic solo, setting the contrast pretty well with Tim's clean vocals and exemplary violin playing, and a pretty well carved proggy atmosphere, the opening track couldn't have been more perfect. All of this serene yet chaotic sonic burst channels itself and pours itself into a much more ethereal ending, where in the sequel, 'Libera(Part II) – Ascent Of Burning Moths' Tim Charles showcases a highly emotional, sharp and precision violin playing.
The third track is probably my all time favourite  NeO song. 'Intra Venus' was the first track to be released as a single from 'Urn', the first listen was orgasmic and so are the numerous subsequent ones, and it doesn't even lose a tad bit of touch and appeal no matter how many times you spin this gem of a song. Just like the first track, clean acoustic guitars pave the way for the forthcoming diverse death metal you might ever come across. That little bass drive at the start is just pure eargasm though. I love how the band can change the vibe right under a second, one time the clean guitars, the violins makes you feel a sense of mysticism, something that yearns to be discovered, but also at the same time it's beauty is hidden in the unknown. And the other second you feel an upsurge of adrenaline and energy lit your spine up with heavy and chaotic riffing, speed drumming and Xenoyr's haunting growls. This track just like that is a little bit of everything, of many endless crests and troughs.
Just when you think this album couldn't have got any better, that's when 'Eyrie' comes in like a pleasant breeze and leaves with a remarkable impact. 'Eyrie' creates a magical aura around you, it puts you through to a "portal" and you end up in a serene landscape where the river nestles by the high rising mountains, that kisses the soft clouds. I have to say this, Tim's vocals are the epitome of perfection. It is so smooth, like a silk cloth brushing you by. His voice has to be one of the highlights of the album, along with his impeccable violin skills. The first half of the song is extremely atmospheric, melodic and a reminder that tranquility and death metal can definitely go hand in hand. The violin can surely create immense magic and it doesn't leave this song as well. The atmosphere here has been meticulously welded into the heavy and groove laden riffs that follow the melodic section. Intertwining on many levels it is definitely a treat for the fans and one of the best songs on this record.
The title track is again divided into two songs 'Urn (Part I) – And Within The Void We Are Breathless' and 'Urn (Part II) – As Embers Dance In Our Eye'. Something that NE OBLIVISCARIS loves doing and is present in every record of theirs. Part I is intense, it's total carnage. It rises slowly with an amazing technical guitar solo that is going to leave you wondering the remote possibilities of duplicating it. What follows that is what actually defines NE OBLIVISCARIS, Xenoyr's growls takes you by the throat and punches you down with its intensity. Meanwhile you can also hear Dan Presland beating the hell out of that goddamn drum kit, cymbals crashing everywhere, constant epic double bass and snare hits at the speed of light. Tim's vocal's are like the beauty that you'd find in the macabre. The first part spirals down all the intensity with a squeaking and harrowing violin melody, as if someone was crying for help in all it's sorrow. Part II is equally dense and heavy, it houses one of the best groovy and chunky riffs in the entire record. Xenoyr here plays a major role. Of course he sings on it, but what I am trying to say is, he adds an extra heavy and morbid touch to the song. His vocal prowess swirls a black mass of evil clouds and throws everything at you, its a catastrophe! Amidst the bleak apocalyptic nature of this song, the only ray of hope is brought forth by Tim's pleasant vocals.
From ground breaking riffing to relentless impounding drumming, deep and roaring vocals amidst the exquisite and soft contrast of Tim's clean vocals, also Matt Klavins' prolific guitaring, the album has it all. He has indeed stepped up where the music demanded him the most. Here's the thing about the bass I admire about NE OBLIVISCARIS, I absolutely love it when bands chose to put the bass on the forefront, and use it as one of the primary driving forces in the ultimate creation of the music's fabric. A lot of the times it gets lost in the pandemonium of the music or is too feeble to gain your attention. A lot of technical death metal bands seem to do this and it definitely catches my attention, which NE OBLIVISCARIS has easily done. The bass takes the charge and shouts out loud and clear.
The production is at its best. NE OBLIVISCARIS has spawned yet another kick ass record, I would say this is their all time best effort till date. All in all with the release of 'Urn' NE OBLIVISCARIS has broken all the barriers of "trends" and have overcome their own musical excellency by leaps and bounds. This band never disappoints and the new album is a testament to it. It leaves me awestruck how deep and profound catharsis this record can put you through, it has everything you need. 'Urn' is definitely in my year end list of top 2017 albums.No wonder why my cousin cried, cause NE OBLIVISCARIS isn't just a band, it's an emotion.
Get 'Urn' HERE!