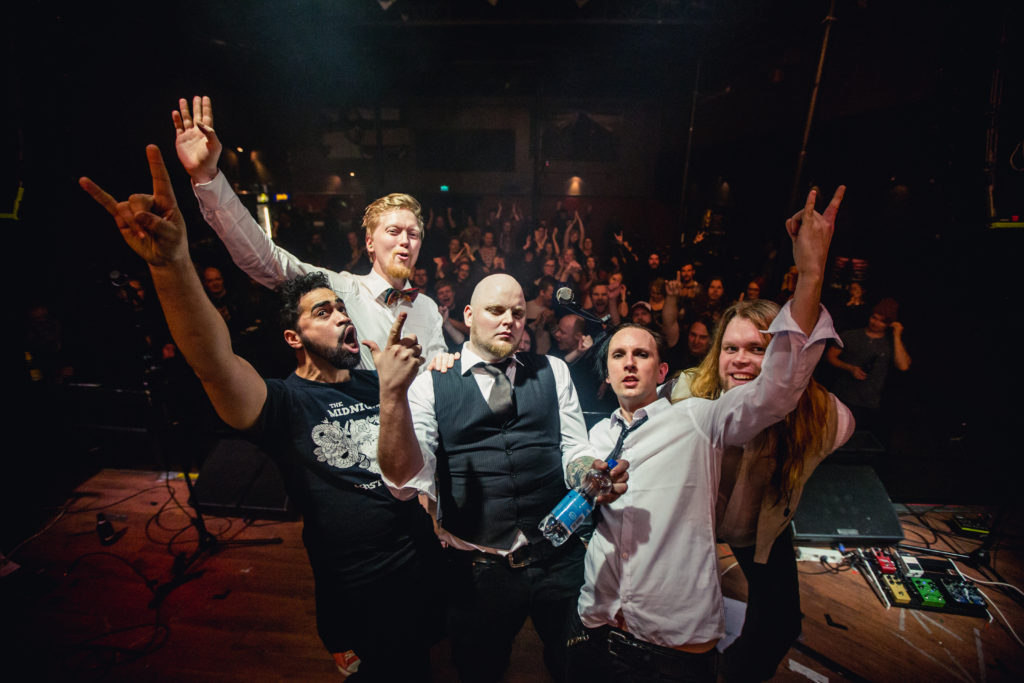 A follow-up to any sophomore release is a massive undertaking for any band, but especially so for one that has been in the works for a near half decade. Finnish rockers Mangoo have certainly let us sweat it out in anticipation since 2012's Small Stone debut 'Neverland'. Will you be ready when you fire up their latest offering? Can you handle 'The Heat'?
The quintet have been firmly routed in the underground since 2005 with their self-released untitled debut EP, and were brought to domestic and international media attention with their first full-length 'Neolithic' (7:45 Records) in 2009 and subsequent sophomore 'Neverland'. Each time Mangoo has been personally involved with the recording and production processes. Enabling them to keep the music entirely their own, allowing them a complete freedom over their sound and song writing. By this, the abundance of experimentation has kept them advancing forward at an astonishing rate in terms of growth and progression, and Mangoo have accomplished something truly special with 'The Heat' that drops this Friday 8th December via Small Stone Records. Pre-order now here!
Incorporating infectious face-paced rock n' roll with grunge and psychedelia, from the offset the record hit's you at a lightning pace with the thunderous first track "Relief". Whilst diehard fans may notice a similarity in melody to the 2012 single "Neverland", I feel that this familiarity is a just and welcome play that unifies the two rather than keeping the records worlds apart. A 5 year gap could have easily changed or even tarnished the bands sound to something alien, but what in fact has been accomplished is a song (and in fact a whole album) that stands it's ground and takes on a more advanced position from earlier work – "Relief" is refined and solid in it's stature. Setting the record high with a gripping intensity, leading them on from where they left off, but with a stronger, more distinct advancement in direction and sound. Ultimately intentionally or unintentionally delivering the firm message that Mangoo are back and they are ready for more.
Regardless of if you have followed their career or no, the fuzz-laden stoner rock sound is welcoming to any listener and easy on the ears with layers upon layers of beautifully entwined guitar chorus and melody, hard hitting drums and well-timed accentuating analogue synthesizer. Giving off in parts an otherworldly spacey psychedelic vibe to music that can be described as both powerful and raw, yet subtly sublime and progressive. Contrasting intensely emotive and moving emotive and moving songs like "Beyond The Sky", alongside the climatic titular track "The Heat" that incorporates many elements that make Mangoo so distinct and sets them apart from the crowd.
The catchy hooks and instantly memorable choruses in "Get Away" and "Monolith" are a testament to the writing of the solid line-up that has remained unchanged since 2009. With all members contributing with beautifully harmonising vocals behind lead vocalist Pickles, it is easy to become engrossed and feel as one with the band when you naturally join in and sing along – which believe me, will not take long! The songs are hypnotically infectious and defuse such a surreal déjà vu quality. The listening experience feeling like grandeur of nostalgia. The moment of rekindling with a forgotten love, and reliving the emotions that were felt the very first time all over again.
'The Heat' is an instant classic that can be tirelessly played, which still sounds fresh and exciting with each listen. It is a non-stop joy ride that can take you on a journey down many twisting roads, of shifting time spans and contrasting landscapes. It has its moments of reflection when you can sit back with the wind running through your fingers, taking all the time you need to soak up your surroundings; but also has it's many moments when you are at full throttle, filling you with a rush adrenaline like you have no other care in the world than the right here right now. You can feel that the band themselves are having a wild time playing and you can't help but be swept up by their enthusiasm and energy. Aptly closing on a high with a fantastical cover of Eddie Murphys 1985 hit "Party All The Time", in which I can't help but mishear the lyrics to the fitting "Mangoo want to party all the time"! Mangoo certainly stick to this mantra, and fortunately we're all invited! I'm in, are you?
'The Heat' Track Listing
Relief
Get Away
Beyond The Sky
Monolith
One Day
Deification
Tiembla
Stumbling Man
The Heat
Grey Belly
Party All The Time (Eddie Murphy Cover)