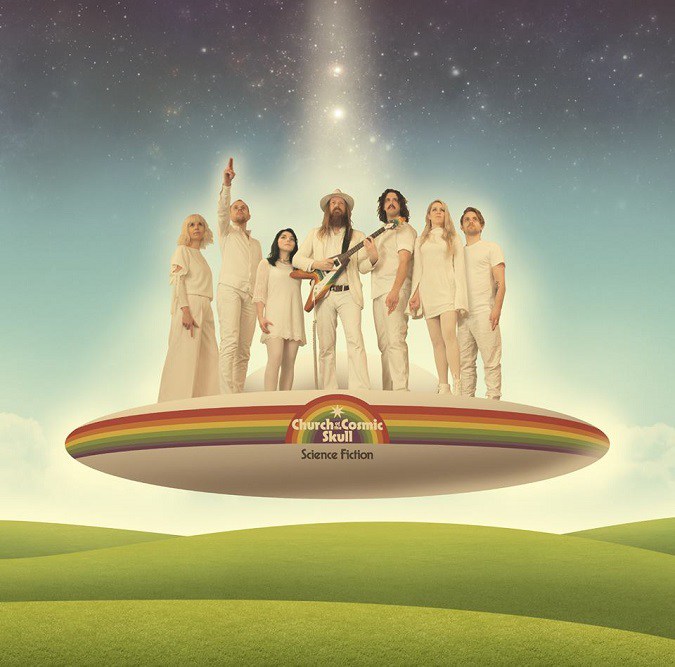 Church of the Cosmic Skull
Science Fiction
Kozmik Artifactz/Septaphonic
The surest way to stand out in a bleak and dour world? Be a beacon of light. With their matching white outfits, recurring rainbow motifs, and a fully-formed and realized rock band-as-hippie love sect mythos, Nottingham-based occult rock septet Church of the Cosmic Skull have done a more-than-admirable job setting themselves apart from the seemingly endless parade of monsters and demons and scowling young men in varying shades of black that populate today's heavy rock scene. Their aesthetic is so refined and so well-structured, in fact, that at first glance some folks may be inclined to immediately dismiss the group out of hand as a mere novelty act or an elaborate joke. Those folks would being doing themselves a grave disservice, however, because here's the thing: Church of the Cosmic Skull is one of the best bands in the world of retro-rock, and with their absolutely breathtaking six-part harmonies, they may be the most singular unit out there. Nobody else sounds like this. Their debut album, 2016's Is Satan Real?, is one of the best records I've heard since I started writing for Metal Nexus last summer. Their newest, Science Fiction, is even better.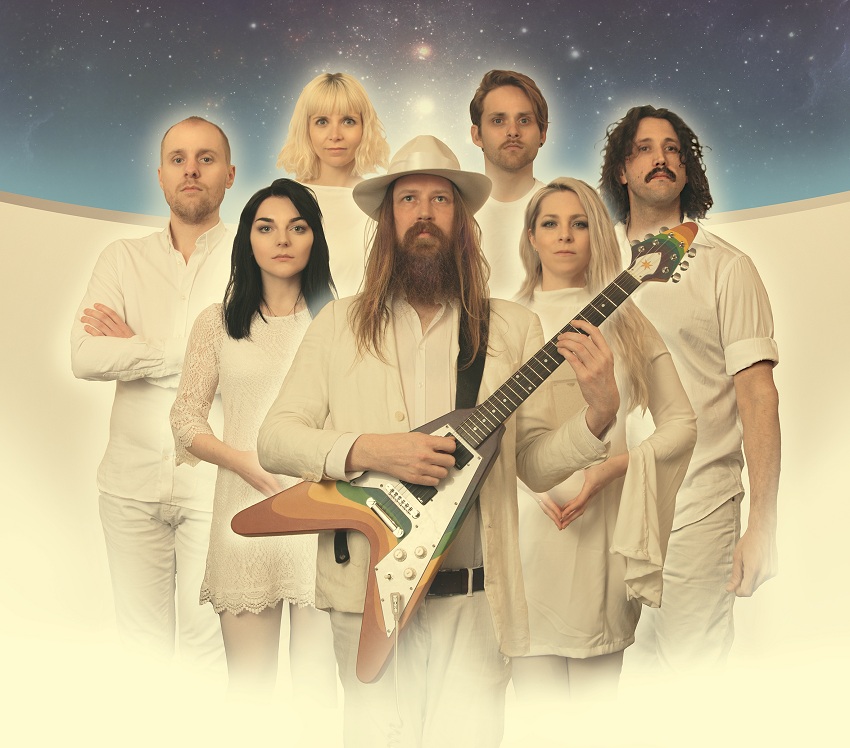 A potent amalgam of prog, arena rock, stoner, and psych, Science Fiction plays like a classic rock playlist from an alternate timeline. The title cut is a multi-movement mini-rock opera that sounds like Black Mountain playing Bat Out of Hell, "Go By the River" is the rambunctious offspring of the Doors and Emerson, Lake, and Palmer, and lead single "Cold Sweat" is an infectious jumper that's equal parts joyous and ominous. "The Others" is a slow, gorgeous piece that would've been welcome on Loaded if the Velvet Underground had been a space rock band, while "Revolution Comes With An Act of Love" lives in the sweet spot between Grand Funk's "Bad Time," Springsteen's "Lost in the Flood," and Parliament's "Everybody is Going To Make It This Time." "Timehole (Gonna Build A Rocket Tonight)" kicks off side B with a frenzied, desperate rocker, "Paper Aeroplane & Silver Moon" made me think of Peter Gabriel singing for a CSNY cover band that was prone to psychedelic freakouts, and album finale "The Devil Again" is a quiet-loud creeper that may most closely recall something from Is Satan Real? The vocal harmonies that were such a big part of that record take center stage on Science Fiction. The arrangements are astounding, the thick, rich baritone of vocalist/guitarist Brother Bill Fisher leading the congregation through a dizzying array of aural acrobatics and melodic miracles. It enables them to do things other bands simply can't do, and it's a tool they deploy to great effect throughout the album.
There are times that the lyrics depend heavily on repetition (one song, the music industry warning "The Cards You're Playing" is literally two lines), but that's a minor quibble; as Brother Bill would be the first to point out, repetition is one of the hallmarks of worship music. Everything is mixed to perfection, heavy as a hammer but clear as a bell, full but never cluttered. It rocks hard, but it rocks beautifully, and there's not a whole lot of records that can pull off that trick. Science Fiction was one of the records I was most looking forward to this year, and Church of the Cosmic Skull did not disappoint in the least. Study the Seven Objects, listen to Science Fiction, lay down your fears and sorrows, and step into the light.