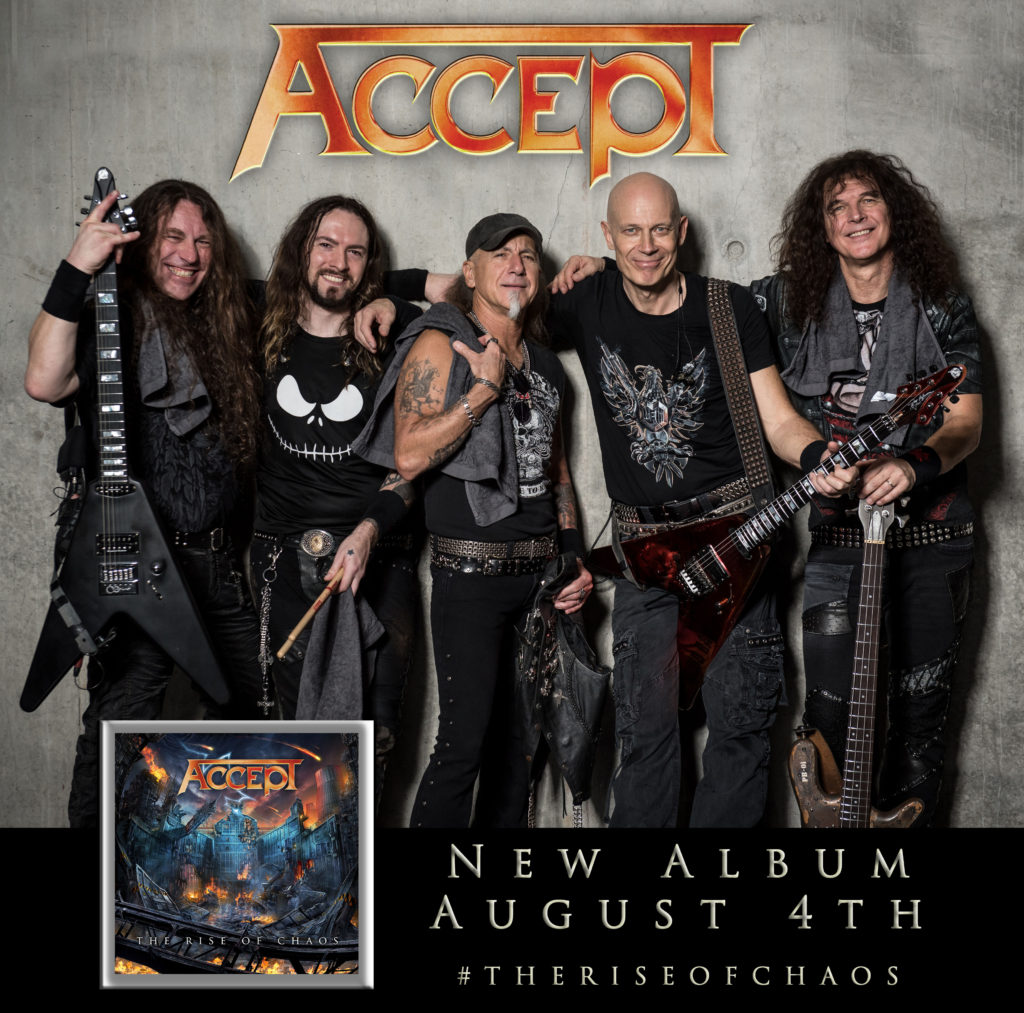 In today's universe of metal, with so many new age bands breaking into the scene, pushing genres and breaking old ones to create new ones, very few classic old school metal bands receive the limelight and keep the strength to survive and move forward. Apart from the ever green Iron Maiden, Judas Priest, one such classic hard rock/heavy metal band that has managed to row through the giant waves of inevitable change is the German classic metal act, ACCEPT. Almost on the verge of turning 40, ACCEPT has belted out undiluted classic German metal one after the other. They are one of my favourite and have always been excellent. As they say a fine old wine tastes better with age. ACCEPT has revealed yet another upcoming album and it's details, to be out this summer.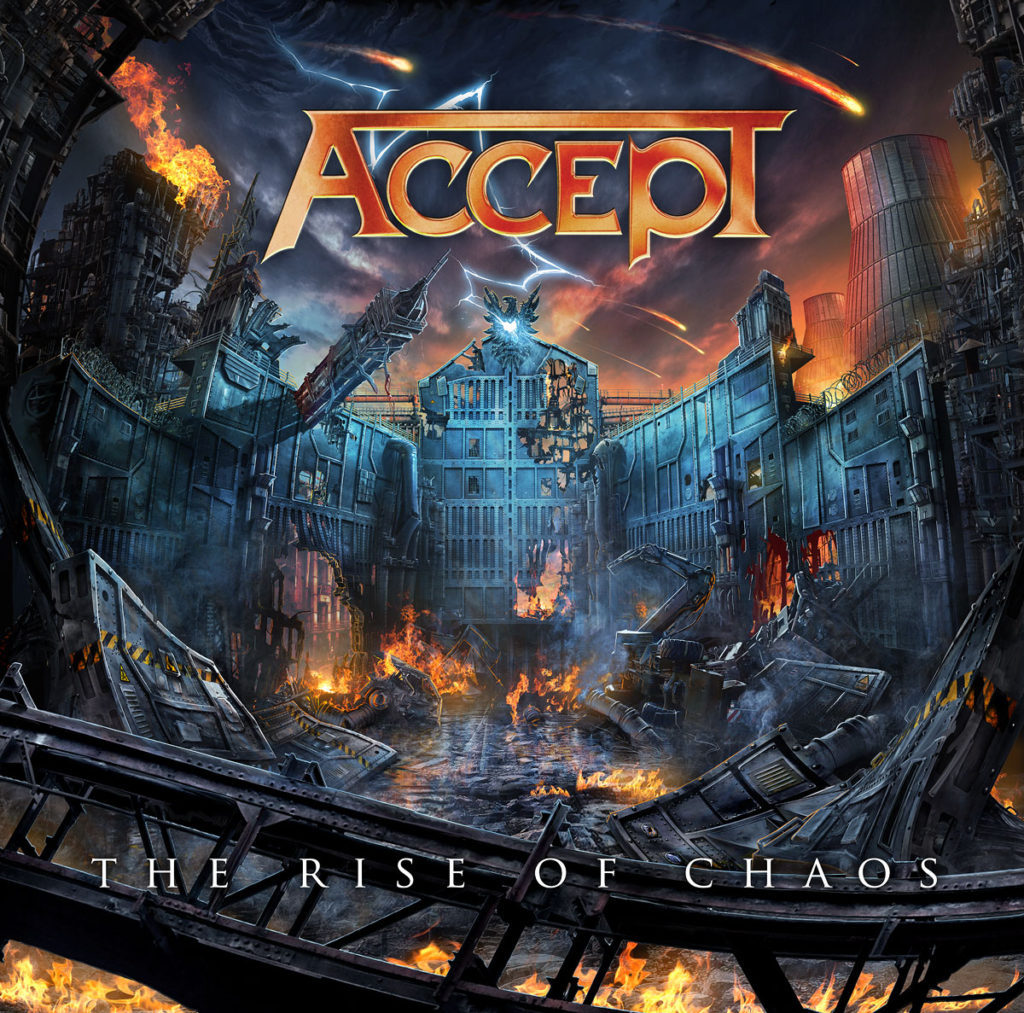 Rightly named so in correlation with the recent turn of turmoil in today's world, 'The Rise Of Chaos' is ACCEPT's 15th studio album and their 4th offspring under Nuclear Blast Records, following the previous releases of 'Blood Of The Nations','Stalingrad', and 'Blind Rage'. The new album is going to come crashing through the gates on August 4th, 2017 for a worldwide release. The band has released the above artwork as the cover for the album, which was designed by Gyula Havancsák (Grave Digger, Destruction), and it surely looks like a cesspool of total obliteration.
Wolf Hoffmann, the band's axeman in his own words explains stuff regarding the album,
"THE RISE OF CHAOS is something I have been thinking about often. Wherever we go – there is some hidden as well as  some visible destruction and it kind of changes the world we know.  What was there today – can be gone tomorrow and it's kind of irritating, because it happens  on   so many levels and no one knows what comes next.  The cover is our last stage set – but now clearly destroyed –  like…..  after a catastrophe!"
Hold on fellas, there's more good news. ACCEPT are going to raise a toast to their new album by live premiering it exclusively on August 3rd, a day before its release, as a part of a special show at Wacken Open Air, Germany. The set will consist of three parts, which will be a testament to the band's legacy :
The Part 1 will see ACCEPT dish forth a classic set to their fans, coupled with old and new hits.
The Part 2 will be also a premiere, as Wolf Hoffmann plans to play his solo tracks from his last album, 'Headbanger's Symphony' which was out last year in 2016, with the Czech National Symphony Orchestra for the very first time in history. Covering some classic legends like Beethoveen, Vivaldi and Mozart with a metal twist, this surely promises to be one hell of a highlight.
The Part 3 will be an encapsulation of all the components of the band along with the orchestra, surely and exactly a total Wacken material.
This display of extravagant musicianship will take place on this year's edition of 'Night To Remember', which is a long standing tradition of Wacken Open Air where a selection of established bands perform something special and unique for the metal masses, which in this case seems to be ACCEPT and the orchestra. Get your tickets to witness this epic show go down, here.
Wolf Hoffmann furthermore adds regarding this tradition : "It's always impressive to see how bands take this evening seriously and how much love the artists and the organising team put into their work to get a varied result. It's a great tradition which underlines and documents the top-notch level of the international rock community like nothing else. We also want to present something that ACCEPT has never done before, we hope we can give something really special to the fans."
ACCEPT will also be touring Japan in support of their new album. The following are the tour dates for this year's 'Return To Japan' tour:
Sept. 10 – Fukuoka – Drums Logos
Sept. 12th – Osaka – Umeda Club Quattro
Sept. 13th – Nagoya – Bottom Line
Sept. 14th – Tokyo – Nakano Sun Plaza Hall
Tickets to 'Return To Japan' will shortly be announced by the band, here.