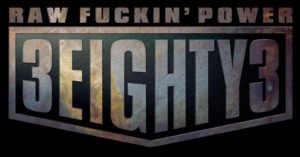 Remember the Hard Rock and emerging Metal bands in the 70's and early 80's? Hard driving, guitar based Heavy Blues with straight attitude and catchy, clever lyrics. Dance, bang your head, fist in the air, good times, Rock n' Roll. Did you start to loose interest when the glitz, glam and cheese took over? Did you get a sick feeling in the pit of your stomach when MTV told you that Guns N' Roses and the up and coming Grunge bands were the future of Metal? Did you breathe a sigh of relief when Pantera dropped "Cowboys From Hell" and quickly dispelled all that nonsense? Yeah, me too. Funny thing is, that I still love the sound of the first wave of Hard Rock here and the British Invasion from overseas. Led Zepplin, Black Sabbath, Judas Priest, early Motley Crue, Cinderella and Triumph. Well, I recently discovered a band that has its roots deep in this era of our beloved music. If you have not heard of them, let me introduce you to Alvarado, Texas' 3Eighty3.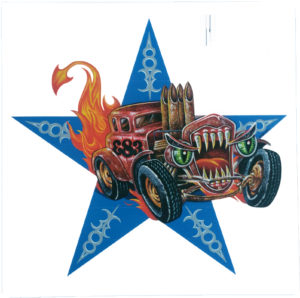 This band had me hook, line and sinker from song number one. Blues based Metal with that "blue collar" sound made popular some, thirty-five years ago with the added intensity of today's Metal while still having that "fun sound" made popular by Jackyl, Bang Tango and Dangerous Toys. West Coast Metal at its very best! Riffy guitars by Jude Throckmorton and Matthew Shawn Chapman, catchy rhythms and hooks covered by Zac Stewart on bass and Bo Martin on the kit along with a dump truck of in-your-face attitude. The vocals of Jude Throckmorton are barked out with raspy accuracy. Think the style of Phil Anselmo, but a bit cleaner. Just too damned cool! What is even cooler is that they come by this honestly, without one bit of pretense. Jude grew up screwing around in bars while his dad played bars and nightclubs with Blind Dog Cooley, a killer Tex–Mex Blues outfit. With other influences said to be Dimebag Darrell, Dave Mustaine, John Bonham, Phil Anselmo, Big Dad Ritch, Randy Blythe, Johnny Kelly, Jimmy Bower, Rex Brown, David Ellefson and Geddy Lee, it is easy to hear precisely where their roots lie.
Since playing their first show in late 2014 at The Prophet Bar in Texas, 3Eighty3 has picked up a rabid and loyal fan base and plays often in and around Alvarado, Dallas and the rest of Texas. Based on videos and talking to people that have seen them live, shows are crazy fun and rambunctious as expected. Just four guys doing what they were born to do. Recently, 3Eighty3 released their three song EP called "Raw Fuckin' Power". Songs included are: "Fast and Loud", "No Nuts" and "Raw Power". Recorded in Arizona in the Spring of 2016 with the production help of Alan Niven (Motley Crue, Dokken, Angel City, Great White, Guns n' Roses among many others) and Chris Catero (the bad-ass bassist for Razer and former band mate of Marty Friedman), this CD smokes with great production and the highest level of professional sound quality. Everything is pristine, as it should be with musicians of this caliber. As stated in their promotional material: "Raw fuckin' power? It is not every day you hear something fast and loud that also has an intelligent spirit," says the old English rocker. "3Eighty3 is pure red blooded rock n' roll – blue collar heart with a white lightning soul." That pretty much sums it up for 3Eighty3!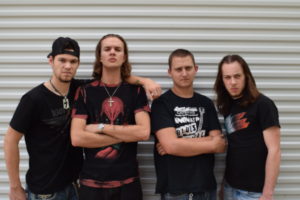 Check out 3Eighty3 on: Web  Facebook  Twitter  Istagram  ReverbNation