Recently I was given the opportunity to interview San Jose, California's own Angerhead. Beginning their quest in February of 2011, they have developed a very cool mix of Thrash Metal and Punk that harkens back to days of real music played by real musicians. Keeping up the tradition for over five years now, they have played with Exodus, Testament, Kittie, Loudness, Quiet Riot and a host of other national touring acts. Check out what they had to say and put them on your list of "must listen to bands" list. Turn it up and hang on for the ride!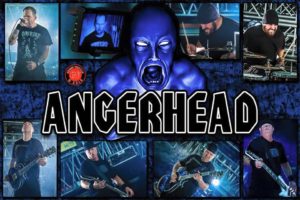 Angerhead is:
Eric Beard – Guitars
Paul Hastey – Vocals
Jim Pegram – Bass
David ONeal – Drums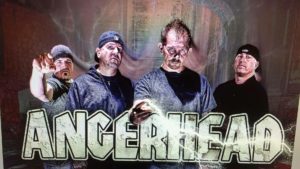 Angerhead Interview:
Odyssey: Hey gentlemen! Glad to have you guys on board with us and thank you so much for speaking with us about Angerhead…
For openers, tell us a little about Angerhead and the inception of the band for people that may not have heard of you (who, when, why, influences, etc).
Angerhead: We have been around for 5 years. Paul Hastey and myself (Eric Beard) started the project. We wanted to make heavy music with Thrash and Punk elements. I would say Pantera, Exodus, Suicidal and DRI would be some of our many many influences. Both Paul and I have been playing metal for 20 plus years.
Odyssey: I see that you have played with a lot of very big, heavy hitting bands. What is the most memorable for you and why? Any cool stories that you would like to share?
Angerhead: They all have been great and unique. I would say playing Gary Holt's wedding with Exodus, Heathen and Death Angel was a dream come true. Also playing the tribute for Paul Bayloff was surreal and very intense. Anytime you can hang with your idols whom some we now consider friends, is always a trip. Cool stories happen every time.
Odyssey: Any bucket list bands that you have played with before? Who? Is it difficult to play with people you respect that much?
Angerhead: TESTAMENT, EXODUS, SUICIDAL, STATIC X, QUIET RIOT, the list goes on…. We have been very fortunate. I think before we go on you feel that extra set of nerves twitching, knowing your hero's are going to hear you or see you. But, when the lights go out, you have to stay the course and show everyone you deserve to be up there supporting them.
Odyssey: When opening for big acts, generally, how do they treat opening acts? Keeping thing positive, any shout outs to any that have been super supportive for either a show or a tour?
Angerhead: You know, some bands get "rock star" and treat bands like shit.. Some are all business…and others will hang out and chat for a while. I would say SUICIDAL was very very cool. I know their guitar tech Jimmy and tour manager Steve from my days in San Diego. They were just down to earth very cool dudes. DRI is a great live band that we love as well. Harold O is a legend and upbeat, also very positive. Some other bands, who I won't name, really disappointed us. Rock star attitudes have no place in this business.
Odyssey: What bucket list bands have you not played with? Is there a particular one that would say: "Damn, we have really made it big now" and why?
Angerhead: Obviously Metallica would be unreal. Slayer would be on the list. Maybe even Megadeth. Speaking for just me, if we opened for AC/DC, I wouldn't be able to hold it together haha.
Odyssey: You have an old-school Thrash sound that I grew up listening to. What new aspect of this sound do you want to bring to the table?
Angerhead: I think we blend Thrash and Punk. Suicidal does it. DRI does it. I'm not sure "New" is what we are doing so much as keeping the torch alive. We are true in the sense that we grew up in the Bay Area Thrash scene of the early 80's and 90's. We were young fans/musicians who were taking in as much as we could. So, this isn't something we fell onto a couple years or a decade ago. This is who we grew from and its in our soul.
Odyssey: While I can imagine your fan base of old-school veterans is massive, what is the reaction from the younger crowd? Any difference in the way either treat the band?
Angerhead: We want to play for them more. A lot of places we play are all ages. But when we do, the kids have all smiles. I love it because from time to time our fans post pictures with their younger ones wearing Angerhead shirts. Its very cool to see.
Odyssey: What are some of your lyrical inspirations? Who writes the lyrics/music in the band or is it collaborative effort?
Angerhead: Paul writes most of the lyrics. It all stems from life situations, present or past, that has irked him or something that is messed up. There is always something that he has a problem with or is telling a story about his vision of the messed up things he's encountered. Hence the name Angerhead haha.
Odyssey: Musically, is there anything that you have not tried that you might like to mess with in the future?
Angerhead: I think maybe some different rhythms MAYBE, if they fit the Angerhead style. We don't ever claim we are reinventing the wheel or trying to be revolutionary musically. We have a formula that we like and stick to. IF the fans like it, which a lot do, then we have the bonus plan. If some don't, we still have made music we like. We win either way. That's what music should be about. Making music for yourself that hopefully, others can get behind. IF not, you have made yourself happy.
Odyssey: In the current world of Metal, what do you think is going right and/or wrong? Why?
Angerhead: I would say I'm not of fan of the Metal snobs. Or the people who always hate on bands. I read Blabbermouth comments and want to puke. We all should support each other. Not being kiss ass but like the old saying goes "if you don't have something nice to say, don't say it". Too many opinionated pricks. Who cares if you like a band or not? Just support the ones you do and learn from the ones you don't.
Odyssey: What has been your highest high as a band?
Angerhead: Either writing a new song or playing live. They both are equal highs.
Odyssey: What have you found to be the most difficult aspect to deal with as a band? Any solutions?
Angerhead: Balance with work and real world responsibilities. Most bands know what I'm talking about. Just remember if your doing it to be a rock star and make tons of money, your doing it for the WRONG reasons. If your doing it to create music you love and to get it to as many people you can, then you have the right mindset.
Odyssey: Any new bands that you are really digging and/or being influenced by?
Angerhead: I don't listen to a lot new bands. I prefer Slayer, Exodus, Death Angel and the like. These veterans are putting out some incredible new music.
Odyssey: Any bands that we may not have heard of that you think we need to go listen to?
Angerhead: HATRIOT, INFEX, CULTURAL WARFARE, FROM THE RUINS, DESCRATER, TOY CALLED GOD, POTENTIAL THREAT, HAND OF FIRE, IRON ASSAULT, all hailing from Nor Cal or Nevada.
Odyssey: Any particular scene/section of the country that strikes you as having a particularly good thing going on?
Angerhead: Why of course, THE BAY FUCKING AREA!!! haha
Odyssey: What do you see for the music industry in the future? Why?
Angerhead: Its a crap shoot. They need to start putting out real bands with real musicians again, not the manufactured crap that is on the last decade.
Odyssey: What is in the future for Angerhead? Any goals that you are currently reaching for?
Angerhead: NEW albulm "Fueled By Rage" being released November/December 2016 on VIOLENT CREEK RECORDS out of Germany. More new music and video's to follow along with a lot of live shows.
Odyssey: As with any Metal Nexus interview, the floor is completely open to you (parting shots, any subjects that you would like to cover, rants, shout outs, whatever).
Angerhead: Thanks to ONLINE METAL PROMO for setting this up. The boss at OMP is a PR madman. Thank you, Metal Nexus, for keeping metal in the faces of the fans who need it. Without people like you, bands would have a lot harder time reaching the fans. Let's do it again soon.
Odyssey: Thank you for your time and attention! We certainly appreciate what you do and wish you guys all the best in your future endeavors!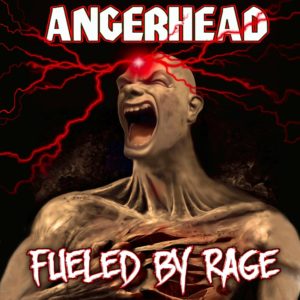 More on Angerhead can be found at: Web  Facebook  ReverbNation  YouTube