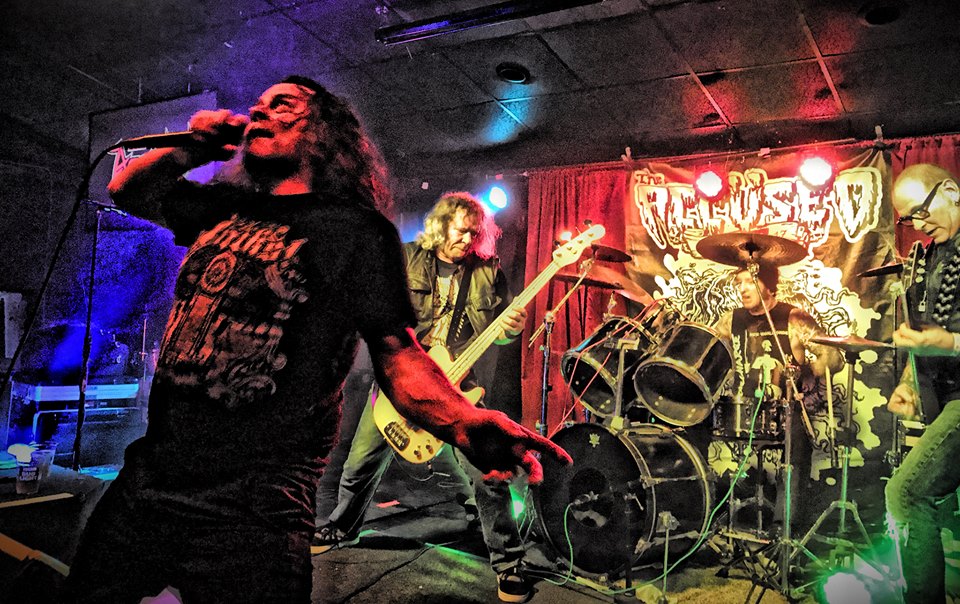 Blaine Cook (also known as The Wizard) is a musical figure who has been around since the 80's. He started his music career fronting the Seattle based political punk band The Fartz, but he is perhaps best know for his time in Splatter Rock kings The Accused. Founded in 1981, The Accused were one of the most important bands of the time as they were one of the first to bridge the gap between Punk Rock and Thrash Metal which eventually lead to the creation of Crossover. Despite being an influence on everyone from Lamb of God, Cannibal Corpse, Dead Cross and Municipal Waste, The Accused largely remained underground and underappreciated. Fast forward to 2019 and we no longer have The Accused; but we do have something just as great: The Accused AD! This is a band that features the iconic vocals of Blaine Cook as well as the talents of Alex "Maggotbrain" Sibbald, Steve "The Beast" McVay, and Poison Idea drummer Mickey Widmere! Later this year, The band is scheduled to release a limited edition tape entitled 'The Ghoul in the Mirror' via Blackhouse Records Ltd. The album will be produced by Jack Endino (Nirvana, Toxic Holocaust) and mastered by Pig Destroyer's Scott Hull!
As for the songs themselves I can attest that that 'The Ghoul in the Mirror' continues the Punk/ Thrash traditions while also showcasing more elements of speed metal that weren't always prominent in past Accused releases. Single "Juego Terminado" chugs along in the vein of something Corrosion of Conformity may have put out on the 'Blind' album, while songs like "Piss Boner" (instrumental) and "Looking for the Smell" feature more of the aforementioned speed metal elements. "Hate your Friends" and "Prison Gig" are a throwback to the punk days of The Accused. These two songs are fast and hard hitting but they feature some killer solos that feel well thought out and well constructed! "Eatin Teeth" and "Terrible Tail" are the final songs on 'The Ghoul in the Mirror' and they are both modern Crossover classics as far as I'm concerned! The rhythm section really rumble and hit hard on these songs as they bob and weave between the tempo changes. "Eatin Teeth" features one of my favorite vocal performances from Blaine as he seems to be channeling his inner ghoul for the song! As for "Final Tail" I again have to point out the extraordinary guitar work! It chugs along for majority of the song before going into a face melting riff fest that ultimately ends with one hell of a guitar solo!
With 'The Ghoul in The Mirror' The Accused AD have proven that Crossover is far from dead and the cult of Splatter Rock is still alive and well!
Preoder 'The Ghoul in The Mirror' at this location.
The Accüsed A.D. tour dates:
Feb. 2 – Seattle, WA @ El Corazon w/ Himsa, Witchburn, Heiress + more
Feb. 16 – Las Vegas, NV @ Backstage Bar & Billiards w/ Papsmear, Life's Torment
March 15 – Seattle, WA @ Black Lodge w/ Heiress, Acid Teeth + more
March 26 – Maryland, MD @ Maryland Deathfest w/ Immolation, Pestilence, Cro-Mags + more
March 30 – Oakland, CA @ Golden Bull w/ TBA
May 23 – Brooklyn, NY @ Saint Vitus w/ The End AD, Darkside NYC